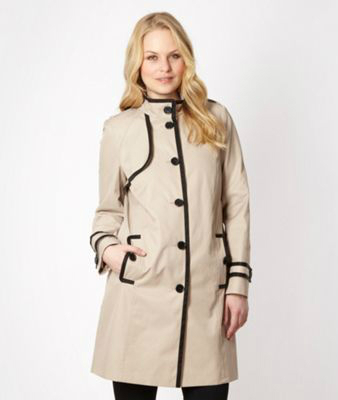 The "Mac" coat, or Macintosh, is a type of raincoat that was first introduced in the early 1800s and named for its inventor, Charles Macintosh of Scotland. Even though today the term 'Mac coat', Mackintosh or "Mack" is often used to describe any raincoat, the authentic Mac coat is unique: it is made by a process that combined cloth with rubber. The original Mac had a layer of rubber between two cuts of durable cloth fabric. This combination made the coat extremely useful in such places as much of England that have frequent sporadic rainfalls, wide temperature changes, and sharply seasonal weather. The resilient outer fabric made the Mac coat an enduring and durable garment.
The Mac coat is often thought of as a long trench coat, but it is not just a trench coat. The method for making a Mac coat is used to make many kinds and styles of outerwear. The common feature of all Mac coats is its superior resistance to water and wind. Styles and colours vary and are designed to fit in with business or casual dress, sports, or other outdoor activities. The Mac coat is often a trench-coat style garment. The original trench coat was made of heavy wool, with shoulder epaulets and rows of buttons. Indicative of a European military design from the WWI era, the coat has a long history. The Mac coat has the all-important features of tough exterior and rubberised cloth. The result is a garment that shields you from rain, wind, and, if properly lined, from the bitter cold of winter, too.
Types of Mac Coats
There are as many types of Mac coats as occasions and styles of outerwear in which protection from the elements is necessary or desirable. Men's outerwear can generally be divided among business, casual, and sportswear. Today there is a greater emphasis than in previous times on flexibility: the ability to make a smooth wardrobe transition from work to casual activities. Many businesses observe casual dress days, and many men prefer clothing that can be worn in a variety of settings. Rain and wind resistant outerwear that can be worn with many styles is a very helpful addition to the modern wardrobe.
Dress or Business
To many businessmen, he is not well dressed without his Mac. It goes with business or even formal wear as the necessary protection against unpredictable changes in the weather. The durable cloth used in Mac coats lends itself to frequent wear and also to being carried over the arm or shoulder when not worn. The draped shape of the Mac trench coat gives the wearer a defined style whether its open or closed for warmth and rain coverage. The generous pockets and cape-style fit would work well when going to client meetings or away on travel. Typically, the trench coat has large and deep enclosures including secured pockets for such things as tickets, passports, and maps, giving easy and quick access to them.
Casual or Sporty
Mac coats come in casual styles, designed to match casual shirts and trousers rather than suits and dress shirts. These are usually slimmer and shorter than the dress styles. Many offer belted options and fabrics that are compatible with jeans and popular casual material such as khaki. They can take the place of the traditional sport coat or blazer but still add style to the casual look. They provide extra pockets and warmth, plus far more protection against sudden weather changes than the ordinary cloth sport coat. The Mac trench also offers different fits including loose and bulky or slim and form-fitting. Slim cuts in Mac coats can offer a sleek look, short waist length, and fastening options, such as slanted zippers or strapped closures. Mac coats may have many styles other than traditional button fronts. They are available for sports wear. These include such active sports as running, cycling, and football. The extra warmth of Mac coats is an added benefit for active outdoor use, since retaining body heat is important in cool weather. The use of Mac-style sports clothing can extend the season for many outdoor sports or activities.
Brands, Colours, and Styles
There are many famous brands of Mac clothing including the original Mackintosh label. England is home to some of the world's leading brands of Mac coats, including Burberry and Aquascutum. There are leading European and American brands which also feature the Mac coat style (water-resistant material layered within a weather-resistant cloth). While styles change for clothing fashions, many once or more each year, Mac coats from those famous manufacturers have had long and consistent traditions. There are those brands that are widely regarded as superior in quality, that have long retail histories of top-of -the-market prices at retail, that offer a wonderful opportunity in the used Mac coat market. A top brand trench style Mac coat might easily be worn for many years with very little change in the styles of the newer garments. Many styles, called vintage or retro offer the look of a bygone day, which can complement other items in your closet.
Correct Sizes
Each coat should have its size labelled and any measurements, such as chest size or length. Sizing codes and numbers differ from the UK to Europe and sometimes from the U.S. which often uses "small," "medium," "large," "extra large," and "extra extra large." If the item is not sized for UK measurements then you may need to refer to a size conversion chart.
| | | | | | |
| --- | --- | --- | --- | --- | --- |
| UK | 38 | 42 | 48 | 50 | 56 |
| EUROPE | 48 | 52 | 58 | 60 | 66 |
| U.S. | S (38) | M (42) | L (48) | XL (50) | XXL (56) |
The above sizing chart demonstrates consistent labelling between the UK and the U.S. but a pattern of a 10-point difference with the European standard. You should also notice any information about specific items such as length, chest measurement, and belts.
Fabric Choices
Mac coats are usually made with cuts of a sturdy fabric, plus a rubberised layer in between. This provides excellent resistance to wind and water. Many fabrics also have been conditioned to resist dirt and stains which is an important feature in a garment that may be worn frequently. Some coats come with a built-in lining for extra warmth, some have a removable lining that can make the coat lighter and also expand the seasons in which it can be worn. Many trench-coat styles have winter collars that also add to warmth by adding material and closures around the chest and neck areas. The fabrics used in Mac coats generally are quick-drying fabrics and are resistant to water. This is an important feature for a garment that will likely be worn in wet weather and will probably not have a long time to dry before needing to be worn again. The coat's fabric options can also include leather, synthetic leathers, and brushed natural fabric.
Breathability
It is also important that the Mac coat be breathable or well-ventilated. Some sport styles come with air openings in the chest, back placket or underarm areas to promote air flow especially during heavy exertion. While it is good to retain needed body heat, too much heat is not desirable and can contribute to discomfort,inefficiency, and, possibly illness. The fabric should also be flexible and non-binding. Modern materials are also light and supple which adds immensely to comfort and extends the length of time a garment can be worn in a day. Some are easily maintained by machine washing and do hold up well to frequent use and laundering.
How to Buy a Mac Coat on eBay
Beginning on any eBay web page enter "mac coat" in the search field. You will be brought to a page that will show Mac coats and rainwear for men and women. From there, you can then filter and narrow down your choices as you see fit to find one that you like and can bid on and, ultimately, buy. Each seller's photo will help you make your choice. You can even ask sellers' questions about their items for sale.
Seller Feedback
After every transaction the buyer is encouraged to leave seller feedback whether it was a good experience or bad. If the seller continuously has positive feedback all buyer will see a ribbon next to the name of the seller when browsing.
Conclusion
Buying a used Mac trench coat can be a rewarding experience, one that enhances your wardrobe by adding a useful and flexible garment while spending a fraction of the cost of a new coat. Mac coats are designed to last for a long time, standing up to frequent wearings. This used coat can become part of your seasonal wardrobe for the rainy and chilly times of year. Many manufacturers change styles over time, some changes are barely noticed, but others make very bold differences, in those instances, the style you may really want, might be available only as a used garment so a used coat becomes a classic coat or a vintage style. Used Mac coats can usually be purchased for far less than the retail price on eBay. Buying a used trench-coat style Mac can be a wise and useful investment.