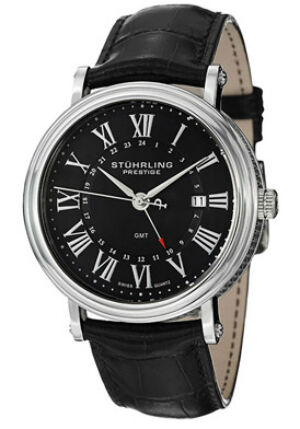 A watch, sometimes called a timepiece, is not only a great way to keep time but now comes with a range of other features. Specifically, men's wristwatches can add a sporty or professional look and come in a variety of styles and models. Wristwatches have many uses, and are both practical and fashionable. Used watches are a great option for entry-level watch buyers as well as seasoned buyers because they are generally reliable and easy to fix.
There are two main kinds of men's wristwatches, including a digital wristwatch and an analogue wristwatch. Both serve different purposes, so it is important for buyers to consider what they intend to use the wristwatch for. Digital wristwatches offer many more features than the more traditional analogue wristwatches. When searching for a wristwatch, buyers should also be sure to consider price, as both entry-level and more expensive models are available. Wristwatches have advanced beyond merely telling time and now vary greatly, so buyers should explore a broad range of options before making their final purchasing decision.
General Men's Watch Uses
Men's wristwatches have a multitude of uses. Firstly, they are fashionable and are often considered professional. They also have a range of practical applications such as scuba diving, athletic timing, and have even been used in space. The intended use of the watch should dictate what type of features are should be most important to the buyer. For the purposes of maintaining a professional appearance, aesthetics should be the primary consideration but for all other purposes, other factors become relevant.
Watch Uses for Athletes
Athletes should put the emphasis on timekeeping functionality, comfort, and an easy to read display. It can be used for time trials, evaluating speed, and keeping track of laps. Scuba divers use wristwatches to track depth and time. Of great interest to scuba divers is the water resistance rating, which describes what the watch is capable of tolerating in terms of depth and water resistance. Wristwatches are also important to astronauts because without the forces of gravity to act on a watch, timekeeping becomes very difficult. Finally, mountain climbers may be interested in features such as altimeters and barometers.
Digital Wristwatches
A digital wristwatch has a digital display and is often the choice of athletes. Athletes and other active buyers may prefer a digital clock because it has features such as stopwatches, heart-rate monitoring, and in some cases, GPS. They are also said to be easier to read. One thing to keep in mind when considering a digital clock is they are often much more difficult to repair than the alternative.
Digital wristwatches tend to have more advanced electronic features. The downside to this is that these additional devices often require greater power. This tends to drain the battery quickly although some of this can be mitigated somewhat depending on the type power source the wristwatch uses. Digital watches are less reliable in cold weather as low temperatures can also affect battery performance.
Display
Digital wristwatches display the time in an easy to read digital format. Some digital wristwatches are difficult to read due to glare and require the user to press a button providing backlight so the digits are visible. However, improvements in technology have allowed for sharper visual images in modern watch designs. LCD wristwatches are widely available and offer extremely high resolution. The one drawback of a high resolution watch is that much of the power is spent lighting the display, putting a greater strain on the battery.
Features
Digital wristwatches are known to have a wider range of features than analogue wristwatches. Some of the more popular features include alarms, day and date, and stopwatches. Another common feature of digital wristwatches is a light that can illuminate the screen in darkness or low light. New technology has allowed for more advanced capabilities for wristwatches such as calculators, cameras, USB drives, and different types of audio playback.
Analogue Wristwatches
An analogue wristwatch is simply a standard clock. The appeal of the analogue wristwatch is for buyers looking to simply keep time or as an aesthetic piece of male jewellery. It uses the familiar two hands rotating around a circle of numbers as seen in an everyday clock. Although much more simple in appearance, analogue wristwatches generally keep very accurate time, are reliable, and offer useful features to its owner.
Displays
Analogue wristwatches have a rotating minute and hour hand. Some will even incorporate a second hand. Certain types of easy to read analogue wristwatches featuring larger numbers and clearer displays are also available. Some displays can be quite ornate by incorporating valuable jewellery such as diamonds, gold, platinum, and silver. Analogue and digital wristwatches are traditional analogue displays that also includes a small digital display.
Features
Analogue watches can be deceptive in their simple appearance. Some of the more useful features of analogue watches include glowing hands and a compass. There are also aesthetic features such as gems that can quickly increase the cost of a watch. If a buyer is looking for a professional accessory, gold plated analogue wristwatches are a good option as are other precious metal based watches.
Watch Straps
One of the more commonly overlooked parts of a wristwatch are the straps. A wristwatch must be comfortable in order for the user to wear it, however the strap is one of the least likely components to be considered. Straps come in a variety of materials. Analogue wristwatches often use hard metal such as stainless steel or other types of precious metals. Hard-strap wristwatches can also be custom fit by removing or inserting links into the chain.
Digital wristwatches are often made of a softer material, both for purposes of comfort and adjustability. The most frequently used material is silicone or rubber. These soft straps contain a series of holes that a user can slide a pin through to hold it in place once the fit is satisfactory. This allows for a snug fit and does not interfere with activities such as running, swimming, or other timed events.
Power Source
Some wristwatches rely on hand-power as a power source. Hand-winding mechanical wristwatches need to be spun sporadically to wind the motor. While very reliable, if a user neglects to wind the wristwatch appropriately, it could stop working. Quartz battery wristwatches are very reliable and require no winding. They keep extremely accurate time and typically only require the occasional battery change for maintenance.
A good option for buyers to consider are quartz solar powered wristwatches. Solar powered wristwatches work by charging the battery any time the small solar panel built into the face of the wristwatch is exposed to light. These types of wristwatches never need a battery change as long as they get reasonable amounts of sunlight. Solar wristwatches are very reliable, low-maintenance option that are ideal for some buyers.
Used Watches
Used wristwatches are a great choice for any type of watch buyer. Firstly, wristwatches tend to be very reliable, durable products. There is also a large buy-and-sell market for wristwatches. In some ways, buyers are investing in commodity or stock. This active market often results in benefits to the buyer. All that being said, lower quality or heavily used wristwatches have been known to be available, so buyers should be wary of any offer that seems too one-sided. One final point, watches can be engraved which could pose a problem for some buyers if the engraving is not one they chose. However, this may also be attractive to buyers who find a used wristwatch that has yet to be engraved.
How to Buy a Used Men's Watch on eBay
With such an active market surrounding used wristwatches, eBay is the ideal place to begin a search. Clicking through categories supplied by eBay will help refine the results of the search to contain only relevant wristwatches. To view only men's wristwatches the gender can be selected. Shoppers can also limit the results of a search to show only used wristwatches. This can be extremely useful for budget conscious shoppers.
Once the gender is selected, a buyer can begin selecting specific features, colours, or brands as they so desire. Digital watches are usually more expensive than analogue watches, however some analogue watches can be very expensive status symbols. A watch can be a symbolic gift to represent a graduation, promotion, or other milestone event. With a wide selection of used men's watches, eBay can give prospective buyers a feel for the market, the options available to them, and what features they may prefer.
Conclusion
A wristwatch ranges from a simple timekeeping device to as sophisticated as a GPS locator. They have many different uses ranging from fashion to function. The wide array of features and styles of available wristwatches provide buyers with many options. When buying a used wristwatch, a buyer should first establish an acceptable price range. Then, they should determine which features are the most important for them. Buyers should also ensure that the aesthetic of the wristwatch are pleasing.
The fit is the next important feature. The strap should be snug without being tight and made of a comfortable material. Finally, the buyer should ensure the legitimacy of any name-brand wristwatch and ensure no undesirable engravings already exist on it. A wristwatch can be a gift, a personal purchase, an heirloom, or an investment. Whether the intended use is timekeeping or otherwise, there is a used men's watch that is capable of meeting any buyer's need.