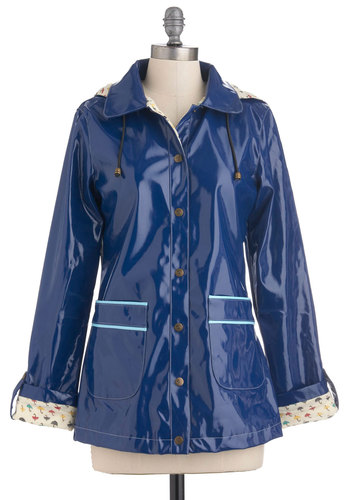 Every man needs a raincoat in his wardrobe. There are many kinds of raincoats suited to be worn for different conditions such as for hiking, cycling, or even for going to work. As high-quality or designer raincoats can be expensive, some people prefer to buy used ones at more convenient prices just to own branded clothes. Others just prefer buying used raincoats because they do not use raincoats that much and they do not want to invest in new ones. A used raincoat is a good alternative to a new one if you want to save money but buy a high-quality raincoat in the same time, or if you just need a cheap raincoat to have in your backpack if you cannot use your umbrella in a rainy and windy day.
Before you decide to purchase a particular used raincoat, there are some things that you should know including the different types of raincoats and how to examine and choose used raincoats to ensure that they are still functional. You should also know how to purchase men's used raincoats from eBay, a website famous for its good value-for-money deals.
Raincoat Evolution
People tried to produce a waterproof garment to protect them against the elements for a long time, but it was only in 1823 that Charles Macintosh, a Scottish inventor, succeeded in coating a fabric with rubber and making it waterproof. The first raincoats were made of rubber-coated cotton and they were called Macintoshes. Over the years people added the letter 'k' to the name and now Mackintosh is the standard spelling. In 1843, Thomas Hancock improved Macintosh's waterproof fabric by using vulcanised rubber to treat the fabric. This technique solved various issues with early raincoats including their stiffness, their melting in hot weather, and their smell.
In the First World War, the all-weather trench coat was created by Thomas Burberry for the British and French armies. The trench coat was made of cotton gabardine, which was tightly woven to provide strength, and chemically treated to become waterproof. Although it was made for the army, the trench coat became popular after the war as it was stylish and breathable, unlike Mackintosh coats. After the 1940s, various changes in raincoat design came about and lightweight ones became popular. Synthetic materials such as vinyl and nylon also started to be used to make raincoats. Now, raincoats come in various styles and materials to cater to a wide range of customers who wear them for different activities.
Types of Raincoats
Since the first Mackintoshes, many other designs of raincoats have been invented, including the trench coat, sports rain jacket, and more. Each type of raincoat is unique and some are designed not only to keep the wearer dry, but also as fashionable outfits that can be worn at any time.
Mackintosh
The Mackintosh is among the first functional raincoats produced and is still popular today. It has a simple, but distinct style and is suitable to wear to work or on a night out. Besides functioning as a raincoat, a Mackintosh is also often worn as a stylish coat. Although the Mackintosh was originally made of rubber-coated fabric, it now refers mostly to the style of the coat rather than the material. Modern Mackintosh coats are made of various materials including cotton and synthetic ones such as polyester for improved waterproofing. A Mackintosh generally has a simple design with no lapels, epaulettes (shoulder straps), or belts.
Trench Coat
The trench coat was first worn in the First World War and had a military design with epaulettes, belts, and double-breasted lapels. It also typically had 10 buttons and cuff straps to seal the ends of the sleeves. The length of trench coats can range from a few centimetres above the knees to mid-calf to offer protection for the whole body. Originally made of gabardine cotton, modern trench coats are made of various materials including synthetic ones, just like modern Mackintoshes. Besides in the rain, the trench coat can also be worn in cold weather as a stylish overcoat.
Plain Raincoat
Compared to the Mackintosh and trench coat, plain raincoats are only meant to be worn in the rain as they are designed only to keep the wearer dry and not specifically to look good. Plain raincoats can be made of numerous materials including rubber, PVC, nylon, and other waterproof materials. They are often yellow or black, but they are available in many other colours. These raincoats have a hood and are long, usually reaching down to the wearer's knees. They are very reliable to wear in heavy downpours, durable, and easy to clean. Plus, they are also often cheaper than other raincoats as they are designed only to protect one against the rain and not as a fashionable outfit. These raincoats are perfect for those who just want a functional raincoat that keeps them dry in the rain.
Jackets
Besides the long raincoats such as the trench coat, there are also rain jackets which end at the wearer's waist. These jackets can be worn as fashion clothing and protect the wearer from the rain and cold. Rain jackets include anoraks and sports jackets. Anoraks, also known as parkas, were initially worn by Inuits to protect them from cold. They are thick and have fur linings around the hood to keep the face warm. Modern anoraks are often made of synthetic materials and have various pockets. A cagoule is another variation of the anorak and is more lightweight.
A rain sports jacket is mostly meant to be worn when exercising or during a sports practice in light rain. Rain sports jackets may or may not be waterproof depending on the manufacturer and the jacket model. Some jackets may be water resistant and can withstand light rain, while some can be also worn in heavy downpours.
How to Choose Used Raincoats
Used raincoats can be found at flea markets, thrift stores, as well as on eBay. Before buying a raincoat, you should consider what you will be wearing it for. If you want something to wear over your work attire or on a night out with friends, you should look for a used Mackintosh or trench coat in an excellent condition. If you plan to go hiking or camping, you should choose a used raincoat that is in a good condition and, if you are willing to compromise on style, you should choose a high-quality coat that can keep you dry and efficiently wick away moisture from your body. Coats and jackets made of PVC, nylon, and Gore-Tex are all good choices. On eBay you can find high-quality used raincoats and jackets in excellent condition and at much lower prices than those of newer designs of the same brand.
If you plan to only wear your raincoat just to get you to your destination when it is raining, then a basic raincoat made of PVC or nylon is enough. However, buying used basic raincoats may not always be a good idea, as they are quite cheap even when bought new. If you want a stylish and casual-looking raincoat, you can opt for a parka or sports jacket. However, rain jackets cannot keep your legs dry, so you need a pair of rain trousers too. If you need a raincoat to protect you on a bicycle or motorcycle, you can get a rain suit, which covers the whole body. Rain suits come in sets of jacket and trousers.
When you are buying a used raincoat, it is essential to check it for any wears and tears. A torn raincoat cannot protect you against the rain, so it makes no sense buying it, unless you are collecting vintage raincoats that you do not plan on wearing. A raincoat with some signs of wear especially flaking of the outer material means that it is deteriorating. Although it can still be worn, it is nearing the end of its lifespan and will not last you very long. However, a raincoat in that condition can still serve you and last up to a year with moderate use; however, it is a good buy only if its price is extremely low.
Buying Used Raincoats on eBay
To search for a suitable used raincoat, you can start your search on the eBay home page. Simply type what you are searching for into the search bar. For example, you could type "used men's raincoat", or "used men's trench coat" to get a list of all used raincoats for sale or you can make your search more specific. You can then browse the list of products until you find a raincoat that you like. When browsing, you can view item's details such as the image, price, and shipping fee. If you find a raincoat that you like, you can click on it to read the details. It is especially important to check the used item's condition and compare it against its price to see if it is worth buying.
On the product page, you can see all relevant information regarding the raincoat including its size, price, shipping period, and also the seller's return policy. Some items, especially used ones, do not have a return policy, so it is advisable to contact the seller. Before you purchase the raincoat, make sure you are satisfied with all the details, especially the item's condition and price.
Conclusion
Raincoats can always come in handy, especially for men who spend a lot of time outdoors. Basic raincoats are cheap even when bought new, so buying them used is not a good deal, considering that they may have signs of wear and tear which alter the raincoat's functionality. However, trench coats and Mackintoshes, especially vintage or designer styles, can be very expensive when new, so buying used ones can be a good investment, especially if the garment is in good condition.
Before buying a used raincoat, you should consider what it will be worn for. Trench coats and Mackintoshes are suitable to wear over work clothes, while rain suits are necessary when riding a bicycle or hiking. You should also examine the condition of the raincoat and make sure that there is no tear on it, as even the smallest hole can cause water to seep in and leave you soaking wet. With this information, you should be able to choose a suitable used raincoat for your needs. eBay has a large selection of used raincoats at affordable prices, and is a great place to start your search.