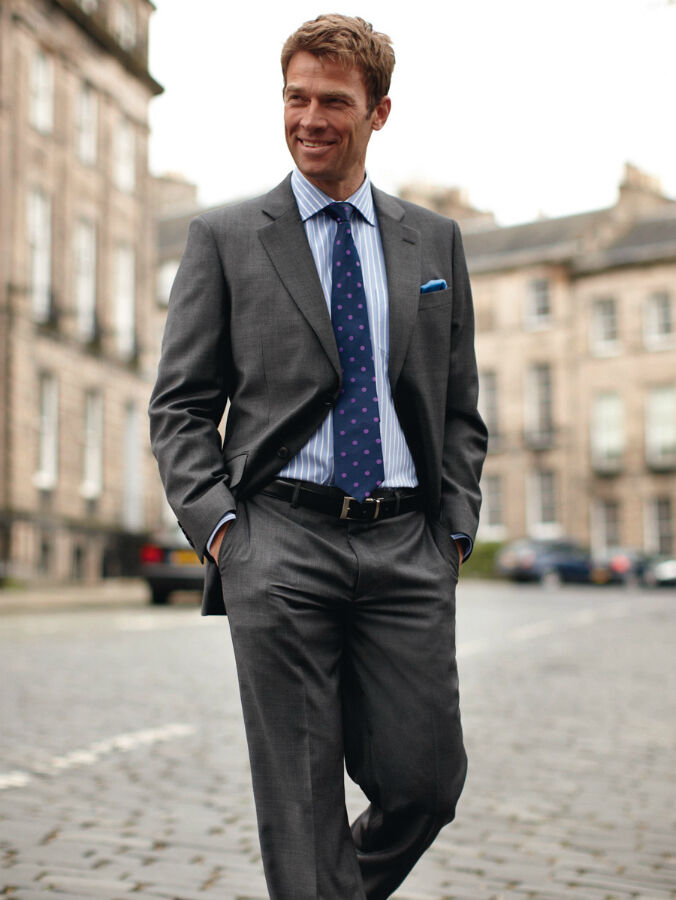 A men's suit has long been a symbol of his standing amongst his peers and his dedication to his own personal appearance in the society around him. Men have worn suits of various formalities for centuries, and the idea has always been to create an air of sophistication in their appearance. Suits speak of power and professionalism and they help a man to feel and act with a flair that projects confidence. Suits were once common attire and a mainstay of people's everyday fashion, but over the years, companies and society in general have adopted a more casual approach to fashion that has relegated suits to more formal careers. The result is that less people are dressing up to go to the office and they are selling their name brand suits for bargains that otherwise would be unheard of. There are several things that a shopper should look for when purchasing a used suit, such as size, brand, style, signs of wear and tear, and value.
Why Buy a Used Suit?
Nice suits are very expensive, and many will say they are worth every penny because of the precise high-fashion appeal they imbue upon the wearer. The main problem for most individuals when it comes to outfitting their wardrobe with high quality suits is the enormous expense associated with the task. It is not uncommon for a good suit to cost well over a thousand pounds, which explains why there is such a growing market for pre-worn suits and clothing. Men can purchase high quality used, name brand suits for far less than they can purchase new off brand suits. This allows individuals to significantly upgrade their wardrobe at a dramatically reduced price.
What to Look for in a Used Suit
Purchasing a used suit can lead to dramatic savings but it can also result in a fashion disaster if the buyer is not properly aware of what to look for. There are several different aspects that must be considered when considering the purchase of a used suit as they can make all the difference of a successful purchase.
Size
The first thing a buyer should do is go to a proper tailor and get fitted. Knowing their size is the single most important consideration for a buyer to be aware of prior to purchasing a used suit. When purchasing a used suit online, it can be beneficial to purchase one slightly larger than the individuals measurements to allow for altering should the need arise.
Brand
Individual brands of suits each have a different cut and style to them. Some brands fit some people well but not others. Buyers should take time to try on several different brands of suits in order to find the style that best fits their body type. Once that brand has been determined, the buyer should try to stick with it as much as possible when purchasing suits from online retailers and auction sites because it will add a degree of consistency to a somewhat variable process. Sticking with the same brands that are known to fit well will ensure less likelihood of fitting issues after the purchase.
Style
When considering a used suit, the buyer should also be aware of the current fashion trends and styles and make sure that the suit they are planning to purchase is not a hopelessly outdated style. Many suits hold their fashion significance for quite a long time, even decades depending on the brand and style. The key for the buyer is staying clear of dated suit styles that clearly are designed for a trend of fashion that is no longer relevant. The fact that much of fashion is cyclical does not mean the buyer should purchase the suit in hopes of it coming back into style just because the price is such a bargain. Sticking to conservative designs and brands that seem to never go out of fashion is the key to making smart purchases of used suits.
Obvious Signs of Wear/Abuse
When considering a suit purchase, careful attention should be paid during the inspection process to uncover any signs of wear or abuse of the fabric. This is easily accomplished in person but when the purchase is to be made online, particular care must be taken when looking over any photographs of the suit. If necessary, buyers should contact the seller and request more information and photographs to ensure the item is not in poor condition. Buyers should ask for photos of the elbow and knee areas of the suit as well as the jacket collar and hems of the trousers. These are usually the areas that will show the most wear and can tell a prospective buyer a great deal about the suit as well as the seller.
Value
Buyers should make their ultimate decision to purchase based on the overall value of the transaction as a whole. There is no point to purchasing a Gucci or Canali suit at any price if it has moth holes or stains in the fabric. With a little research, excellent values can be found in used suits that have very little wear or are nearly new. Many executives and career professionals in highly visible positions must turn over their wardrobe frequently in order to stay in the latest fashion, and these suits often find their way to online auction sites such as eBay. Unfortunately, men gain weight as they age and suits that are too small for them are frequently sold online for a fraction of their original value. In general, buyers should determine a price they are willing to pay for a used suit that is considered a value purchase and they should stay within that mindset when purchasing.
Consider a Tailor
For those individuals who plan to consistently purchase used suits online, they would do well to consider finding a tailor that they can use to make the alterations. Even suits that are purchased in the buyers size might need tailoring to ensure a proper fit, and having a consistent tailor who knows the buyers body type and style requirements can make purchasing used suits a much easier proposition. The cost of altering a used suit as well as dry cleaning it must always be added to the overall cost of the suit to ensure that it still remains a good overall value.
How to Buy a Used Suit on eBay
After you have decided to purchase a used suit, the next step is to take advantage of the powerful search tools available to you using eBay. Once you have navigated to the eBay homepage, simply type in a keyword such as "used men's suit" into the search box. All the available auctions with those keywords in the title will be listed for you to browse. You can search through the available listing one by one for the perfect deal, or you can refine the search by selecting various categories that will narrow the results according to the criteria you select. You can also enter a more specific keyword into the search box that describes exactly what you are looking for, such as by a specific size or brand name.
One of the most important things to consider when purchasing a used suit is the reputation of the seller. Make sure to verify the feedback rating of the seller based on the experiences of previous buyers and the comments they have left about the transaction. Only deal with sellers with positive feedback who have consistently good ratings. When necessary, feel free to contact the seller for clarification if you are unsure of something or would like additional photographs or information prior to committing to the purchase.
Conclusion
Men have long depended on quality suits to help them project an appearance of sophistication and style. The formal lines and luxurious fabrics used to design and craft quality suits lend a sense of aristocratic importance to those who wear them, and they can serve to change how a man feels about himself and how others see him. Historically, it has been difficult for men to build a wardrobe of quality suits without having to spend a small fortune to do so. This trend is changing, however, due to the increased availability of used name brand suits that are available for purchase in various shops as well as online auction sites such as eBay. Buyers are able to find an extensive list of auctions that feature many high quality used suits at a mere fraction of their original cost. It is not uncommon for buyers to save up to 90% off of the original retail price when purchasing a used suit, which makes for quite a value.
Once a buyer has decided to purchase a used suit, they should make sure to perform a good deal of research to ensure they find the right suit at the right price. By keeping the concepts of value, quality, and style in mind, buyers can avoid the pitfalls of purchasing outdated or inferior suits. Buyers should take their time and research various shops, online retail outlets, and auction sites to get a good sense of pricing and value prior to committing to the purchase of a used suit.