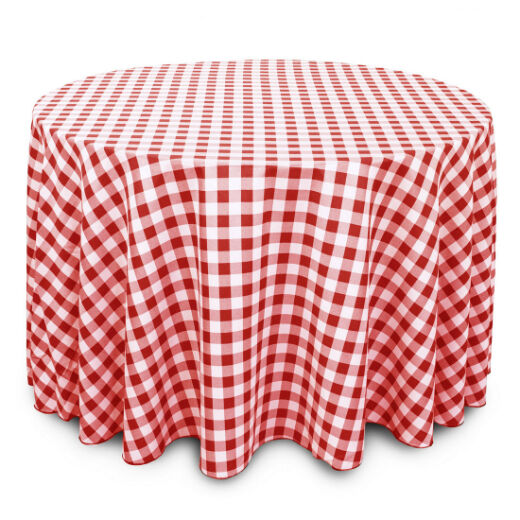 Tablecloths are a great solution to protecting the material of a table top, whether from stains or damage. They also offer a convenient way to contribute to the decor of a kitchen or dining room, helping to establish a certain theme or design. With the ability to quickly wash and dry tablecloths, they provide a great way to avoid any lasting imperfections to an eating area.
About Tablecloths
During the Industrial Revolution and the Victorian Era, textile production became a much cheaper process. The ability to mass manufacture where only handmade products were present before meant that people could bring more and more textiles into their home. By the mid-19th century, tablecloths were beginning to become a staple sight in most middle to upper class homes. Now, tablecloths are available in a very wide price bracket from the budget to the luxury. With such a huge variety of materials, shapes, sizes, and patterns, tablecloths represent a helpful method to transform a room. They offer a way to bring old and damaged tables up to scratch and a way to protect the brand new varnish on an expensive dining set. Buying a used tablecloth on eBay can give a rustic approach to even the most modern of dining rooms.
Choosing A Tablecloth
Being such a common and in demand product, tablecloths are abundant on retail stores and marketplaces. Looking on eBay is a great way to find the right tablecloth, by searching through the thousands of products based on their material, size, shape, or style.
Material of Tablecloth
The material of a tablecloth can define whether it's used practically or decoratively. Some materials are designed for aesthetic appeal rather than any everyday use. Different materials will age differently too, so this should always be checked when buying a used tablecloth.
| Material | Description |
| --- | --- |
| | Cotton is one of the earliest materials used for the production of tablecloths. Being abundant in years gone by, it was a good resource and could be easily hand stitched and sewn before industry was developed. Cotton is still widely used today because of its strength and durability. It's very easy to print on and has great colour retention, though care should be taken when washing multicoloured tablecloths for the first time. Cotton isn't waterproof and as such, cannot withstand liquid stains like those of sauces and gravy at the table. Used cotton can become frayed and damaged, so check for threads at the ends of the cloth. Cotton tablecloths now tend to be used decoratively than for practical purposes. |
| | Linen is another traditional material for making table cloths. It's a thicker and heavier fabric than cotton, but benefits from a natural resistance to dirt and stain. With very little capacity for shrinking and the ability to withstand high temperatures, this is more commonly seen at modern dining tables. When buying a used linen tablecloth, check the folds where it had hung over a table for long periods of time. Subjected to a constant and repeated fold, the threads can break and become frayed internally. |
| | PVC (Polyvinyl Chloride) tablecloths are not actually made from PVC, but rather a fabric like polyester or cotton which has been coated with PVC. PVC tablecloths are often called 'wipe clean' tablecloths because of their ability to not imbibe stains or liquids, as their coating is waterproof. Whilst this might make the tablecloth feel cheap or tacky, it offers a very practical solution to the problem of spilled food and drink. The PVC also offers a very strong protective finish to the underlying fabric, forming a barrier against scratches and tears. The high gloss finish works well to bring out the colours of the fabric, making them brighter and more vibrant. When buying a used PVC tablecloth, check for any hard to see scratches in the transparent finish. |
| | Lace tablecloths are designed to allow people to see the tabletop beneath them. They are manufactured with patterned holes, almost like a wickerwork basket. The raised lace will protect the tabletop from scratches and heat, whilst also allowing diners to see through it. Lace evokes ideas of luxury and tradition, but is in actual fact very cheap to find nowadays. Be careful when shopping for used lace tablecloths, as they are vulnerable to stains and damage; particularly the latter. Lace can be torn and frayed quite easily because of the small threads in the fabric, which have holes that are natural catching points for tears. |
| Artificial Blends | The strongest materials used for modern tablecloths are those artificially blended. This might mean combining linen, cotton, polyester, or silk with other fabrics, chemicals, and materials. In this technique, manufacturers can imbibe aesthetic fabrics with more practical caliber and practical tablecloths with more colour or shine. |
Size of Tablecloth
Choosing the right size of the tablecloth is essential to make sure that it looks good on the table. Overhang or underhang can drastically reduce the aesthetic of a dining table, as can ruffles and creases caused by extra material. The size will largely depend upon the shape and how much hang is required for the table. Modern tables tend to have less hang, whereas the more traditional designs are meant to have ruched edges and curtain like hangings. Although everybody will have their own individual preferences, a good general rule is to allow for 8 inches of overhang for a casual event, and up to 12 for more formal attire. If in doubt, go with the three quarter length drop for a casual and a full floor length drop for formal.
Shape of Tablecloth
| Shape | Description |
| --- | --- |
| Square | When buying used tablecloths for a square table, make sure that the dimensions are exactly equal. The length and width must be the same to avoid any asymmetrical hang. The standard 36" by 36" four seater square table will require a 54" by 54" square tablecloth. |
| Rectangular | Rectangular tablecloths must have a relative difference between their length and width. The ratio must exactly follow that of the table for even hang, though square tablecloths can be used for different hanging lengths. For instance a 54" by 54" square tablecloth on a 48" by 30" table would give a 12" drop on two sides and a 3" drop on the other two. Using a square tablecloth on a rectangular table can be good for smaller rooms when attention has to be drawn away from certain areas. |
| Oval & Round | Oval and round tablecloths are labeled by their diameter, rather than their width and length. A standard 48" table would seat four and require a 90" round tablecloth. |
Style of Tablecloth
| Style | Description |
| --- | --- |
| Modern | Modern tablecloths are often made from PVC, Vinyl, or some other form of coated plastic. They are often more minimal in their design, but can also replicate the more popular traditional patterns in a more practical format. |
| Traditional | The most traditional style of tablecloth is the farmhouse checkerboard red and white design. There are other traditional styles like plaid and tartan. Whilst most of these are reproduced, a lot of them can be classic or original materials so be sure to check if they can be cleaned with modern washing machines and products. Also look for frayed edges and faded patches where the thread may be damaged. |
| Novelty | Novelty tablecloths are very popular for children. Favourite television and cartoon characters can be printed onto tablecloths. It's rare to find a novelty tablecloth not finished with a wipe-clean material like PVC. Modern printing techniques also allow for the personalisation of tablecloths, opening up options for photos. Novelty tablecloths can also be those designed for festivities and holidays like Christmas and Easter. |
Find A Used Tablecloth on eBay
To find a used tablecloth on eBay, first visit the eBay Home Page and open the All Categories section on the left hand side. From here select the Home, Furniture & DIY category and then click Cookware, Dining & Bar in the navigation panel. Then click Tableware, Serving & Linen before finally clicking Tablecloths. From here, the products can be filtered via their Material, Room, Condition, Price, Shape, Colour, and more. Use the search bar at the head of every eBay page to find more specific results. Clicking the Advanced button to the right of the search bar will allow for a more refined results page.
Conclusion
Tablecloths are a fantastic way to inject a little personality into a room, or to prevent the expensive new table from being scratched and damaged. Always consider that when buying used tablecloths on eBay, the seller has the responsibility to provide as much information as possible. Don't be afraid to ask for more details to aid the buying process. Some fantastic bargains can be found on the eBay market place.