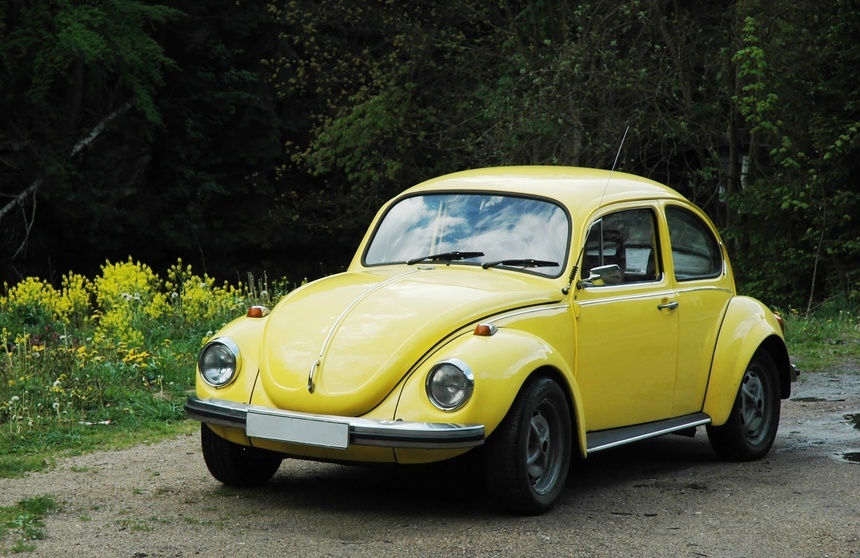 The VW Beetle has been a popular sight on roads around the world since 1938. The compact car is reliable, practical, and fuel efficient. It has received numerous updates during its long existence, but has maintained its overall body design. If you want to buy a used VW Beetle, you should know how to identify a model that is in good condition by assessing the bodywork, interior, engine, and transmission.
Bodywork of a Used VW Beetle

Corrosion from rust is the biggest threat that the VW Beetle faces. Common areas to check include the heater channels, spare VW Beetle wheel, rear quarter panels, bumper, wing edges, boot, bottom seams, and undercarriage. To check for rust in the hinges, shake the door when you open it and listen for the sound of falling pieces of debris. Bubbles sometimes indicate that there is rust underneath the paintwork. Bear in mind that many replacement parts, such as VW Beetle bumpers and floor pans, are easy to install, so consider repairing these components.
Interior of a Used VW Beetle
Inspect the padding and covering of the VW Beetle seats and look for obvious holes, rips, or tears, in addition to sagging. Check the dashboard and steering wheel for cracks, and test the window handles or buttons to ensure that they work. Convertible Beetles require a close inspection of the top and its mechanism, as well as the seals and frame clip. In many cases, the top shrinks over time, so older models may require a replacement. While inspecting the car, check if any repairs or replacements used genuine VW parts or if the owners used third party components.
Engine of a Used VW Beetle

The engine compartment is the part of the car that is most likely to require expensive repairs, so it needs a detailed survey. Most problems with the VW Beetle engine result from overheating. Check the head gasket, carburettor, and belts to ensure that they operate correctly, and look for signs of carbon build-up, which often leads to overheating. Listen for knocking sounds in the engine when it is switched on, and sit inside the car to detect any shaking or unusual vibrations.
Transmission and Brakes of a Used VW Beetle
For manual VW Beetles, change the gears to make sure that they engage smoothly. Check the gearbox and torsion bars for signs of damage and wear. Inspect the VW Beetle brake drums and apply the brakes several times during a test drive to assess whether the car pulls to one side or demonstrates a slow braking speed. If the car is several years old and the owner has no verification of brake maintenance, consider replacing the full brake system for safety reasons.