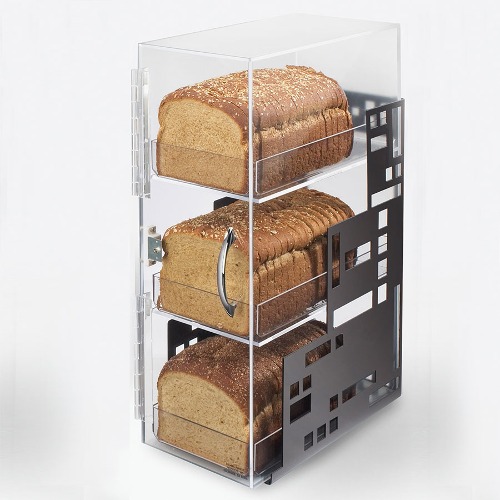 From the traditional wooden makes to the modern innovations with almost futuristic designs,
bread bins
have been an important part of the kitchen for many years – even in the wake of the creation of the plastic bag.
With this guide buyers will be able to not only understand the benefits of a vented bread bin, but also search for and purchase the best bread bin at the perfect price on eBay, the site with the widest online market available.
Why Buy a Vented Bread Bin
It is important for buyers searching for bread bins to understand the benefits of a vented bread bin over other kinds of bread bin. The easiest way to illustrate the advantages of a vented bread bin is in comparison to other types, such as:
Airtight – the most common form of bread bin, and are generally made from wood or metal and are good at keeping anything from getting into the breadbin. However, with sealed, airtight breadbins air cannot circulate to regulate the humidity level, which pushes the humidity in the bin up – creating the perfect environment for mould.
Plastic Bag – plastic succeeds very well while in a regulated environment. However the plastic traps heat, air and moisture in the bag and prevents bread from breathing, again creating an ideal environment for mould to prosper.
Refrigerator – many people store their bread in their fridge, and while the regulated temperature protects bread from mould for far longer than an airtight bin, the cool, airless environment takes moisture from the bread and leads to the drying out of the bread very quickly.
Vented bread bins are so named for the vents located on the top or sides of the bin. These vents allow for the free movement of air within the bin, creating a regulated environment for the bread inside. Vented bins are a helpful part of any kitchen because:
The movement of air allows the bread to breathe – even when cooked bread still undergoes natural processes, and trapping the results of these processes in an airtight bin would lead quickly to the growth of mould.
Vents are especially important when the environment is humid, as warm air can leave the bin rather than being trapped inside leading to a damp, mould-friendly environment.
Storing bread in bins is a reliable way to keep bread fresh for as long as possible, as bins will protect the bread from direct sunlight. Leaving bread out will lead to dry bread, and in plastic bags moisture will become trapped, advancing the progression of mould.
Things to Consider
There are many different kinds of vented bread bins available, and each has its own materials, designs, advantages and disadvantages. Whilst many aspects of purchasing a bread bin is up to the personal taste of the buyer, they should also keep in mind the various aspects that will affect their final decision, such as:
Size
There are many different sizes of vented bread bin available, each catering for different needs and kitchens. Some bread bins may be able to hold several loaves of bread, and others only one. There are also many vented, expanding bread bins that can be stretched to combine size and convenience – allowing the buyer to store loaves large and small in a very space-efficient manner. Buyers should decide how much they need the bread bin to contain and focus on looking only at bread bins that are the size they need – overlarge bread bins, when not needed, are often more of a hindrance than a help.
Materials
The typical materials used by vented bread bins are wood, metal and enamel – each material has its own advantages and disadvantages, and buyers should decide which material would suit them and their kitchen. When looking at the materials of vented bread bins, that buyer may wish to consider:
Interior – the interior of vented bread bins is sometimes different from the outside to enhance the amount of protection given to the bread. Often the interior is metal, as this is very effective at trapping the correct amount of moisture in. Wood is generally not good for interiors as the wood absorbs moisture, and the bread may end up with a wooden smell during storage. Enamel is often coated over metal, allowing for a metal, moisture-keeping inside and an enamel outside that is often done up in vintage-style.
Environment – the surrounding environment is important to consider as temperature has a huge effect of the condition of stored bread. If the weather is particularly humid or hot then metal bins may cause problems as they heat up, increasing the inside temperature of the bin and accelerating the growth of mould.
Cleaning
The buyer should consider if they would prefer a bread bin that can be cleaned easily, which may alter their final decision in terms of the size or material of the bread bin. Bread bins may need to be cleaned if bread has gone mouldy inside it – spores will linger in the bin and may cause any bread placed in the bin to go mouldy also.
Some designs, sizes and materials of bread bins are easier to clean than others – simpler in design bins, such as wooden items, have this advantage – and the buyer may wish to keep in mind the ease of cleaning when looking at bread bins.
When looking at vented bread bins, the buyer should keep these points in mind, though the only perfect bin is the one that suits the buyer best. The buyer may favour convenience (such as cleaning) over size, or the material over the environment it will be in, but they should make sure that the bread bin would work well for their kitchen and lifestyle as well.
Vented Bread Bin Brands
There are several kitchenware brands that create stylish and convenient vented bread bins in a variety of materials and sizes, and many of these are available on eBay at very affordable prices. The main brands represented on eBay are:
Harewood
Harewood makes many kinds of vented bread bins, most often in metal with rolling tops for convenience and sleek, neat style.
Brabantia
Much like Harewood, Brabantia creates many rolling top vented bread bins, available in a variety of colours to suit the colour scheme of any kitchen.
Typhoon
Typhoon is the manufacturer of many vintage and retro style bread bins. Their Novo range of vented, metal bread bins is particularly notable for their stylish look and large size, as well as being available in a range of bright, sleek colours.
Alessi
Alessi is a well-known manufacturer of kitchenware, and their bread bins are small and stylish – and unusually shaped – and available in a range of colours.
How to Buy a Vented Bread Bin on eBay
When the buyer has come to a decision about the kind of vented bread bin they feel would suit them and their kitchen best, they will need to start searching for the perfect bin on eBay from the a variety of sizes, styles, materials and brands available. When searching for vented bread bins on eBay, the buyer should make sure to consider:
Price – an important part of any search, prices will vary from item to item because of brand, condition and even material. Buyers with a budget in mind can use the search preferences to narrow down search results to within their price range. There are many items available for 'Auction' or 'Buy It Now', giving the buyer a great deal of flexibility when purchasing.
Material – there are a few materials to choose from when buying bread bins, and if the buyer has a particular preference they can use the search bar to indicate their choice.
Brand – there are several kitchenware brands making bread bins, and if the buyer has chosen a particular brand they can use the search bar and the search preferences to pick out the ideal bread bin.
Condition – there are items for sale both new and used on eBay, and if the buyer wants their item in a particular condition they can use the search preferences or search bar to narrow down the search results.
Local Sellers – buying bread bins from local sellers is an ideal way to keep shipping prices down, particularly when buying a bulky item like a bread bin.
If in need of more guidance on how to search, the buyer should make sure to consult eBay's Search Tips page, which is full of advice on how to adjust searches to get the perfect result. If the buyer has any doubts about any of the items they see listed, they should not hesitate to ask the seller any questions they may have.
Conclusion
Vented bread bins are, for many, a necessary yet often forgotten piece of kitchenware. Their usefulness for extending the life of bread cannot be overstated. With this guide, buyers will not only be able to understand the advantage of vented bread bins over other bins, but they will also be able to search for and purchase the ideal bread bin at the perfect price on eBay.
When searching eBay for vented bread bins, buyers should keep in mind the advantages of buying items using PayPal, eBay's recommended way to purchase, which also includes the added feature of eBay Buyer Protection.