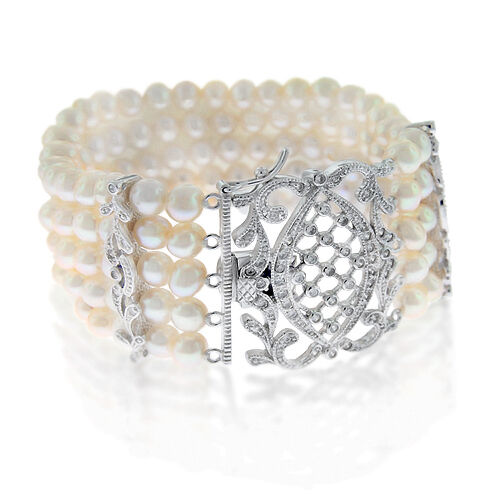 The hallmark of Victorian jewellery is romance. The era was named for Queen Victoria, and her love affair with Prince Albert was the stuff fairy tales are made of. The jewellery from this era signifies the couple's love for each other and was made with beautiful, sparkling stones, intricate details and flourishes, and special engravery as well as small touches like leaves, flowers, and hearts. Cameo jewellery was popular, as were charm bracelets and anything with gemstones in it.
Bracelets of the era range from over the top and statement making, to very simple and dainty with elegant details. Interesting additions like snakes, which were a Victorian symbol of love, as well as a variety of stones and even pearls are common in Victorian bracelets. Multi-coloured gemstones as well as dramatic black onyx stones are popular as well. The styles of bracelets vary, but the look is signature to the time period. Select a Victorian bracelet based on your own personal style and the type of bracelet you desire, such as a bangle or cuff style bracelet. Also select a bracelet with the embellishments and design you desire, which is a big deciding factor.
Types of Victorian Bracelets
Victorian bracelets, much like today's bracelets, come in a variety of basic styles, and once you have selected a style of bracelet, you can narrow your options based on the actual design aesthetics of the piece. The variety of bracelets of the time encompasses several periods within the Victorian era, which some say are broken down into two distinct times: before Prince Albert passed away, and after.
Jewellery became noticeably darker after his death, and it was more light hearted and romantic before. Either way, all of the bracelets of this time have a distinct and visually appealing look which enhances any outfit and any woman's personal style.
Bangle Bracelets
Victorian bangle bracelets are made from either sterling silver, gilt metal, or traditional yellow gold. Bangle bracelets vary in width and thickness, and most of them have elaborate designs, such as leaves engraved onto the bracelets. There are even some bangle bracelets that look like a snake wound around the wrist complete with emeralds for eyes. Other Victorian bangle bracelets are studded with gemstones or diamonds, or may include turquoise.
Bangle bracelets that are mourning bracelets, which were created after the death of Prince Albert, are created with black enamel and darker stones and gems. Bangle bracelets are intricate and detailed, and and are a stunning addition to any woman's jewellery box.
Charm Bracelets
Charm bracelets were also popular during the Victorian era. Like the charm bracelets of today, Victorian charm bracelets are comprised of links which charms are clipped onto, and charms may be shaped like coins, dangling gemstones, court jesters, hearts, books, or coats of arms. Victorian charms are rare and hard to find, but there are also reproductions available for a lower price. Cameo charms were also popular, and a cameo is a miniature portrait of an elegant woman's silhouette.
According to tale, Queen Victoria herself liked charm bracelets and adored wearing them, and once her beloved had passed, mourning charms, which were created to honour the deceased, came into vogue. These were small portraits of lovers and friends who had passed away, and sometimes even included locks of their hair. She started the fashion of wearing charm bracelets amongst the noble classes of people, which of course quickly consumed all classes of people as well.
Cuff Bracelets
Victorian cuff bracelets are only like today's cuff bracelets in that the style is the same. Cuff bracelets are similar to wide bangle bracelets which have an opening that makes it easier to slip the bracelets over the wrists to be worn comfortably. These were sometimes made of vulcanite, a shiny material, and sometimes included cameos or portraits on them. Other cuff bracelets are made of silver or gold, and oftentimes swing open to clasp around the wearers' wrists. Some cuff bracelets are studded with gemstones and engravings.
Adjustable cuff bracelets look like buckles and open to fit wrists and adjust to size. The detailing on Victorian cuff bracelets is stunning, and sometimes includes scrollwork, filigree, and other hand carved details, as well as small portraits, cameos, and stones or diamonds along with beading. Lacy, romantic filigree may cover entire cuffs, and cuff bracelets can be dotted with small or large coloured gemstones or diamonds.
Chain Bracelets
Victorian chain bracelets are made of thick, heavy chains or small chains with simple links. There are a variety of chain style bracelets from this era, and some are decorated with charms while some are already embellished with details and stones. Some Victorian chain bracelets have details such as heart-shaped padlocks on the closures. And some have metal plaques which have embellishments on them, such as a beetle, which was a sign of good luck, or a snake, the symbol for love.
Other chain bracelets may have chains decorated with filigree designs and interspersed with either cameo portraits or large, oversized gemstones to create fanciful and elegant bracelets. A variety of metals were used to make these bracelets, including silver and yellow or rose gold. Victorian chain bracelets sometimes contain engraved plaques with the names of lovers or children on them. These are rare souvenirs of the time period.
Gemstone or Diamond Bracelets
Much of Victorian jewellery was made with gemstones, including diamonds, sapphires, emeralds, and rubies. Some bracelets are comprised mostly of these types of stones. Victorian gemstone bracelets simply may be stones linked together, or they are bracelets which include a variety of stones. Some Victorian gemstone bracelets are charm style bracelets which have dangling gemstones in place of actual charms.
Other types of Victorian gemstone bracelets are cuff bracelets created with a multitude of stones and diamonds, or chain bracelets with clusters of stones. If you are looking for a sparkling and glamourous gemstone bracelet, there are many to choose from depending on the actual style of bracelet you choose. Unique stones which were used to make these bracelets also include opals and onyx stones. Bangle bracelets covered in stones are another option, and agate was also used in some of these bracelets to make a strong statement.
How to Buy a Victorian Bracelet on eBay
Victorian bracelets can are found on eBay in many styles, colours, and shapes. Search Victorian bracelets easily and navigate to the styles you are most attracted to, whether it is charm bracelets, bangle bracelets, or beaded gemstone bracelets. There are many options to browse, and eBay makes it simple to find the perfect Victorian bracelet due to the ease of the search functions. Select a few bracelets you are interested in, and compare the jewellery based on what condition the bracelets are in, the price of the bracelets, and the sellers' ratings and feedback from other satisfied buyers.
Once you have selected the Victorian bracelet you most desire and have it shipped, go back to the seller's page and leave him or her feedback. Leaving feedback for sellers not only helps the seller increase his or her positive ratings on eBay, but it is of service to future buyers of jewellery when they are trying to make smart purchasing decisions. If you are happy with the purchasing process as well as the speed of shipping, communication with the seller, and condition the bracelet arrived in, include those details when you leave feedback for other buyers to see when they are shopping.
Conclusion
If you are looking for a one of a kind, unusual way to add something special to your wardrobe, purchase a Victorian bracelet. These sentimental pieces look amazing alongside the fashions of today, and even jewellers nowadays are working to add more vintage style pieces to their collections due to their timelessness and beauty. Celebrate the ups and downs of the Victorian age with the romance of the jewellery before Prince Albert passed away, and the dark beauty of the pieces that mourned him and others who went on. Victorian pieces are elegant and intricate and are statement pieces of jewellery you will get a lot of enjoyment from.
Whether it is an antique Victorian charm bracelet or a bangle bracelet studded with diamonds or rubies, a Victorian bracelet is oftentimes a conversation starter for everyone who sees it. If you love collecting antique pieces or you are simply in the market for something that adds pizzazz to your wardrobe, a Victorian bracelet can be just the item you are looking for. No matter what your personal style is, there is a bracelet which is simple and understated, as well as a bracelet which is dazzling and dramatic. Find the perfect Victorian bracelet to add some spice to your everyday wardrobe on eBay and keep it as an heirloom or investment piece which can be passed down to others, if you desire. A Victorian bracelet may not be inexpensive, but it is a vintage, antique piece which is a worthwhile investment.