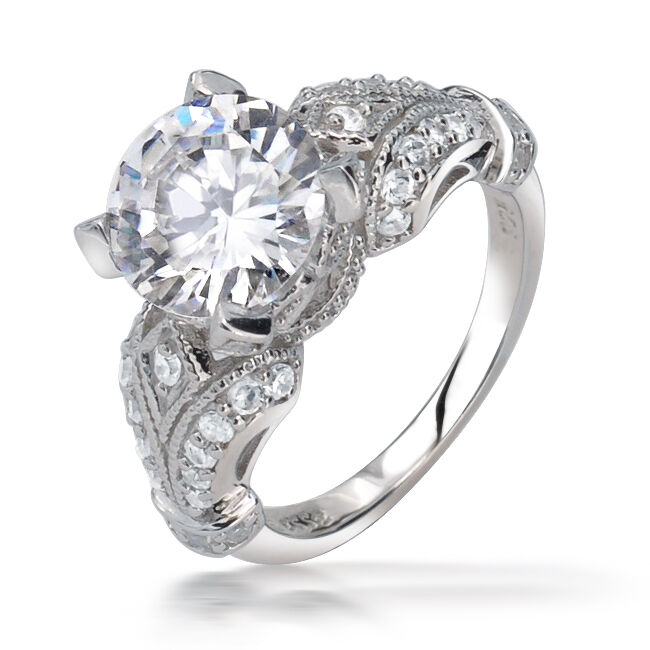 With a variety of classic styles dating back 100 years and older, Victorian engagement rings are a popular choice for those seeking a unique style ring. Stretching from 1837 through the beginning of the twentieth century, the Victorian Period is represented by elaborate rings designed with colourful stones. With a vast array of styles within the Victorian Period, consumers are able to find almost any desired design aesthetic. Varying gold qualities, stone options, and band construction styles are available from rings crafted during this time.
Searching for specific Victorian engagement ring styles can be somewhat difficult due to the popularity of such items. In order to find select styles, consider visiting and utilising online marketplaces such as eBay. When shopping for Victorian engagement rings, understanding the stylistic variations within the Victorian Period is of utmost importance. Shoppers interested in Victorian engagement rings are able to select from Early Victorian, Mid-Victorian, and Late Victorian style options.
Early Victorian Engagement Rings
The Early Victorian time period stretches from 1837 to 1860. During this time frame, Victorian engagement rings showcased brightly coloured stones and elaborate overall ring construction. The actual settings of Victorian rings from the early period normally display more intricate and grandiose designs. The gemstones included in earlier Victorian options range widely in both colour and size.
Ring Design
The ring design of many Early Victorian Period rings utilise an organic, serpentine design that is a representation of continual love. Other intricate themes common during the mid 1800s include Celtic patterns and large, complex settings. The gold quality in rings of the Early Victorian Period usually consist of 18 to 22 carat gold. These Victorian rings are incredibly extravagant with sizeable settings and many stones.
Gem Colour
The colour of gems included in Early Victorian design can range from every imaginable hue. Gems that are set into Early Victorian engagement rings include both precious as well as semi-precious stones such as amethyst, various garnets, ruby, topaz, smoky quartz, and many more. These rings were many times designed and chosen with the birthstone of the bride in mind. Intelligent consumers searching for a uniquely coloured engagement ring keep Early Victorian Period pieces in mind as an adequate choice.
Mid-Victorian Engagement Rings
Engagement rings designed in the Mid-Victorian Period are labelled as "mourning jewellery". This jewellery style was popularised when Queen Victoria of England wore black, modest jewellery commemorating and remembering the life and death of her husband Albert. The Mid-Victorian Period begins in 1860 and concludes in 1885, a period which is characterised by rose gold and darker coloured gemstones such as black jet and opal. The gold in such rings is often built with somewhat lesser purity that earlier rings.
Ring Designs
The designs of rings in the Mid-Victorian Era are much more subdued than Early Victorian rings. Mid-Victorian Era engagement rings are more classically slim and elegant than their earlier, more ostentatious counterparts. These rings are designed with gold alloys that include some copper as well. These rings are created with gold carat qualities that typically range 9 to 18 carat options.
Gem Colour
The gems included in Mid-Victorian jewellery include stones such as pearls, black glass, jet, opals, crystals, emeralds, and other more muted gemstones. The colour of such gems is designed to express a darker, prudent, and more reverent style choice. Rings of this style period introduce some diamonds, but usually consist of smaller diamonds pieced together in a larger overall setting. People interested in a more lush aesthetic are usually drawn to Mid-Victorian engagement rings.
Late Victorian Engagement Rings
Individuals searching for a Victorian engagement ring that exclusively employs diamonds rather than other gemstones often choose Late Victorian rings as a premier option. Late Victorian engagement rings are designed with many small diamonds, but large diamonds, though scarce, are certainly attainable. From the years 1890 to 1901, mass production of engagement rings produced affordable, light rings which held diamonds at the centre with understated settings.
Ring Designs
The designs of this period are generally simple gold rings constructed to showcase a diamond. Some of the first solitaire diamond engagement rings originate from the Late Victorian Period. Some filagree and ornate carvings were incorporated in the later period as well. Although the rings are made with gold qualities that range from 9 carats to 18 carats, some settings in this time period were actually designed with platinum.
Gem Options
The most common gem offered in engagement rings from the Late Victorian Period is the diamond. Whether the ring is made up of ten smaller diamonds or a singular diamond, many engagement rings from this time period were subject to the diamond rush. Individuals looking for an antique solitaire engagement ring often select Late Victorian engagements rings as a quality choice. Other gems such as rubies, sapphires, aquamarine, amethyst, opals, and even emeralds, are also available from this time period. No matter the age, Victorian engagement rings are a classic option.
Gold Qualities
Older Victorian engagement rings tend to have similar gold qualities to today's ring styles. When shopping for a ring of any type, understanding the different gold qualities is helpful. With rings that range from 99 per cent gold purity to just 37.5 per cent gold, shopping for a ring requires a bit of product knowledge. Victorian era engagement rings are often designed with gold bands ranging anywhere from 9 carats to 22 carats.
| Carat | Purity (Per Cent) | Commonality |
| --- | --- | --- |
| 24 | 99.0 | Quite rare |
| 9 to 22 | 37.5 to 91.6 | Common Victorian ring carat options |
| 22 | 91.6 | Difficult to find Victorian ring options |
| 21 | 87.5 | Can be purchased in most locations |
| 10 to 18 | 41.7 to 75.0 | Common carat options, usually found in the US |
Engagement rings are commonly bought in 16 and 18 carat gold quality. Early Victorian engagement rings, however, tend to be made of higher quality gold while later options are somewhat lower in carat quality.
Gem Options
A fine engagement ring integrates both gold and stone quality to create a valuable ring. In the Victorian Era, stone and gem options ranged from small jets to diamonds and beyond. When shopping for a specific stone option, however, it is helpful to weigh gem quality in a purchase. Shoppers searching for a diamond ring in concern to Victorian engagement rings usually shop for a ring with an attractive setting rather than a large diamond. Other options, such as mourning jewellery, offer darker aesthetics and are often somewhat less expensive as well.
Band Options
Choosing a ring band is an important shopping decision. Many Victorian engagement rings are fabricated with rose coloured gold, but other colours of gold can also be purchased. Some Late Victorian Period rings are even designed with an open band, making them fit more comfortably. Also, make sure to consider band aesthetics such as filagree and setting when purchasing a ring.
Buying a Victorian Engagement Ring on eBay
With three different and distinct style periods to choose from, finding the ideal Victorian engagement ring is possible for a variety of taste preferences. For a larger selection, consider using online marketplaces such as eBay. Thousands of sellers and hundreds of product types are available through the eBay platform. In order to begin searching for a Victorian engagement ring on eBay, visit the eBay home page. From the home page, simply enter in a search term such as "Victorian engagement ring" into the search bar and press on the search button.
A variety of style and period options are available through the sellers on eBay. Understanding what types of varieties are available is helpful, but when shopping through hundreds of listings advanced search options can be even more helpful. To narrow down the search, consider using eBay's advanced search option. Advanced search allows users to choose specific criterion in order to focus a search more directly. eBay offers a variety of features to make shopping easier and more intuitive.
Conclusion
Shopping for an engagement ring is an exciting shopping experience that requires a bit of product knowledge. Those who desire to own specific pieces of jewellery such as Victorian engagement rings are able to turn to online marketplaces such as eBay. Before making a final purchase, make sure to understand the difference between period options when searching for a specific Victorian engagement ring. Whether you are in the market for a colourful option or a more subtle aesthetic, engagement rings from the Victorian Period can meet almost any stylistic need.
You have the option to shop for a variety of band options, including more open and airy construction types as well as more elaborate designs. Considering different qualities of gold and understanding carat options aids in making a quality purchasing decision. Above all, shopping for Victorian engagement rings means striving to match the personal style preference of the individual. Rose coloured gold, black jet settings, and even solitaire diamonds are available through the various Victorian engagement ring style periods.