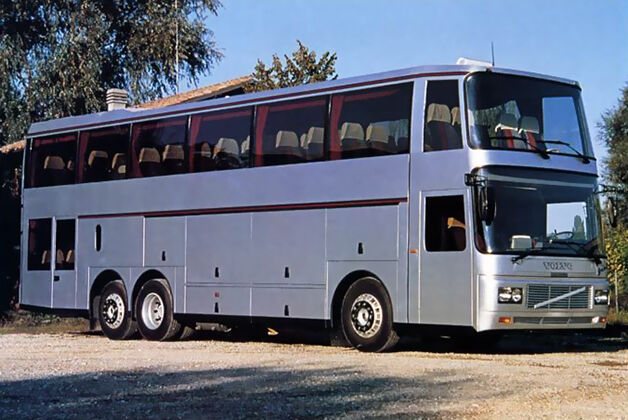 Volvo's buses and coaches are safe, reliable, and efficient. Their models work well for a number of markets, from local transit buses to comfortable, long-distance travel. The well-engineered chassis gives a smooth and quiet ride. Choosing a Volvo coach requires not just picking a set of specifications, but also deciding on a body build.
About Volvo Coaches

For the UK and Ireland market, Volvo offers only a single all-Volvo coach model: the 9700. However, they offer a choice of two different chassis, the B11R and the B8R. Buyers have a choice of the 9700 on the B11R chassis or either chassis paired with bodywork from a choice of other companies. For new coaches, you can use these partnerships with other companies to specify number and style of seats, available luggage space, and onboard amenities. When buying a used coach, the main thing to remember is that besides the all-Volvo 9700, there are other coaches that share Volvo's reliable chassis.
The B11R Chassis
The B11R is the chassis for the 9700 coach. In its two-axle version, it is 12 to 12.8 metres long, while the three-axle version is 13 to 15 metres long. The number of seats is therefore quite variable. The Volvo D11K, 11 Litre Euro 6 engine can deliver 380 Hp, 430 Hp, or 460 Hp. Shoppers can choose either rigid or independent front suspension. The company designed it as a luxury coach platform for long-distance travel or for business applications. Besides Volvo itself, Jonckheere, Sunsundegui SC7, and Plaxton Elite-i all do bodybuilding for this chassis.
The B8R Chassis
The B8R is for either local transit or long-distance travel and tours. It is only available in the 12.8-metre length and its Volvo D8K, 8 Litre Euro 6 engine has only two horsepower configurations: 320 Hp and 350 Hp. Wide doors and a wide aisle make this chassis more accessible to wheelchairs and strollers. A kneeling-function option further aids riders with limited mobility. While both the B11R and the B8R are very fuel efficient, the B8R is somewhat more so. Exact gas mileage depends on other factors, such as how fully the bus is loaded and how the driver operates. The Plaxton company does bodywork for this chassis.
The Volvo 9700 Body
The 9700 coach is a comfortable, mid-range vehicle combining some luxury with low-operating costs. It uses the B11R chassis and comes with all its specifications, including a choice between a two-axle and a three-axle configuration. The interior features automatic climate control with separate climate control for the driver and several colour-coordinated decor possibilities. Options include three-point seat belts, booster cushions for older children, and rear-facing safety seats for very young riders. The driver's area is spacious and ergonomically designed as well as sound-proofed. Sun visors and windows are electronically controlled. A navigation system comes standard and a rear-facing camera is available.