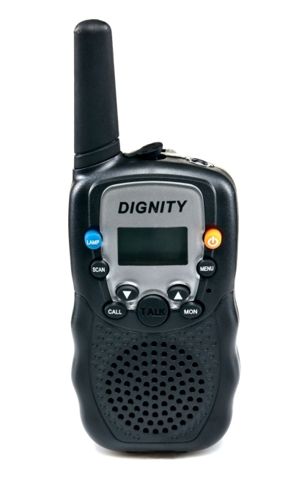 Walkie talkies are small two-way portable radios that are convenient for communicating with people who are too far to shout to but too close for a phone call. They also come in handy when hiking through the wilderness, where mobile phone service might not be available. Though they have been around for decades, walkie talkies are more readily available to consumers today and some are even designed specifically for use by children. There are many options to consider when shopping for a walkie talkie and eBay makes it easy to find just the right radio to meet the shopper's needs. A little bit of research should be done beforehand to understand how walkie talkies work and what all of the options mean. To shop for walkie talkies on eBay, people need to know how to search effectively, refine search results, choose a seller, and also know what to look for in a personal radio. New and used selections in a wide range of designs and brands are available on eBay.
About Walkie Talkies and Personal Radios
Walkie talkies and personal radios come in handy when people need to communicate with others who are not in earshot. These radios work within a range of just a couple of kilometres at most. Some people might wonder, "Why not just use a cellular phone?" The beauty of walkie talkies is that they work anywhere, even when there is no mobile phone service. Additionally, walkie talkies can operate on disposable batteries rather than solely relying on a rechargeable battery. These characteristics make walkie talkies ideal for those who go camping, hiking, or just like to spend time in the wilderness.
Walkie talkies have come a long way since they were first introduced in the 1940s. Back then, walkie talkies were large, bulky, and heavy. Now they are lightweight and can be as large or small as needed. Because walkie talkies and personal radios are so much smaller and easier to use than they once were, they make a great addition to anyone's camping or survival gear.
Searching for Walkie Talkies on eBay
eBay offers a large selection of new and used walkie talkies and personal radios. This online marketplace brings millions of buyers and sellers together in one place to find everything that they need. Because the walkie talkies are sold by private sellers, they are often available at a much lower price than can be found in any retail shop. The key to finding the best deals on eBay is to know how to perform an effective search. There are two ways to search on eBay: keyword search or advanced search.
Keyword Search
A search bar is found on every page on the website. This makes it easy to start a search from scratch or start a search over. In the search bar, the shopper enters keywords to describe the walkie talkie he is looking for. A general search for 'walkie talkie' brings up all of the listings that contain those keywords. Selecting a specific section of eBay to search in can reduce the number of listings that are returned to a more manageable amount.
Advanced Search
An advanced search allows shoppers to perform a more specific or refined search. Rather than simply searching the entire site, or a section of the site, for certain keywords, shoppers have the ability to choose words to exclude from the search and select various options to focus the search on a very specific product. For example, shoppers who are not interested in Motorola walkie talkies can exclude those from the search. In the search bar, the shopper types 'walkie talkie' and in the section for words to exclude, they enter 'Motorola'. Additionally, shoppers can specify a price range or delivery options before starting the search. The end result is a more focused set of listings that only include specific items that match what they're looking for.
Refining the Search Listings
Once the initial search has been conducted, shoppers can begin refining the search results to reduce the amount of walkie talkie listings they need to sort through. Knowing a little bit about walkie talkies before shopping on eBay can make the searching and refining processes a bit easier. Some of the major options to consider when shopping for a walkie talkie or personal radio are frequency bands, type, and brand.
Frequency Bands
The two frequency bands that shoppers have to choose from are UHF and VHF. UHF or Ultra High Frequency operates in the frequency range of 300 to 300 Megahertz. VHF or Very High Frequency operates in the frequency range of 30 to 300 Megahertz. UHF walkie talkies work best for areas where there is a lot of interference. They can send signals through walls, doors, and other obstructions. They have a shorter range than VHF. For this reason, VHF walkie talkies are favoured by those who are outdoors, have a larger range, and minimal interference.
Type of Walkie Talkie
The type of walkie talkie refers to its design or appearance. Most walkie talkies are available in a portable handheld version, but there are a few other designs to choose from. On eBay, shoppers can choose from portable/handheld versions, mobile/in-vehicle versions, or others that are not specified. Some have belt clips to easily attach to clothing and others can be worn like a watch to be completely hands-free. Before purchasing a walkie talkie based on its appearance, shoppers should be sure that all other specifications meet their needs.
Brand
Some shoppers are particular about the brands of electronics they use. eBay allows shoppers to specify which brands they want to search for. Brands such as Motorola, Cobra, and Binatone are all available. Shoppers should be sure to read reviews prior to purchase to see which brands offer the highest quality.
Other Walkie Talkie Options to Consider
There are quite a few other options that shoppers should take time to consider before making a final selection. It can be hard for people with no experience with walkie talkies to determine which options are important and which ones don't make that much of a difference in the operation of the radio. Some important options to keep in mind are the range, battery type, privacy, and talk modes.
Range
The range refers to how far the walkie talkies can be used apart from each other. Shoppers should be sure not to take the package at its word. While the package might say it can be used up to a certain amount of kilometres, this does not take weather conditions and other interference into account. Shoppers should be sure to keep the terrain and atmospheric conditions in mind when selecting a walkie talkie to use. They should shop for one that offers a range much larger than they think they need just to be on the safe side.
Battery Type
Many walkie talkies can be used with standard AA or AAA batteries. People who don't use their walkie talkies often can get away with using disposable batteries and replacing them as needed before each outdoor excursion. For people who use walkie talkies on a daily basis, this is not a feasible option. Rechargeable batteries and battery packs are a better choice since they last longer and can be recharged regularly. Rechargeable batteries are a more expensive up-front investment, but are less expensive in the long run for daily users.
CTCSS
CTCSS stands for Continuous Tone Coded Squelch System and offers a bit of privacy or security when using a walkie talkie. This allows users to lock certain channels so that other radios cannot hear them. When transmitting private communications over walkie talkies, it is a good idea to use this type of system to prevent other radios from picking up on the chatter. Again, those who use their radios on a casual and limited basis might not need as much privacy on their walkies.
PTT vs. VOX
Push-to-Talk (PTT) and voice-activated (VOX) are the two types of talk modes featured on walkie talkies. The vast majority of walkie talkies require users to press a button before anything they say is transmitted to the other radios. Voice-activated walkie talkies work as soon as the voice is picked up by the microphone. VOX walkies are more convenient for hands-free talking, but are also more expensive.
Choosing a Seller
Once all of the listings have been narrowed down to a select few, shoppers can begin evaluating the sellers to see who they want to buy from. Each listing has a bit of info about the seller to make the process easier. eBay's feedback system allows buyers to rate sellers that they have purchased from. This feedback rating is prominently displayed with each listing. Shoppers can evaluate the total number of transactions completed as well as the overall positive feedback rating the seller has received. To get a better idea of the seller's reputation, shoppers also have the ability to read comments left by previous buyers. Choosing a seller with a solid reputation gives shoppers confidence in their purchases.
Delivery Considerations
eBay operates online, which means that shoppers have to consider how the walkie talkies are going to be delivered to them. Postage and packaging prices can add a considerable amount to the overall price of the walkie talkies. Shoppers can refine their searches to show only those that offer free delivery. In the end, shoppers just need to make sure that they combine the price of the walkie talkie with the price of postage in order to make an accurate price comparison between listings.
Local Pick-Up
Delivering electronic devices, like walkie talkies, with batteries can be dangerous and add a considerable amount of weight to the package. Shoppers are able to sort the listings by sellers located close to them. Some might offer local pick-up to avoid postage charges altogether. This helps to prevent batteries from leaking during transit or keeps the walkie from accidentally turning on. If local pick-up is not available, shoppers should ask sellers to remove batteries prior to delivery.
Conclusion
Walkie talkies are great to have when hiking through the woods and out of cellphone range. They are also ideal for emergency and survival kits when telephones or power may not be in service. While walkie talkies were once large, bulky devices, they are now lighter in weight and more easily portable. Additionally, they come in many convenient designs for easy carrying no matter what the activity. When shopping for a walkie talkie, people need to carefully consider all of the options including the frequency bands, range, and battery types so that they choose the best radio for their needs. eBay is a convenient online marketplace to find a wide selection of walkie talkies. Searches are easy and users can refine results and compare listings to find the best deals. No matter if shoppers are looking for walkie talkies to be used on a daily basis or every once in awhile on outdoor excursions, there are walkie talkies to meet everyone's needs on eBay.