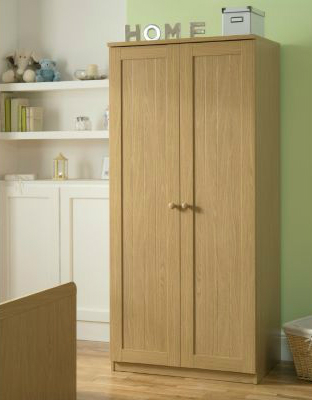 The wardrobe, also called an armoire, is one of the three essential furniture items in a nursery. The cot, the changing table, and the wardrobe are all needed in order for parents to take proper care of their infants. The wardrobe is the largest piece of furniture in the room because it houses all of the baby's clothing and other essential items. There are a lot of things to consider when putting together a nursery, and it is best if the room is completed and everything is arranged before the baby's arrival.
For first time parents, it can be tricky setting up a nursery because they do not know what to expect or how much stuff they will end up buying after the baby is born. In most cases, parents end up with way more stuff to store than they anticipated. This guide will help take the guesswork out of selecting a wardrobe for a nursery by educating parents in what to expect and how to prepare for the arrival of their new family member.
History of Wardrobes
Armoires have a French origin and date back to the 16th century. The first armoires were actually not used for clothing, but rather they stored guns and other weapons. It was not until the French revolution when space and money were both short that people took the doors from their closets to create more space and used the armoires as wardrobes for their clothing. Today, they are elegant pieces of furniture that give people the storage space they need when there is no closet, or it is full. In fact, they were so popular for a while that their uses expanded and now armoires are made for storing things like TVs and fine china.
Measuring for a Nursery Wardrobe
Before you begin shopping, the space where the wardrobe will go needs to be measured. This includes the height of the ceiling because wardrobes are known for being very tall and there is a good possibility that it may not fit through the door or in the room if the ceilings are low. In addition, it is a good idea to also measure all of the other doorways and tight corners in the house that the wardrobe would have to get through in order to be put in the nursery.
Selecting Nursery Wardrobe Features
Every wardrobe is set up differently, they can have a space to hang clothes, shelves, drawers, and even a mirror. Most wardrobes have a combination of them all. This is the part where people get tripped up because they are not sure how much clothing, toys, and other accessories they will end up with. Many times people end up buying more stuff for their kids than they originally intended to, or they get a lot of unexpected gifts from relatives and friends.
Since baby clothing is so small, it really does not take up that much room, and very little of it, if any, has to be hung up. For this reason, shelves and drawers are the most essential features to look for because they can hold more than just clothes. Toys, shoes, feeding supplies, nappies, and other accessories can also be stored in the wardrobe if there are shelves or drawers.
Freestanding or Fitted Nursery Wardrobes
There are two types of wardrobes to choose from for the nursery. The most commonly known type of wardrobe is the free standing one. It can be placed anywhere in the room and is not attached to anything. A fitted wardrobe is essentially built in. It is attached to a section of the wall and cannot be moved. The fitted wardrobes conserve the most space because they are usually put into an alcove or built into a closet. The freestanding wardrobes are convenient because they can be moved around whenever needed.
Wardrobe Construction
Wardrobes are built in a number of ways. Their construction makes a big difference in their durability and movability. Consider which of these three construction methods would work best for the nursery.
| Wardrobe Construction | Description |
| --- | --- |
| Flat Packed | Flat packed wardrobes are the least expensive because the buyer has to assemble the wardrobe after the purchase. These are idea for smaller homes because the parts can be individually moved into the nursery and then assembled inside. However, flat packed furniture is known for not being very durable |
| Knock Down | Knock down wardrobes are specifically designed to be assembled and taken back apart with ease. The doors are pre-hung and the bolts are easily installed. They are more expensive than flat packed wardrobes because of their convenience but their sturdiness is generally the same |
| Pre-Assembled | These wardrobes are assembled by the manufacturer and are usually high quality. They are difficult to move into the house because of their size but they are very sturdy |
Preparing for a child is very expensive because there are so many things to buy beforehand. If it is going to break the bank, stick with the flat packed furniture because it is less costly and will still last for several years.
Styles of Nursery Wardrobes
Many people like to decorate their nursery according to a theme. Wardrobes can be bought as antiques, reproductions, or modern pieces of furniture. The style is all a matter of opinion and dependant upon personal tastes. Below are the main wardrobe styles to select from.
| Style of Nursery Wardrobes | Description |
| --- | --- |
| Art Deco | Art deco is a style from the 1930s that combines the craft motifs with the machine age. It features curved lines, geometric shapes, and a bold look |
| Gothic | Gothic designs are medieval with thick, darker wood and an elegant appearance |
| Louis Philippe | Louis Philippe furniture is another French inspired design from the mid 1800s. It consists of darker woods with simple, straight lines. At the time, these were designed for function rather than fashion |
| Louis XIII | Louis XIII wardrobes are known for their square, carvings and door inserts. Usually the wood is cherry, oak, or mahogany |
| Modern | Modern day wardrobes tend to be more on the contemporary side with flat surfaces and smooth lines |
| Regency | This design has somewhat of an Asian look with very fine and intricate details such as elaborate legs and, quality woods, and fancy carving |
| Renaissance | Renaissance furniture consists of lighter woods with very elaborate decorations and embellishments |
Those who are unfamiliar with the different styles from other time periods would benefit greatly by looking up pictures of each style. This will help them visualise their options and decide which styles appeal to them the most.
Where to Shop for Nursery Wardrobes
Although wardrobes are considered an elegant and useful piece of furniture to have, they have become less common in households. Part of this is because of a misconception about their cost. Large elaborate ones are expensive, but un-assembled wardrobes are extremely affordable. However, since they are not as common as regular dressers, they are more difficult to find, especially if there is a particular type or style that the shopper is looking for. Finding what they need may require many trips to different furniture shops.
There is an easier way to purchase wardrobes, though. Rather than going from shop to shop, just go online to websites like eBay. Not only do they have a huge selection of wardrobes, but they also have all the other items that parents need for their babies as well.
Find a Nursery Wardrobe on eBay
eBay makes parents lives easier by giving them the ability to get all of their shopping done in one place and without leaving the house. To view all of the wardrobes for sale on eBay, just use the search box on their website. Type in anything you want and eBay will bring up a list of those items. For example, enter something like "Nursery Wardrobe". If the number of products shown is overwhelming, you can be more specific in your search and type in something like "Gothic Wardrobe" or "Flat Packed Wardrobe". This will generate items more specific to what you want. You can then proceed to enter your price range in so that you are only shown the listings within your range.
Since these are heavier items, pay special attention to the postage charges. Many sellers offer free shipping but on some products, the shipping rate has to be calculated based on distance. The cost could end up being much higher than people expected so use the shipping calculator to figure out the fees.
Conclusion
The arrival of a new baby is the most memorable moments for a family. They are young, innocent, and their parents fall in love with them the second they see them. This is why so much care is taken into arranging the nursery that will welcome the baby home. A wardrobe is a big part of that process. All of the baby's clothes, toys, shoes, and necessities are tucked neatly away inside. The organisation helps parents tremendously when they are trying to care for a newborn baby. Parents can easily find and order a wardrobe without leaving their home by measuring and then selecting the type, style, and construction of the wardrobe.