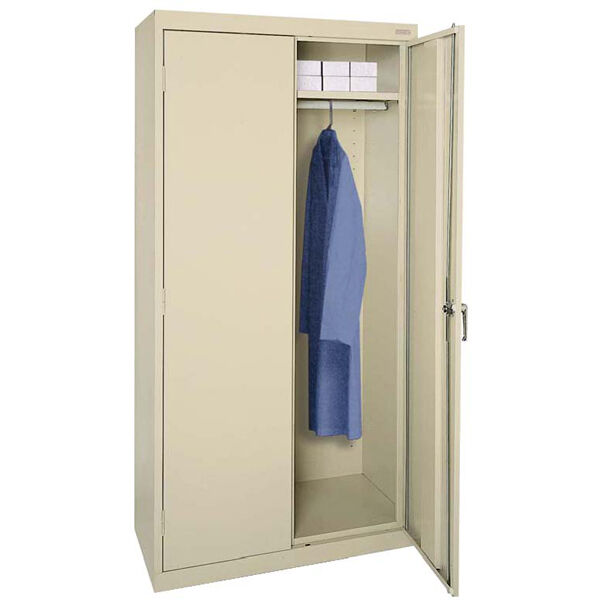 A beautiful wardrobe adds style and storage to any room. In a bedroom that does not have a built in closet, or where a closet does not offer enough space, a wardrobe can be a necessity. It is usually a large furniture item, but its bulk is put to great use by allowing users to carefully organise the items it stores.
This piece of bedroom furniture tends to stay with a person for many years, and sometimes even for generations, so the decisions that go into purchasing it are not to be taken lightly. When purchasing a wardrobe, one should take time to determine one's needs and desires beforehand, to avoid time wasted shopping for an unsuitable item. There are many different types of wardrobes. Most include doors, although some do not. While doorless wardrobes are suitable for some situations, most shoppers prefer a wardrobe with doors, behind which shelves, drawers, and hanging space are concealed.
Selecting and buying the right wardrobe with doors is a matter of determining how it will be used, and then selecting a style, a construction material, and deciding where the wardrobe should stand
Choosing a Wardrobe Based on Use
For some people, the decision to purchase a wardrobe is about gaining some much needed organisation in a room that lacks storage space. A wardrobe offers a place to tuck cloths, linens, and other items out of the way. With the wardrobe's individual drawers, shelves, and cabinet spaces, it also offers the ability to organise all of the different clothing items much better than they can be organised on an open shelf, in a dresser, or even in a closet.
In fact, many consumers are interested in purchasing a wardrobe not because of the extra storage space that it creates, but because they simply prefer the way a wardrobe allows them to arrange and organise clothes. A wardrobe combines drawers, shelves, and hanging space in one unit. Some people love this arrangement, which makes storing and finding clothing extremely simple. Such people could care less about the available closet space in the room. They simply prefer the convenience of a wardrobe over any other type of bedroom furniture unit.
Choose Based on Location Permanence
Some homeowners may consider purchasing a wardrobe for a specific space, usually in a room that needs more storage. Often, such a wardrobe is bought with the intention that it will stay in the same room for many years. Such a purchase is determined more by what work for the space than about the purchaser's personal preferences, although it is assumed that the homeowner's personal style dictates the décor already set for the room. Such consumers can choose a wardrobe based on style and dimensions without regard to the wardrobe's weight or portability This opens up a number of options unavailable to other consumers.
For a renter, or for any consumer prone to frequent moves, weight and portability issues become much more important. A wardrobe is typically a very large, heavy piece of furniture, and the size and bulk of some wardrobes make them difficult to fit through many doorways. Buyers who move frequently may face leaving behind an expensive piece of furniture if they neglect portability and weight considerations when purchasing.
Each of these consumers has different requirements when choosing a wardrobe. Because a wardrobe is so large, it can drastically affect the style of the room it occupies. If the piece is likely to stay in the same room for much of its life, the buyer should choose one that reflects the style of the room. Likewise, because no one will want to leave such a versatile unit behind in a move, consumers who move often should be more concerned about how portable their chosen piece is. Of course, any wardrobe poses certain dilemmas when it is time to move it, but smaller, more lightweight models are not only easier to move, but they also fit into tighter spaces than do larger, heavier pieces.
Choosing a Wardrobe Style and Option
Once the use, location, and permanence of the wardrobe has been determined, it is time to make more specific choices about the purchase. As with other furniture items, style, construction, and size must be considered before purchasing a wardrobe. Also, it is a good idea to consider whether a previously owned piece would be satisfactory, since used furniture can often be purchased at a significant discount.
Decide on a Wardrobe Style
When it comes to wardrobe style choices, the consumer has a lot of options. Wardrobes are available many styles, including Contemporary, Modern, Country, and even styles inspired by Mexican or Asian culture. For the homeowner, the choice of style is often predetermined by the current décor of the room the wardrobe will occupy. In fact, many homeowners prefer the wardrobe match the rest of the bedroom furniture not only in colour and style, but also in specific design.
In such cases, buyers may have to consider an entire bedroom suite, rather than just a new wardrobe. If it is time for a change in the room, purchasing a wardrobe in the desired style is a great way to start the design process. A wardrobe is an expensive piece of furniture, so by purchasing it first and and gradually buying other, matching pieces, it is possible to spread the cost of the purchase out over time. Such a scheme can make the process a bit easier on the wallet.
Of course, matching styles is not absolutely necessary. A large wardrobe of a distinct style can make a powerful statement in almost any room, regardless of the room's current décor. And, as discussed above, buyers who move a lot may not care about the style of the item, as much as its portability. For them, choosing one that fits in the allotted space, that can move easily when needed, and that looks great, regardless of style, is more important.
Wardrobe Construction Materials
A wardrobe is most commonly constructed out of natural wood, but they are also made out of laminated chipboard, wood veneer, and even metal. These are sometimes cheaper than many of the wood options. They normally cost far less than a wardrobe created entirely from hardwood, but they are often much heavier even than solid wood choices. A wardrobe constructed out of a lightweight wood, such as pine, may be a great choice for an apartment dweller, who may be apt to move often.
Soft wood wardrobes are not only easier to move, they are also more durable and easier to paint than many of the other laminate or metal choices. Painting or finishing the wood further protects the piece and lets the user change the look of the wardrobe according to the décor of the room it occupies. Metal and laminates can be difficult to paint, and when they are painted the finish is not always very durable. Peeling paint makes a wardrobe look old and worn out, no matter when it was bought.
Determine the Available Space for the Wardrobe
Apartment dwellers should choose a small, lightweight wardrobe that fits well in its intended location. Such a piece should provide plenty of the much needed storage and organisation, but will also be more likely to fit well in the next rented space.
Homeowners considering a wardrobe that will occupy the same location for many years should be more concerned with choosing a quality unit that matches both their personal style and the specific space. In other words, select the space first, then measure it to determine the largest sized unit that will fit. Be sure to allow room for foot traffic in front of the wardrobe, and make sure doors have room to open and close without obstruction.
Deciding Between a New or Used Wardrobe
A wardrobe is such a sturdy piece of furniture. Many remain in use for generations, in impeccable condition. In fact, many wardrobes produced in an earlier era are exceptionally well built, and may offer conveniences and style that are hard to come by these days. For this reason, if it is possible to find a quality, pre-owned wardrobe at a reasonable price, this is likely to be a purchase that will last for years. Such pieces are often very distinctly styled after the era that they were produced in, and some may even be hand crafted. Such a piece may not match the style of a more modern room, but it will certainly make a statement.
Where to Find a Wardrobe
Fine furniture stores generally have at least a limited selection of many types and styles of wardrobes. Other bargain furniture stores also typically have a number of styles to choose from. Both types of stores often list some of their merchandise for sale online, and sometimes they even list them on auction sites such as eBay.
eBay is a great place to find bargains on all kinds of wardrobes, including today's models and those from seasons past. In fact, the variety of different styles and sizes of wardrobes offered for bidding on eBay makes it a great place to turn to for selection and affordability. eBay sellers list both new and pre-owned wardrobes, and even some that are considered vintage or antique.
Buying a Wardrobe on eBay
When shopping for a wardrobe on eBay, one important thing keep in mind is the cost of shipping. Some units disassemble and can be packaged to ship, although the cost of shipping may be rather high. Other units just do not ship well, so the seller has them listed as local pickup only. You can save on shipping by looking at those listed as local pickup. It is a great way to keep costs down, and you can spend more of your budget on the wardrobe itself instead of on shipping costs.
When choosing a wardrobe on eBay, especially if it is an item that might need to be moved occasionally, it is a good idea to get the dimensions and, if possible, the weight of the item. If this or any other information is not readily available on the listing, do not hesitate to ask the seller for specifics. Most eBay sellers are eager to answer any and all questions you may have.
Conclusion
A wardrobe is a wonderful piece of bedroom furniture that creates usable storage space wherever it is placed. With doors to conceal the shelves and hanging items, the space can be just as attractive as it is organised. When shopping for a wardrobe, first decide how long the unit is likely to stay in one spot. Knowing this makes it much easier to make other decisions, such as what size unit to choose, how heavy it should be, and what kind of construction materials make sense. When all of these are considered wisely, the consumer is more likely to purchase the best possible wardrobe for the room. Then, once the dimensions and style have been determined, buyers can log onto eBay to search through hundreds (or even thousands) of listings to find a perfect wardrobe that meets all their needs.