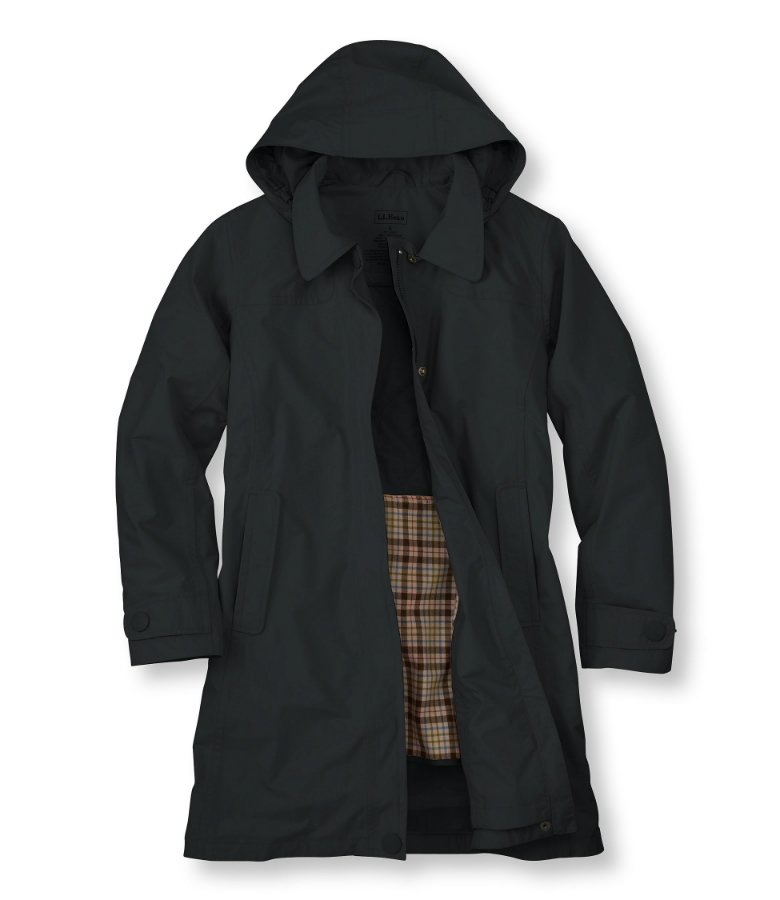 Women's raincoats are waterproof garments that are worn to protect the body from becoming wet during rainy weather. These coats are made of various breathable fabrics including gore-tex, tyvek, and coated nylon, which allow good airflow and help the wearer's sweat vapour to escape. Raincoats that are made of these fabrics contain waterproofing material which prevents the rain from soaking into the coat, whereas rubber and plastic only repel water and are not breathable.
Raincoats are available in different lengths, styles, weights, and colours. Most raincoats can be found in block colours. However, patterns and designs are becoming increasingly popular, as are raincoats that are reversible. Raincoats usually have a zip or snap fasteners that run up their front, which is often covered by a protective flap. Buyers searching for a warm raincoat may find one in a bricks and mortar department store, an outdoor shop, or a sports shop, although many buyers find searching online for a particular raincoat far easier. When purchasing a warm raincoat at retailers such as eBay, buyers should consider the various types, their features, and how they fit. This helps buyers to take the proper steps to make an informed purchase.
Types of Raincoat
There are various types of raincoat that range in length, material, and features. The level of warmth varies and should be selected to match the season, for example a lightweight coat may be useful for a typical British summer where some warmth is needed, but less than a winter raincoat. Selecting the right one is often a matter of personal taste, although it may be beneficial to consider the intended use of the coat as well.
Plastic Raincoats
Plastic raincoats are typically less expensive than the cloth varieties. However, they may cause the wearer's body to perspire more easily. In order to prevent this from happening, many manufacturers have created plastic raincoat styles with zips near the underarm sections. This helps to keep the area ventilated. Some plastic raincoats have an inner lining to facilitate comfort and warmth.
Parkas
Parkas, also referred to as anoraks, are heavy, waterproof coats. They provide optimum warmth, and as such, are generally reserved for colder climates. These raincoats have an attached hood and may also contain a drawstring waist. Parkas are usually waist or hip length, and some are lined with natural or faux fur. They may also be padded with down fibres or other material for added insulation. These raincoats feature large pockets, providing warmth to the wearer's hands.
Trench Coat
The trench coat was created by Thomas Burberry in the mid 19th century. Burberry invented gabardine, a material that successfully repels water, while allowing a person's body to breathe and wick away moisture. Using this material, Burberry created a long coat with fabric lapels that shut to protect against the weather. The trench coat also has a storm flap across the shoulders, military-style epaulets, and buckled straps on the wrists to ensure protection from the rain and to help to keep the arms warm and dry. The coat features a removable zip lining. Burberry's coat gained widespread popularity and eventually became part of Britain's military uniform during the World Wars.
Trench coats have remained popular over the years and are best suited for milder temperatures. Modern trench coats are made by various manufacturers, although Burberry remains a leading designer. These coats are versatile and can be worn with casual or more formal wear. They are usually made of gabardine, which is both durable and dense. Trench coats have a wide collar, buttons, and a self-tie belt. They come in both short and long lengths. Shorter styles allow more range of movement and are better suited for women who lead an active outdoor life; longer styles provide better leg coverage and warmth, and are more successful in protecting against the wind. Many trench coats are reversible, with different colours or patterns on the inside and outside, allowing the woman to wear the coat with either side showing.
Rubber Raincoats
The first raincoat, known as the Macintosh, was patented by Charles Macintosh in 1822. It was made of a waterproof rubber fabric and had a hood attached to its collar. In order to protect the seams from becoming saturated with water, Macintosh waterproofed them. The raincoat successfully kept the wearer dry. However, it retained body heat. To help to prevent sweating, metal eyelets were later added to the underarms of the Macintosh to promote ventilation.
Rubber raincoats are still widely available and come in a wide array of colours. Most have a zip or snap fasteners to keep the coat closed. Many also have two large pockets.
Raincoat Features
Raincoats are equipped with many features. The chart below provides a list of what to look for when considering a warm raincoat including seam construction, zips, proper ventilation among other features. These features help impede the entrance of water and provide optimal comfort for the wearer.
Raincoat Feature

Description

Seam Construction

Reinforced seams

Covered with a waterproof adhesive

Zips

Single or double storm flaps to cover zips

Two-way zips

Ventilation

Front and back cross ventilation

Underarm zips

Elbows, Knees, and Seat

Articulated for free range of movement

Reinforced with extra layer of material

Pockets

Inner and outer pockets keep items dry
When purchasing a warm raincoat, buyers should consider the coat's features as some provide better water protection than others. It is also important to keep in mind the type of activities that the wearer will be participating in. Those who have a tendency to sweat may appreciate increased ventilation, while reinforced elbows, knees, and seat will help to prolong the raincoat's lifespan.
Raincoat Fit
A properly fitting raincoat is important in order to keep water from seeping through. When purchasing a raincoat, buyers should remember that the fit should allow for a few base layers of clothing. If the coat is too restrictive, it may compress insulation layers. On the other hand, if the raincoat is too loose, it won't be able to breathe properly.
The raincoat should cover the wearer's lower back adequately while in a sitting position. It should also cover the palms of the wearer's hands, regardless of arm position, in order to prevent water from travelling up the woman's sleeves. Many raincoats contain articulated sleeves to help to keep the sleeve length the same during movement. If the coat has a hood, the hood should also accommodate any base layers. For women who wear the raincoat for climbing, hiking or long cycle rides, the hood should provide adequate space for a hat or helmet.
Buying a Warm Raincoat on eBay
Warm raincoats are available to buy on eBay. Buyers simply need to navigate to the appropriate category by entering related keywords into the search bar. Buyers may choose to enter "women's raincoat"; however, for more specific search results, it is better to input more exact key terms such as "women's parka" or "women's trench coat". Alternatively, buyers may choose to use eBay's advanced search feature. This allows buyers to narrow down raincoat listings by price range.
Once buyers find the warm raincoat that they wish to buy, it is important to check the seller's feedback rating to see how other buyers have rated their service. If a seller is a Top-Rated Seller, that means that the seller has a good reputation for dealing fairly on eBay.
Search by Location
Postage and packaging can be expensive, especially if the raincoat is a parka and weighs a great deal. Depending on their budget, buyers may choose to limit their search to items being sold close to home. To find local sellers, buyers can filter the listing pages by item location. This allows buyers to limit the distance from a specific postcode. By using the "Sort" drop down feature, buyers can arrange listings by distance in order of nearest location. Buyers should always communicate clearly with the sellers to see if they allow local collections. This information may be listed under the item description as well.
Conclusion
Shopping for a warm raincoat on eBay is a good idea because it gives buyers the opportunity to find clothing that may be available at a fraction of the retail price. For the best pricing, buyers may choose to shop during the months where raincoats are out of season, but given the erratic nature of the British weather, finding such a time may be tricky. When deciding on a raincoat, women should consider both the type and features. While plastic raincoats are waterproof and ideal for running errands, raincoats made of cloth are better suited for the work environment and more formal settings.
For optimal warmth, buyers should consider a parka. Before purchase, buyers should carefully inspect the seams of the coat to ensure that they have a waterproof adhesive that prevents water from seeping in. They should also make sure that the raincoat is snug fitting, while still allowing adequate room for bottom layers. With so many warm raincoats to choose from, eBay can help any woman to properly dress for wet weather.