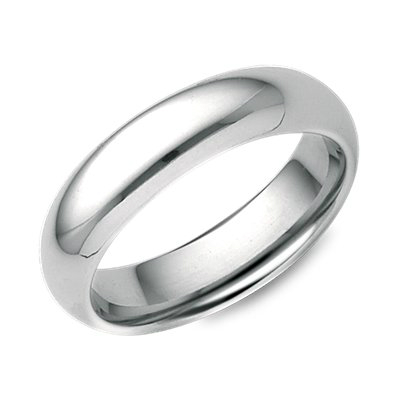 Wedding rings are probably the most momentous of all the jewellery purchases made during the course of a person's lifetime. This is why the prospect of buying a wedding ring can be daunting. Therefore, it is only normal that great care be taken in choosing the ring. This is just as well, as there are many pitfalls awaiting the unwary buyer. It is therefore essential that the buyer research the market in advance and have some appreciation for exactly what issues may arise during the process of searching and buying a wedding ring.
As well as questions of gold purity, ring size, and ring design, in all but the luckiest cases, the young couple also need to consider how to make a limited budget stretch as far as possible, thus maximising the value of the ring whilst minimising its cost. Although many buyers head straight for the high street, the prices in high street jewellery shops can very high and the selection is often limited. This is why more and more brides and grooms are heading online to eBay. There are literally thousands upon thousands of listings for rings on eBay. In order to find a wedding rings that represents a lifetime of commitment, one should know how to navigate the site successfully.
Wedding Rings: The Basics
For thousands of years men have been placing gold bands on their brides' fingers, in order to seal what was traditionally seen as a contract between two families. It is only in recent times that women began presenting their new husbands with rings too. This is now a firmly established practice. Unlike the showy, diamond rings used to propose marriage and signify an engagement, the wedding ring has traditionally consisted of a plain band, usually a gold band.
Metals
Prized for both its rarity, and its permanence and incorruptibility, gold has long been seen as a symbol of the future couple's hopes for prosperity and fidelity. There is, however, no rule which says that a wedding ring must be made of gold. Buying a ring of silver might be thought of as being 'cheap', as, while still a precious metal, the value of silver is substantially less than that of gold. However, since the discovery of platinum in the 18th century, an equally or even more costly alternative exists: the platinum wedding band.
Platinum is a 'noble' metal, like gold and silver. It is white like silver but does not tarnish, is highly resistant to corrosion, dense, more hardwearing than iron, and has become equally, or even more highly prized, than gold. Not surprisingly, platinum has become a popular alternative to gold. Which of the two metals the buyer chooses is entirely down to personal taste, with either being perfectly acceptable.
Metal Purity
It is essential that the buyer understand the system for classifying the purity of nobles metals like gold. Gold is rarely worked into wedding bands in its pure form, as this metal is just too soft to stand up to day to day wear. Therefore, the gold in wedding rings is alloyed. 'Alloying' simply refers to the mixing of gold with another metal. On eBay, the user can sort the listings for rings based on 'karats'. This is a measurement that denotes the gold content in the ring. The common purity values ascribed to wedding rings today include 9 karats, 14 karats, 18 karats and 22 karats. By way of an example, 9-karat gold contains 37.5 percent gold, 18-carat gold is 75 percent gold and 25 percent other metals, and 22 carat gold contains 91.6 percent gold. A common metal mixed with gold is copper, as it imparts a warm colour to the alloy.
White gold is an alloy that mixes gold with either nickel, palladium, or silver, although other metals are also sometimes used. Note that nickel can cause skin irritations. About 12 percent of women and 6 percent of men are allergic to nickel.
Hallmarks
Every gold or platinum ring made in the United Kingdom carries a hallmark issued by one of the four assay offices. Hallmarking involves stamping rings with a series of symbols denoting metal purity and pedigree. The first stamp indicates who made the ring. The second stamp is a crown, followed by a number that shows the purity of the metal. For gold, the number is set in a rectangle with the edges clipped off. The numbers, 9, 15, 18 or 22, indicate the purity. The same system applies with platinum rings, except that the number is set inside a house-shaped symbol that denotes platinum, and the number is something like '850' (85 percent platinum) or '950' (95 percent platinum).
Choosing the Correct Size Ring
Rings in the United Kingdom are sized according to a chart that uses letters of the alphabet. An extract of the chart, below, shows how it works.
| Size | K | L | M | N |
| --- | --- | --- | --- | --- |
| Internal Diameter (mm) | 15.9 | 16.31 | 16.71 | 17.2 |
| Internal Circumference (mm) | 50 | 51.2 | 52.5 | 53.8 |
Some jewellers prefer to measure the internal diameter of the ring. Others prefer to measure the internal circumference of the ring. That is why each size on the chart has two values next to it. Note, there are also intermediate half sizes such as P1/2, Q1/2, and so forth.
Determining the Ring Size
The best way to measure the wearer's finger is using a set of steel jeweller's rings. These are used by jewellers to accurately determine the ring size required. Alternatively, if the intended wearer already has a ring which fits, they should take it to be measured by jeweller. This should be done using calipers, jeweller's rings, or mandrels.
When measuring the finger, it is best to do so in the afternoon, as fingers swell during the day. Homemade solutions like paper rings are not recommended as they are not accurate as jeweller's measuring rings.
Where to Buy a Wedding Ring
Although wedding rings may have simple motifs on them, such as rope, or olive leaves or other fine detailing around the rim, by and large they are plain in appearance. There is still variability of course, in the shape of the band, the metal used in the band, and other details. It is often surprising how much variability can exist within what is a pretty well established and set design. Most people like to feel that their wedding rings are each special in some way. Therefore, looking across the widest range possible is generally a good idea.
The other important factor to consider is the price, and although much of the cost of the ring is related to to the type of metal, and its purity if it is a noble metal, there is also the craftsmanship to consider. Brick and mortar shops also pass on shop overheads to the buyer. This is why buyers looking for the widest range at the best prices often turn to eBay.
Finding a Wedding Ring on eBay
It is easy to find your ideal wedding ring on eBay simply by typing the phrase 'wedding rings' into the search bar on the eBay homepage. There are hundreds of thousands of rings currently listed on eBay. These listings include contemporary, vintage and antique wedding rings, as well as gold and platinum wedding rings. There are also single wedding rings, and wedding rings in matched pairs.
You can narrow the listings down very easily, by specifying the characteristics you are looking for in a wedding ring. For example, if you want a wedding ring that is made from white gold, with a solitaire diamond setting, you can specify this by setting the search filters to filter out all the listings that don't match your search criteria.
Once you have found a set of listings you are pleased with, study the photos and read the descriptions carefully. You may want to contact the seller, using the contact information on their profile page, to ask for more information, such as the sizes available, or for a photo taken from another angle. Unlike shopping in the high street, you can take as much time as you like to reach your decision.
Conclusion
Wedding rings have for thousands of years been used to formalise the marriage ceremony. They were traditionally gold, however platinum wedding bands have proved very popular. Although initially it was only the bride who received a wedding ring, now it applies equally to both bride and groom.
Apart from the choice of metal, other important considerations include the purity of the metal, as verified by its hallmark, and the size of the ring. Purity is related to price. The more karats a gold ring, the more money the buyer has to be willing to part with. Size can be easily determined by having a professional like a jeweller measure the wearer's ring finger using measuring rings.
High street stores tend to be expensive, as they must pass on their overheads. Looking online at Internet retailers such as eBay can bring the buyer more choice at better prices. eBay has a wide range of wedding rings available, and its easy to use search platform makes it simple to find the perfect wedding rings for the special day.