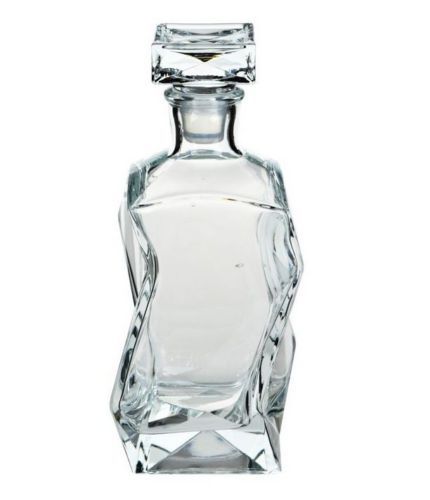 Decanters are used to house a number of different types of alcoholic drinks and liquors, and ones for spirits like whiskey are available in a number of different forms. Not only are there are varying degrees of styles available, they are also made in a variety of different sizes to house varying amounts of whiskey. They are also made for purchase in a number of different materials, such asglass or crystal, all of which are available on eBay.
This guide aims to help those wishing to buy a whiskey decanter and take them through the different options available for purchase.
Features of a Whiskey Decanter
It is easy to spot a whiskey decanter purely from the way it looks. Whilst there are a number of different styles and designs, they all contain the same features. Whiskey decanters contain subtly different features from the likes of a wine decanter, but they do share a lot of similarities too. Below is a table explaining the main features of a whiskey decanter:
| | |
| --- | --- |
| Whiskey Decanter Feature | Description |
| | This is the main part of the decanter that will store the whiskey itself. The shape and size of whiskey decanter bodies varies enormously. There are those that are wide and shallow and those that are longer and deeper. One popular body style is the carafe, which is considered to be fairly rectangular, compared to other whiskey decanters. Although a carafe is not technically called a decanter, it is generally considered to be in the same family, as they serve very much the same purpose. Choosing a body style for a decanter should be a subjective choice, as the shape tends not to affect the taste of the whiskey in any way. |
| Decanter Neck | The neck of a whiskey decanter varies in much the same way that the body of a decanter does. There are various shapes and lengths available. Some whiskey decanters are available that have shorter and wider necks, whereas it is also available to purchase ones with long, slender necks for a more elegant looking decanter. The neck of a decanter forms a bridge between the body of the decanter and the lid, where the whiskey is to be poured out from. A longer neck is useful as a means of holding on the decanter whilst pouring, without warming the whiskey with warm hands. |
| Decanter Lid or Stopper | A stopper or a lid is the main difference between a whiskey decanter and a wine decanter. Whereas wine decanters are used a means of airing out a wine to smooth the taste, whiskey decanters are used to protect and preserve the whiskey, which is why a stopper with a tight seal is important. Furthermore, once wine is poured into a decanter it is meant for consumption almost immediately if not soon after, whereas when whiskey is poured into a decanter, it can be stored in there for a lot longer. This is yet another reason as to why a stopper with a tight seal is important. |
Whiskey Decanter Materials
Like the shapes and styles of whiskey decanters differ, so do the materials that they are made from. Whilst some decanter materials offer certain aesthetic advantages, others provide a greater means of preserving the whiskey inside the decanter. Here are some of the most commonly used materials in the process of manufacturing a whiskey decanter, all of which are available at reasonable prices on auction sites such as eBay:
Ceramic
Whilst not the most popular material used and purchased in decanter form, ceramic decanters are a traditional form of whiskey storage. Whiskey decanters of this nature were commonly used amongst Scottish people who got their whiskey from the barrel as it was a cheap and effective material to mould, and it preserved whiskey sufficiently. Ceramic decanters are therefore considered to be a more traditional form of housing whiskey and some are considered to be antiques. eBay is home to a number of ceramic whiskey decanters that feature a wide range of designs, from a number of popular whiskey distillers and decanter makers.
Glass
Glass decanters are extremely popular for a number of reasons. The first of which is that glass is one of the easier materials to cut and craft into elaborate and elegant shapes. As such, they are widely appreciated purely from an aesthetic point of view. There are also many glass whiskey decanters that are cut to form intricate patterns into the glass, again as a means of making them as aesthetically pleasing as possible. Another reason why glass decanters are popular is because their transparency allows people to see the colour or tone of whiskey, which can determine its quality.
Crystal
Crystal decanters are appreciated much in the same way that glass decanters are. They are cut into stylish and graceful shapes, a notion that is considered to be of a psychological benefit to those drinking whiskey from an elaborate decanter (in that it is said that the mind is tricked into thinking it will taste better). Furthermore, whilst glass decanters are celebrated for their transparency, cut crystal decanters are even clearer and are appreciated further for their ability to let drinkers see the nature of the whiskey they are about to drink. Much like glass decanters, those made of crystal are more appreciated for their aesthetic values as much as anything else. In saying this, it was considered to be a health risk to keep whiskey in a decanter for a long period of time due to the risk of lead poisoning. However, crystal decanters do not suffer from this problem. All of these benefits mean that crystal decanters tend to be more highly priced than both glass and ceramic decanters.
Buying a Whiskey Decanter Online
The storage and housing of whiskey is a popularly debated topic online. There are many forums and blogs that discuss the best ways of storing whiskey, as well as deliberating over the best type or material of decanter to use. It is a wise idea to read through some of these posts as a means of discovering some insider tips, as well as finding out some brand recommendations and the best way to look after and clean a decanter after use. Do not hesitate to ask questions as most forum users and bloggers who discuss topics such as these will be more than willing to help those who are looking for advice.
There are also a number of online whiskey decanter sellers. Sellers of this nature are often experts in their field and most of these online retailers have frequently asked questions (FAQ) sections on their websites that may also provide an opportunity for potential whiskey decanter buyers to find out more information about the range of products available. One could also take a note of the prices offered through online retailers such as this as means of comparison to prices that might appear elsewhere, such as eBay.
Buying a Whiskey Decanter on eBay
Whilst there are a number of online retailers who specialise in the sale of whiskey decanters, auction sites such as eBay also provide an opportunity to not only see a mass of listings dedicated to the sale of whiskey decanters, but also to perhaps pay a price that is more affordable and that does not break the bank.
To view these listings, do the following:
- Click the Collectables and Antiques category link at the side of the page
- Then choose the Collectables option
- From there choose Bottles and Pots to find yourself with thousands of products listed
- Make use of the 'Whiskey' filter tab at the side of the page, and then utilise the keyword search bar to tailor the search to more specific requirements
There are also a number of buying considerations one needs to take in before settling for a whiskey decanter. Use this checklist as a means of ensuring a smooth and secure transaction:
- Check the product description and make sure that it is knowledgeable about the decanter. It should provide condition details, as well as how old it is and whether it is brand new or used.
- Browse the images that should be provided by the seller. These images should be faithful to the product description.
- Go through the seller's feedback section. It is possible that they may have sold similar products before and their feedback is positive. Sellers such as these are highly recommended.
- Be aware of the consequences of using the Bid, Buy It Now or Best Offer options, whichever of these are provided.
- Take note of eBay and PayPal's terms and conditions.
- If necessary, contact the seller directly if there are any issues regarding the product or the transaction.
Conclusion
There are several options open to prospective buyers of a whiskey decanter. These options can, however, be easily navigated. Be sure of what is desired from a whiskey decanter before beginning the buying process, as a means of making the search more specific and more efficient.
Remember that to maintain the quality of a whiskey decanter it needs regular and thorough cleaning after use, so as to not leave any trace of a previous whiskey and, in turn, affect the taste of the next bottle consumed from it. Also, do not forget to put the stopper back on the decanter to prevent whiskey from evaporating. Whilst this can be a way of making the mellowing the flavour, leaving the stopper off over a long period of time can be detrimental to the taste.