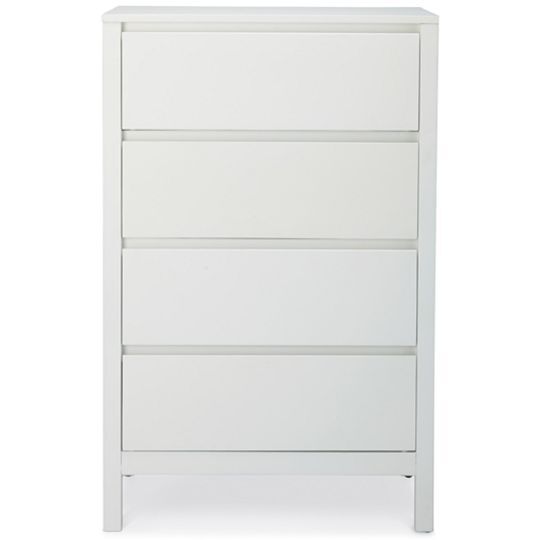 Purchasing a white chest of drawers tends to be quite difficult when saddled with more traditional shopping methods. Visiting brick and mortar stores tends to turn up limited results, while taking up a significant amount of time. People interested in buying a white chest of drawers, that has both style and durability, should consider utilising varied shopping techniques. With online marketplaces such as eBay, consumers are able to focus on searching for white chests of drawers only, while those shopping at traditional furniture stores must shop through the entire collection.
Before setting out on a search for a white chest of drawers, consumers should educate themselves on the options available to them first. With various size options that range from number of drawers, to overall shape and size, a smattering of options are available on the marketplace. Add in the various style and material options, and consumers are able to find almost any imagined chest of drawers.
White Chest of Drawers Size Options
Before committing to any sort of purchase, consumers need to determine what size of chest they are in the market for. The size differentials between white chest of drawers size options are seemingly innumerable. Chests can be anywhere from one to three meters tall, so selecting the right size chest for a room is of vital importance. People should also consider the amount of storage space needed from such a set of drawers. Consider determining size before ever venturing out to shop for a chest of drawers.
Drawer Number
Selecting a specific number of drawers in concern to a white chest, is likely to narrow down a search quite quickly. A six drawer chest is likely to be quite large, but will most likely store almost all of one's clothes. Those with a smaller amount of clothes in their wardrobe should consider scaling down on the number of drawers included. There are also chests that include only three drawers, allowing for those with an extremely limited space, to select a quality option. Shopping for different drawer numbers is as simple as entering in the number before the keyword, when shopping through online marketplaces such as eBay.
Overall Size
Although drawer size is quite important, determining the overall size of a white chest of drawers is an essential task. Understanding the needs of a space before ever committing to a purchase allows consumers to avoid purchasing something that is sub par. Look for both depth and height when shopping for such an item, as this determines the amount of space the piece of furniture will require. For best results, individuals should be sure to measure the area in which the chest will be placed.
Shape
The most classic shape for a white chest of drawers is a rectangular construction that is taller than it is wide. Those who want a shorter chest of drawers, might find the space saving design of these chests to be more beneficial. Some chests are designed with staggered drawers as well, but these choices are almost always designed for a more modern aesthetic. Consider the space in question before ever selecting shape. A good way to save space in a cramped room is to position the chest in a corner, permitting the shape of the chest.
White Chest of Drawers Style Options
Some believe that shopping specifically with a white chest of drawers in mind might limit one's options. This idea, however, could not be any further from the truth. With a number of shades of white that rival nearly any other colour option, individuals are able to customise their search to their taste. Ornate add-ons and engravings also increase the variety available for those interested in a white chest of drawers. Add in classical and antique white chest of drawers options, and consumers are able to find almost any design they are looking for.
Shades of White
The various shades of white that are available to those searching for a white chest of drawers is quite impressive. Whether a consumer is looking for a duller cream-like colour, or a brighter colour for a certain aesthetic, almost anyone can find the colour they want. Egg shell chest of drawers choices tend to be more popular than other shades of white, and tend to be somewhat cheaper than other shades. Those wishing to save some money should consider a used option that has an appealing patina.
Ornate Add-Ons
Shoppers should be sure to remember that the integral part of the overall aesthetic of a chest of drawers is simply drawer handles and carved designs. Handles are used more than any other part of the chest, therefore making sure such handles are secured, is quite an essential task when purchasing a quality chest of drawers. Also, shoppers who look for an attractive carven design that appeals to classical tastes are sometimes happier with their purchases in the long run.
Classical Appeal
An antique chest of drawers that is coloured white, is capable of being placed in a variety of different settings. A classic white chest of drawers appeals to rooms that are designed with elegance in mind, rather than a modern aesthetic. With the classical feel of such a chest, however, individuals are able to place the chest not only in bedrooms, but in other spaces as well. Even dining rooms are a perfect spot for an attractive white chest of drawers.
Materials
Although some do not consider material to be vital in the search for a white chest of drawers, durability is directly correlated with the chest's materials. Selecting a material that is durable enough for a room that may take a lot of abuse, such as a child's room, saves users from future purchases. Understanding that there exists more than one type of material, is the first step in breaking out of the traditional buying mould. Considering not only wood, but metal and other options as well, is an intelligent move on the part of any shopper.
Wood
One of the most classical options when it comes to a chest of drawers is a white, wooden chest of drawers. Wooden chests of drawers tend to be not only durable, but quite dependable as well. Due to the amount of options available when considering wood, it is nice to consider the varied possibilities from the comfort of one's own home. Utilising a larger chest of drawers option is normally best suited to a wooden option, but other materials are able to meet such needs as well.
Metal
Searching for the most durable option usually leads shoppers towards white, metal chest of drawers options. Metal chests consistently match a more modern aesthetic that is designed with clean lines and contemporary construction in mind. Metal chests of drawers tend to be quite a bit more difficult to find, specifically in concern to more traditional shopping methods. With online marketplaces, however, people are able to find hundreds of options as a result of one simple search. Those considering metal as the material for a white chest of drawers should consider utilising online marketplaces.
Other options
If both wood and metal do not seem adequate, a combination of both may be a perfect solution. The marriage of classical wooden elements and more streamlined metals, creates a dynamic design aesthetic that most find quite attractive. Other options include a polymer based chest of drawers, complete plastic options, and many DIY choices. Those who wish to explore more unusual options are likely to find eBay as a safe and convenient shopping alternative.
Buying a White Chest of Drawers on eBay
Furniture shops and small stores tend to have a limited selection of single coloured furniture such as a white chest of drawers. Spending the time and transportation funds necessary to go back and forth between such stores, can also be quite frustrating. Taking advantage of sites such as eBay, however, allow consumers to trim down the amount of time it takes to find the right piece of furniture. Simply visit the eBay homepage to get started searching for the perfect product.
Simply typing in a term such as "white chest of drawers", can turn up thousands of search results. In these search results, shoppers are able to browse through images, detailed descriptions, and even individual seller ratings. If the number of return listings is too overwhelming, consider using eBay's advanced search function as an alternative. This feature allows users to create a focused search that returns only specific items. With impressive search features and millions of items, eBay is a popular shopping choice.
Conclusion
Selecting a quality white chest of drawers tends to be quite difficult without collecting proper information prior to purchase. Understanding drawer options as well as number, size possibilities, and shape, aids in making an educated purchase decision. Even selecting an overall design aesthetic can help narrow down search results and create a more desirable outcome. Without factoring in materials as well, shoppers are often less pleased with their immediate purchase.
If going from store to store to sift through miniscule design options is not appealing to you, consider shifting a search for a white chest of drawers towards a simpler option. Using eBay to search through thousands of white chest of drawer options from the comfort of home is quite convenient. Add in the ability to filter search results with advanced search functions, and consumers are able to find exactly what they are looking for without the need to travel from store to store.