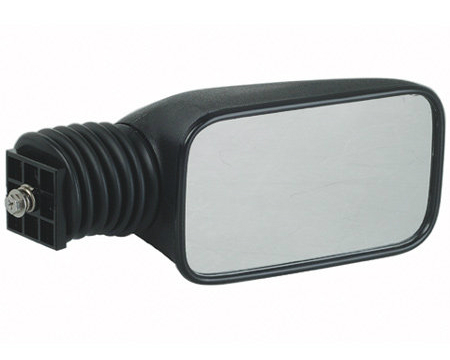 The Hyundai Coupe is a car produced between 1996 and 2008 and sold as a sport compact. While popular, the vehicle's production was eventually ceased, meaning that most parts and replacement parts for the Coupe are no longer in production. However, anyone who has to replace a wing mirror can look on eBay for both new and used mirrors, depending on their needs and budget. There are plenty of options available on eBay although condition, brand, and colour might vary depending on the seller and the origin of the wing mirror. Buyers can decide between each of these options as well as whether they would like to buy only the replacement glass or the full mirror.
A wing or door mirror is necessary for driving a car but can be hard to find for the Hyundai Coupe simply because it is no longer in production. Buyers looking on eBay should decide if they would like to purchase new or used, and if they prefer branded original equipment manufacturer parts or a non-branded alternative. The following information can be used to find and purchase a wing mirror for the Hyundai Coupe on eBay.
Check the Mirror Model
A variety of different mirrors were used on the Hyundai Coupe during its production. While many mirrors might fit the Hyundai, it is usually a good idea to find the original model in order to ensure that the mirrors are the correct size and distance away from the car, and to prevent having to drill additional holes. The following chart outlines the different mirrors for the Hyundai Coupe.
| Hyundai Model | Year of Production |
| --- | --- |
| Coupe | 1996–2000 |
| Facelift Coupe | 2000–2002 |
| New Coupe | 2002–2006 |
| Pre-Facelift | 2002–2005 |
| Coupe SIII | 2006–2010 |
| Special Edition TSIII | 2008–2009 |
Usually, it is possible to find the correct Hyundai Coupe model using nothing more than the year of production. Hyundai frequently used the same or very similar mirrors so finding one is no trouble. On eBay, searching the date range such as '2002–2005' is a good way to find the correct mirror for a single model of Coupe as most sellers do not specify the car model in the listing title. However, remember to read the full description of the mirror to make sure that the mirror is compatible with the correct model of the Coupe.
OEM or Unbranded Wing Mirrors for a Hyundai Coupe
There are two types of wing mirrors for the Hyundai Coupe on eBay: branded and original equipment manufacturer. Both have their own pros and cons, although some people do prefer the OEM model for quality standards. Buyers can choose either one, although it might be difficult to tell the difference between brands on eBay as not all sellers think of listing the brand.
OEM Wing Mirrors
OEM or original equipment manufacturer wing mirrors include any mirrors produced by Hyundai for the Coupe. For the most part, these are used, although some might still be available as new, and some might still even be in box. Anyone purchasing OEM parts should check any branding or labels to ensure that the part is indeed original equipment manufacturer. Typically, OEM parts are more expensive than unbranded parts, even when used, although this can differ from seller to seller. Many people choose to purchase original parts because OEM provides a guarantee of both quality and appearance. For example, screw holes, paint, and exact appearance are 100 per cent guaranteed to match up with those on the car as long as it is the correct model. This is usually why many people choose to purchase OEM, although some also purchase OEM because they are not aware of unbranded options.
Unbranded Wing Mirrors
Unbranded options are also available on eBay and usually from international sellers where the manufacturer is more affordable. Unbranded wing mirrors are created with the idea of being as similar as possible to the original for the Hyundai Coupe although it is important to remember that most of them are also created with the intention of being as inexpensive as possible, which affects both price in that they are more affordable, and sometimes quality as well. Buyers who purchase unbranded wing mirrors should pay very close attention to the location of the seller, the style of the mirror, and any exact car model specifications before buying.
New or Used Wing Mirrors for a Hyundai Coupe?
The second major option for anyone making a purchase on eBay is whether or not the wing mirror should be used. Many of the options on eBay are in fact second hand, although many are also new. Buyers who would like to choose should weigh all of the pros and cons based on their specific situation, budget, and preference. In some cases, availability might also be a deciding factor.
New Wing Mirrors
There are many new wing mirrors for the Hyundai Coupe on eBay. While the mirrors are not always available in every colour, or from the original manufacturer, it is possible to find new mirrors and mirror parts. Considerations include that the colour is an exact match for the Coupe the mirror is being placed on, and that the model is the same. Usually, new mirrors cost more money but are in better condition, and therefore a better choice for anyone who has a pristine Coupe.
Used Wing Mirrors
Used mirrors are sometimes actually the better choice as a replacement mirror because the colour is more likely to be faded or scratched to match that of the car, which may have suffered similar damage. This prevents problems such as the mirror being brighter or more colourful than the car itself. Used mirrors also tend to be more affordable and easier to find in a range of colours. Importantly, it is a good idea to read the full description and check the photos for any possible damage or defects before buying.
Condition of the Wing Mirrors
The condition of the mirror should be a major decision making factor because it affects how the mirror looks on the car. Most buyers should take some time to evaluate the condition of their car. The mirror should hopefully be purchased in the same condition as the vehicle. The colour should be similarly evaluated although it is also possible to replace both mirrors with black or silver rather than matching their colour to the colour of the car. Both options look nice and can give a slightly different look to the car.
Getting a Good Deal for Wing Mirrors for a Hyundai Coupe on eBay
There are a couple of things to pay attention to get a good deal on a wing mirror on eBay. The first and probably the most often overlooked is the shipping cost. Unfortunately, this can run pretty high for mirrors as they are quite large so it is usually better to look for local options that do not cost as much to ship. Another method of getting a good deal is to compare as many options as possible and to choose one based on the best value for the price rather than simply the best price, unless of course, the goal is to save as much money as possible. While great deals are usually available, it is always a good idea to compare and look at options from different sellers in order to ensure that the price is a good one.
Buying Replacement Glass for a Wing Mirror on eBay
It is possible to purchase mirror glass on eBay instead of the full mirror. This is a great idea if the glass inside of the wing mirror is damaged but the mirror is already in good condition. Usually, the only requirements are that the glass listed is for the exact model of Hyundai Coupe, although some eBay sellers might be able to cut glass specifically or to order. In this case, check to ensure that the glass is fully mirrored and has an auto safety rating. It is also a good idea to check the location as glass is fragile and might not be appropriate for shipping overseas.
Buying a Wing Mirror for a Hyundai Coupe on eBay
Once you have looked at your car, settled on the condition and colour your new mirror should be in, and set a budget, you can start your search on eBay. You can use the search bar to find any mirror that you like, but try typing in the year rather than the model of your Hyundai Coupe as most sellers list by year model rather than by car model as some wing mirrors are compatible across models. For example, typing 'wing mirror Hyundai Coupe 2002–2005' is more likely to bring up results than 'wing mirror Hyundai Coupe Pre-Facelift'.
Once you find mirrors that fit your car, remember to compare options and check the cost of shipping to find the best deal. Reading the full eBay description and paying attention to the photos and listing title can also help to ensure that you are buying exactly what you want. You can also choose to contact the seller with any questions. Finally, you can purchase your new Hyundai Coupe wing mirror and wait for it to arrive.
Conclusion
The Hyundai Coupe is a great car that is no longer in production, but still very popular among its owners. Anyone who would like to find a replacement wing mirror can easily search for one on eBay. Some of the choices include a range of colours, models, as well as in new and used condition. Some wing mirrors on eBay are also non-branded, meaning that they are not original equipment manufacturer, but these are, for the most part listed as such.
Finding and purchasing a wing mirror for a Hyundai Coupe on eBay is as easy as checking the model of the car, deciding on an exact colour, and choosing whether to purchase new or used. From there, a quick search of eBay brings up all of the results and it is very easy to compare the choices and then choose one. Checking the seller's feedback and talking with them about any questions can also help the sale to go more smoothly. Finally, anyone who does not know how to replace a wing mirror should definitely consider having the actual work done by a professional.