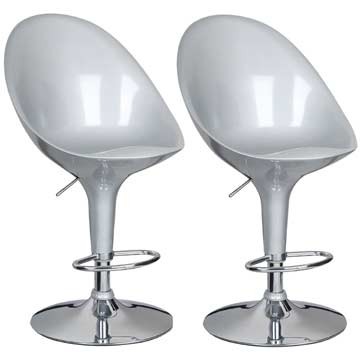 Kitchen stools are a great alternative to traditional dining chairs. With more kitchens featuring kitchen islands, stools have become a useful seating option. These stools can be found in various sizes, including adjustable height kitchen stools, which offer more versatility and are ideal for use with counters, bar tables, and kitchen islands, all of which can be different heights. Adjustable height kitchen stools are usually made with a single base leg, rather than four legs, as found on other stools. They feature a hydraulic lift, allowing the stool to be raised or lowered by the person seated. The average seat height adjustability ranges from 65 to 70 centimetres and depends on the model. Adjustable height kitchen stools are available in a wide array of styles and colours. They can also be found in many different finishes, materials, and prices. In almost all cases, the stool features a foot rail, allowing sitters to comfortably rest their feet.
Adjustable height kitchen stools can be bought from kitchen supply, DIY, and furniture shops, as well as online. When purchasing an adjustable height kitchen stool at retailers such as eBay, buyers should consider the various types and their materials, learn how to properly measure the space to buy the correct height of stool, and think about placement and use.
Types of Adjustable Height Kitchen Stools
Adjustable height kitchen stools serve both a decorative and practical function. Buyers should take into account the features of the stools when selecting a type.
Adjustable Height Swivel Stool
There are three types of swivel stools: 360 degree swivel, half swivel, and memory return swivel, which automatically returns to its original position. Swivel stools are practical and convenient. They allow the sitter to turn more easily during conversation. Swivel stools may also help to prevent the scratching of the floor associated with moving fixed stools.
Adjustable Height Backless Stool
Backless stools simply consist of a seat and legs. These stools are often considered more aesthetically pleasing since there is no backrest to limit the view of the stool's overall profile. They are ideal for spaces that contain heavy volumes of traffic since the stools can be hidden underneath the counter or bar table completely.
Adjustable Height Saddle Stool
Saddle stools are typically designed as backless stools and have a dip curving downward in the middle of the stool. These stools often have wheels.
Adjustable Height Backed Stool
Backed stools provide lumbar support and may even have armrests. They resemble traditional dining room chairs, but are usually 15 to 20 centimetres taller. These kitchen stools may be preferred by those with small children as they offer extra support and prevent the child from tipping backwards. Backed stools with a backrest or arms usually take up more space and cannot fit under the counter or bar table completely.
Materials for Adjustable Height Kitchen Stools
Adjustable height kitchen stools come in various styles and designs. Choosing the best type often depends on personal taste, and the style of kitchen and decor in the home. Buyers should also consider their budget and the age range of those who will use the stools. Those who have traditional furniture and decor should opt for wooden kitchen stools, while those who prefer a more contemporary look should consider metal kitchen stools.
Wood Adjustable Height Kitchen Stools
Wood stools are characterised by their rustic look. They are sensitive to weather conditions and should therefore be reserved for indoor use. Wood stools can be found in oak, cherry, maple, and walnut. Finishes vary from light to dark and can be matched with complementary upholstery or cushions that fit a buyer's style. Each type of wood has its own natural colour and grain, and this should be considered when choosing the best fit for the home. Wood stools are usually much lighter than metal stools, but they are more difficult to care for.
Metal Adjustable Height Kitchen Stools
Metal stools are fit for both indoor and outdoor use. These stools are less sensitive to weather conditions and do not crack as easily as other types. Metal stools can be made of steel, chrome, or aluminium. The finishes range from shiny stainless steel and brushed nickel to subdued antiqued brass. Metal stools are long lasting and sturdy, making them ideal for children as the stools do not tip easily if a small child climbs onto them. Most swivel stools fall under the metal stool category.
Upholstered Adjustable Height Kitchen Stools
Upholstered stools are ideal for those who use their adjustable height kitchen stools on a regular basis. These stools offer additional comfort and cushioning. The padding can be leather, vinyl, or fabric, and is usually waterproofed. Upholstery should be easy to clean and maintain, which is an important factor around food and beverages.
Kitchen Stool Sizing
Before deciding on an adjustable height kitchen stool, buyers should measure the distance from the floor to the counter or bar table in order to determine the correct height. Buyers should subtract 25 to 30 centimetres from this height to give the maximum possible height for the stool. Kitchen stools used for counters or bar tables are generally around 45 centimetres high, whereas stools used for kitchen bars are between 60 and 65 centimetres. If there are children in the home, then opt for an adjustable height kitchen stool that can be raised so that the child can reach the counter or bar table.
Manufacturers usually measure the stool's height in one of two ways: either the distance from the bottom of the seat to the floor or the distance from the top of the back of the chair to the floor. Buyers should consult the manufacturer's product description before making a purchase to check which method is used.
In order to determine the number of kitchen stools needed, buyers should measure the distance around the counter or bar table. Kitchen stools should be placed about 65 to 75 centimetres apart. This allows plenty of room for entering and leaving the area. The measurement is taken from the centre of the stool. It is best to leave 35 centimetres of space from the wall or edge of the counter or bar table to the stool.
Conditions for an Adjustable Height Kitchen Stool
The location of the adjustable height kitchen stool and the frequency of use has an impact on the most appropriate style for a buyer. Kitchen stools that will be used daily should be crafted to withstand the rigours of use. Stools that are upholstered should be treated for stain resistance. Adjustable height kitchen stools that will receive high volumes of sunlight should be made of metal or a higher quality wood. These materials are better built to withstand changes of heat, light, and humidity.
Buying an Adjustable Height Kitchen Stool on eBay
eBay provides the shopper with hundreds of different adjustable height kitchen stools at competitive prices. After determining the specific type of adjustable height kitchen stool that you want, visit the eBay home page. eBay provides a useful search feature to find items. When searching for a specific item, simply type the keywords into the search field. For example, if looking for stools, type in "adjustable height kitchen stool" and this takes you directly to a page of listings for this product. Once the search results appear, you can browse through a number of different style options until you find the kitchen stool you are looking for. Check eBay's search tips for other suggestions on the keyword search function.
Shopping with Confidence
Before making a purchase, buyers should always examine the listing images for signs of wear and tear to the adjustable height kitchen stool, especially if it was pre-owned. The images of an item can provide helpful information to the buyer about what they are bidding for. If additional images or information is required, then ask the seller. Most sellers are happy to provide more information.
Conclusion
Choosing the right adjustable height kitchen stool is easy after doing a little bit of research. Adjustable height kitchen stools use hydraulics or gas-lifts. An adjustable height kitchen stool is ideal for people with young children, allowing the chair to adjust as the child grows. It is also a great option for buyers who may use the stools for more than one purpose, especially if the areas of use are different heights, such as a counter or bar table. Buyers should consider the style of their home and their kitchen decor when considering a type of stool. Wood stools are durable and pair with leather nicely. The majority of metal stools are adjustable.
Buyers should ensure that the footrest can also adjust to match the height of the sitter. When searching for an adjustable height kitchen stool, buyers should also consider height and spacing. The stools should fit the height of the counter or bar table with adequate leg and elbow room. With so many adjustable height kitchen stools to choose from, eBay can help anyone to sit tall in their kitchen, in comfort and style.