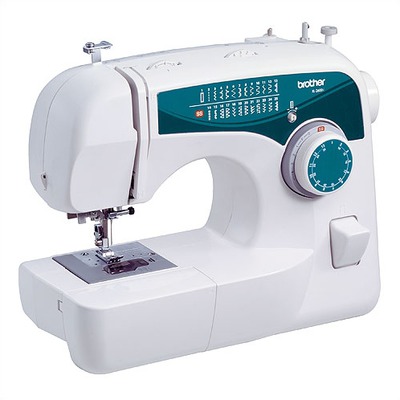 Sewing machines are available with a variety of features and come in a range of prices, with basic machines usually being more affordable than those that have special functionality. Finding an affordable sewing machine may be a challenge, but if you know what to look for then it is easy to find the perfect machine for you. Firstly, set a budget and do your best to stick to it. In some cases it makes more sense to buy a slightly more expensive machine that has the functionality that you need and is useful for a longer period of time. Take this into account when setting your budget.
Learn about the types of machines available before considering machine brands and features. Understand your needs and evaluate your skill level to make the right choice for you. The type of fabrics that you sew and projects that you intend to complete often dictate the type of machine that you need. Sewing machines are available from craft and sewing shops, department and electronics stores, and online, from eBay..
Types of Sewing Machine
There are three common types of sewing machine: electronic, computerised, and manual. Each type varies in its level of affordability and functionality.
Electronic Sewing Machine
Electronic sewing machines are the most popular and tend to be the most affordable. The needles in these machines are driven by electric motors and they are controlled using a foot pedal. The foot pedal is pressure sensitive and controls the speed of the machine. Electronic sewing machines vary from basic models with only the necessary stitching functionality, to advanced models with a wide selection of stitching techniques and a great deal of control over sewing methods. Electronic sewing machines tend to be accurate, fast, and easy to use.
Computerised Sewing Machine
Computerised sewing machines do everything that electronic machines do, but have additional features. They are controlled by computer chips that store the correct tension, length, and width as indicated by the manufacturer for each stitch style. You can control the machine via a touchpad and computer screen, and programs can be added if you have access to a computer.
Manual Sewing Machine
Manual or mechanical sewing machines are becoming increasingly rare as they are impractical to use, slow, and not as accurate as electronic machines. They are operated by turning a hand wheel while the user guides the fabric with his or her other hand. It is difficult to maintain a constant speed and these machines do not offer wide selections of stitching styles. Only consider a manual sewing machine if you use a machine very occasionally to repair fabric and never create items from scratch. Even if this is the case, a cheaper basic electronic machine would be easier to use.
Features of Sewing Machines
In addition to stitching styles and techniques, take features such as the weight and portability of the machine into account. Weight is important if you do not have a dedicated sewing area and have to move the machine frequently. If you are attending sewing classes, then choose a machine that can be transported to and from the class easily and look for models with carry cases. If you tend to use heavier or bulky fabrics, choose a sturdy machine that will remain stable while you sew.
Choosing the Right Sewing Machine by Fabric Type
The sewing machine that you choose should be suitable for the types of fabric that you use most often. The majority of sewing machines handle mid-weight fabrics and cotton comfortably, but thinner or thicker fabrics may require additional features. The table below lists fabric types and sewing machine suggestions.
Fabric Type

Sewing Machine Suggestion

Thick

Longer stitch length required

Choose machine with a choice of long and short stitches

Stretch

Tricky to sew

Choose machine with stretch stitch

Delicate

Adjustable pressure of presser foot required to reduce risk of snagging

Teflon coated foot allows smoother movement

Machine must take a fine needle

Curtain

Large sewing bed for handling large pieces of fabric

Choose a machine that can sew fabrics of different weights and thicknesses
If you want a sewing machine for mending and simple sewing, choose a basic model. However, if you want to work with anything other than mid-weight fabrics, take the weight, thickness and size of the fabric into account.
How to Choose the Right Affordable Sewing Machine
The affordable sewing machine that you choose should be suited to your needs and skill level. If you want to use a machine only for occasional repairs or simple projects, then choose a more basic electronic model. If you are a beginner, decide how fast you would like to progress and whether you may outgrow a basic machine within the next year or two. Computerised machines may be overwhelming for beginners and are not recommended for those who are just starting out.
Sewing Machine Accessories
Ensure that the sewing machine you choose takes the accessories you want to use, such as zip or buttonhole feet, and that the accessories are readily available. These do not have to be bought at the same time as the machine, but can be acquired over time, especially if you buy a well established brand of sewing machine.
Decorative Stitching
If you tend to take on projects that require fancy or decorative stitching, ensure that the machine can do what you need it to do. The stitch styles available on electronic machines cannot be upgraded at a later stage, but programs can be added to computerised machines. Although computerised machines tend to be more expensive than electronic models, consider the long term use of the machine when deciding which one is right for you. The more intricate or complex the projects you want to complete, the more features the machine needs and the higher the price.
Used Sewing Machine
If you would like a more advanced machine, but your budget does not allow you to invest in one with all of the features that you need or if you simply want to save money, consider buying a used sewing machine.. Sewing machines can last for 10 to 15 years if they are well looked after. Ensure that the machine is not damaged and functions as it should or that it can be serviced or repaired at a minimum cost.
Brands of Sewing Machine
Affordable sewing machines from unknown brands are plentiful, but may not be the best choice. Those who use sewing machines only for basic repairs should consider these machines, but anyone who wants to attempt more advanced tasks should consider buying a machine from a well known brand. If you decide to expand your collection of sewing machine accessories at a later stage it is easier to find items from well known brands. In fact, if you buy a machine from an unknown brand it may be impossible to find accessories at all. Established brands include:
Brother and Toyota sewing machines tend to be affordable for basic models and offer more features per price class than other brands. However, all of the brands mentioned are known for producing good quality sewing machines.
Although it may be tempting to buy the cheapest machine available that meets your immediate needs, do not make this mistake if you are serious about sewing. It is easy to outgrow a machine, so try to buy one that has some extra features that you would like to use in future. It is better to buy the best machine that you can afford to avoid having to upgrade it in the near future.
Buying an Affordable Sewing Machine on eBay
To find the perfect affordable sewing machine for you, type a phrase, such as "used Brother sewing machine", in the search field, which is conveniently located on every page, to see the items available from eBay sellers. Narrow your search results by choosing the most appropriate item characteristics. If you would like to further narrow or expand your search, use the advanced search function.
Evaluate the Item and the Seller
Before buying on eBay, take a moment to learn about the item and the seller. Click on a listing to go to the item listing page where you can find details such as the full item description, buying options, postage and packaging costs, and the seller's feedback information. When buying a bulky or heavy item such as a sewing machine, look for local sellers who allow collection to save on delivery costs.
Get to know the seller by clicking on the number next to his or her username and accessing the seller feedback area. Buyers leave feedback about sellers' products and customer service at the conclusion of each transaction, making it easy for you to form your own opinion of a seller before buying the sewing machine. If you have any questions about a listing, use the "Ask a question" link to contact the seller.
Conclusion
Buying an affordable sewing machine is easy once you have set a budget, determined your sewing needs, and evaluated your skill level. An electronic sewing machine is the most versatile model for beginners and occasional users, but those who are more advanced may want a computerised machine. It is important to choose a sewing machine that you will not outgrow in the near future, so it is better to spend a few extra pounds to ensure that the machine is good enough for a number of years to come.
Choose a machine with the right stitching and technical specifications for the type of fabric that you want to sew. Remember that electronic sewing machines cannot have stitching styles added at a later stage. If you cannot afford the sewing machine that you want, then consider buying a used machine as a more affordable option. Unless you want a sewing machine only for occasional use or light repairs, choose an established brand to make it easy to find accessories and parts, if needed. eBay sellers offer a wide variety of new and used affordable sewing machines suited to a range of projects and skill levels.