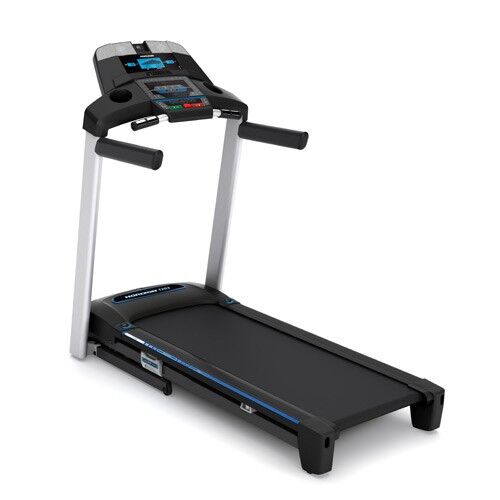 Many people are now equipping their homes with personal sports equipment in a way to overcome the hassle of joining and maintaining visits to an actual gym; allowing them to exercise at their own pace and leisure in more comfortable surroundings. The financial savings to be made is also a factor in this decision as certain equipment is not as expensive as people may imagine. The treadmill, a commonly used piece of gym apparatus and vital for any cardiovascular fitness regime, falls into this category.
eBay offers a fine selection of treadmills from manual to automated, and different resistance types, such as magnetic, air, water, and hydraulic. Whatever the preference for the user, eBay will have a solution to all exercise equipment needs.
Different Types of Treadmill
There are two main types of treadmill available; a manual one where the user will control the speed of the belt to make it rotate on the treadmill, and also an electronic one which is powered from the mains or batteries. There are advantages and disadvantages for both as outlined briefly below, but if the buyer is looking for a treadmill at an affordable price then the manual option would make more sense according to budget restrictions.
Manual
As the user is in control of the treadmill speed, it will exercise the lower body more strenuously as it is the user, not the machine, doing all of the work.
This may be more stressful and demanding on the joints though, increasing the chance of injury or muscle strains on the legs/lower back. However, this doesn't necessarily mean burning more calories because, as due to not being in control of a consistent speed, the body will naturally run at a slower pace meaning less of a workout.
Additionally, the more usage of a manual machine the more likely it is to become faulty and encounter technical problems.
Manual treadmills are generally considered to be safer as the belt is not automatic, lessening the chances of an accident.
Electronic
The electronic type is better suited to those undertaking a more professional fitness programme, giving you a more efficient approach to a workout.
Users can adjust the speed of the belt and also the incline – providing different types of training – and also have the option of recording the speed and amount of calories burned.
Some electronic devices have set fitness programs which give a guide each and every time you use the machine.
Another aspect to add is the fact that battery operated treadmills can be positioned anywhere in the house and not necessarily next to a power outlet.
| | MANUAL | ELECTRONIC |
| --- | --- | --- |
| ADVANTAGES | Cheaper than their electronic counterpart. Eco-friendly. Generally lighter in weight. Works lower body muscles more. Generally safer. | More professional. Varied settings/speeds, including incline adjustments of up to 15%. More informative, i.e. informs of calories used, time taken, etc. |
| DISADVANTAGES | Less durable and less proficient. Increased chance of injury. Self-powered meaning no set speed. | Some models can be on the expensive side. Can take up large amount of space. Require power supply. Some features are unnecessary for low-level use. |
Is Buying a Treadmill Worth The Investment?
As with any user guide it is advised to not overspend on products that may not be needed or get the most out of. Investing in a treadmill that is inadequate, or not suited to the specific requirements, may equally be a waste of money. Ask yourself the following questions:
Will you be committed to making the most of the treadmill and use it regularly enough to make it a wise purchase.
What sort of training programme is going to be followed?
Would you get more out of joining a gym and using all the equipment and training advice provided there rather than just having the isolated benefits of a running machine?
Also, consider the size and shape of the treadmill, especially if buying online. Be sure to carefully take note of the measurements when purchasing the treadmill and know if there is enough space for it in the desired area of the home. In addition, if wanting to purchase an electronic treadmill then there is a need to have a suitable power supply in that location or be prepared to use extension cables, which themselves could cause safety or aesthetic problems.
If unsure of any of these considerations, remember there are fold-up treadmills (both manual and electronic) available on the market which could be the solution to any of the considerations mentioned above. Take into consideration any others who will be using the treadmill if not just for personal use, along with their professionalism, age, height and weight.
The more committed trainers out there will require a better quality of machine – one that can endure regular workouts of substantial time on a daily basis. The average use of home treadmills is estimated to be around 30 minutes each day so if intending to work out more often than this, then adjust the budget accordingly.
Mechanics of a Treadmill
The technicalities of a decent treadmill should be determined by how easy it feels on the body and how effortlessly the belt glides when in use. If it seems the motor is struggling to keep pace with your running, then it probably isn't a competent enough machine to sustain regular use.
The size of the running area and belt itself are factors which induce people into believing a bigger treadmill is a better treadmill. This isn't necessarily the case though, as a longer belt will mean the engine has to work harder to power it around. Measure the size of the longest users' stride and plan to buy accordingly. Additionally, another guide of a decent treadmill is any noise it emits; a loud treadmill will generally mean the motor is feeling the strain and has inadequate components.
There are electronic treadmills available at affordable prices which have useful contraptions that can enhance a workout. These include:
Incline settings are a useful tool of varying the intensity and diversity of training as well, usually peaking at an average 10%.
The replication of running up or down hill strengthens leg and calf muscles.
A few modern treadmills have a heart rate control system as well that informs users of their heart beat whilst exercising.
The drawbacks of this feature however is that the most capable heart rate controls only come with the more expensive treadmill machines. Only look into this feature if it is necessary for the training programme and health concerns.
Try not to be drawn into excessive fads which are not necessarily useful. For example, some higher end treadmills have the option of an in-built TV in the treadmill. There is often no use for this anyway as training at home will probably provide the luxuries of being able to watch TV or listen to music. Therefore, in order to purchase an affordable treadmill for home use, it is wise to reflect on the guaranteed needs and wants, and make sure that there is no overspend on vanity products and features.
Where to Buy From?
eBay has many different kinds of treadmill available in its listings; old and new, manual and electronic, fold-up and battery powered, from low-cost to those at the higher end of the market. There is consistently hundreds (if not thousands) of choices within the eBay marketplace, so it should be extremely easy to select the treadmills by utilising the filtering mechanisms.
Alternatively, type in a specific search term into the search box provided on every page. If you have an idea of which type of treadmill that you want, then specify this when using the internal search function; for example "manual folding treadmill."
Remember to be careful when using eBay. Look into the user and their selling rating along with any positive/negative feedback. Also, how many sales have they completed? If this is the first item that they have listed then try and be more wary, but the majority of eBay sellers are highly authoritative and trustworthy. Read any terms and conditions of the listing and also of the product itself, including the warranty details. Feel free to ask the seller for any more information if unsure of any information. Paypal is a trusted way of buying and selling on eBay.
Conclusion
If you are someone who feels embarrassed about exercising in front of other people either at gyms or in parks, or someone who feels gym membership is not a suitable option for your fitness needs, then the treadmill is the perfect foundation for most cardiovascular work and an ideal way to begin getting in shape.
Although manual treadmills are much cheaper, it is often worth spending a bit more to have the benefits and reliability of an electronic one. Keep checking on eBay for ones available within the pre-set price range and then check reviews of them from different sources. Just because a machine has been used before doesn't necessarily mean it isn't in good working condition, and it may be offered at a perfectly affordable price. There is no need to overspend on an electronic machine with a multitude of different settings as users tend not to use them all anyway.