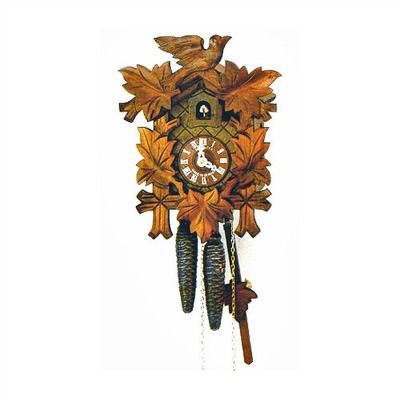 The cuckoo clock is perhaps one of the most sought after antique clocks available. The combination of old world craftsmanship, folk style and quirky charm help make the cuckoo clock a must have for both collectors and private buyers alike. Buying a cuckoo clock without proper knowledge can be a tricky process as so many modern cuckoo clocks have flooded the market in recent years. This guide can help inform any buyer about the history and style of cuckoo clocks, whilst also outlining the basics in maintaining and purchasing any clock. This should give any buyer all they need to know to ensure they get the right cuckoo clock for them.
History of Antique Cuckoo Clocks
The first timepieces were sundials and hourglasses that used the solar movements and meticulously timed sand drainage to track the movement of time. It wasn't until the late thirteenth century that the first weight driven clock was invented in Dunstable Priory in Befordshire England. From there, clock creations exploded in Europe. At first these clocks were to announce the time of prayer in local churches, but soon clocks were being made for the common man all throughout Europe. Perhaps the most interesting version of these was the cuckoo clock. As early as 1629 the first cuckoo clocks were mentioned as being in the possession of noble families. The earliest examples available come from the late eighteenth century from the Black Forrest region of Germany. This would later become the pre-eminent area for cuckoo clock manufacturing. Though many early styles existed the 'Bahnhäusleuhr' or 'railroad house style' would become by far the most popular. Over the years cuckoo clocks have only increased in popularity and may be the most well known clocks ever produced.
Discover Antique Cuckoo Clocks
Like any other antique clock, the cuckoo clock benefits from the dedication that master clockmakers put into their handcrafted works. This attention to detail and lack of machine made parts helps keep these clocks in good working order for decades to come. While most clocks saw a decline in quality after the eighteenth century, the cuckoo clock manufacturers continued with their tradition of handmade excellence, making their clocks more intricate and appealing. Unlike modern clocks, cuckoo clocks give more importance to design and style, making them not only time pieces but decorations as well. The more intricate cuckoo clocks added a sense of occasion to each chime, making them more interesting than their more reserved counter parts. Equally important is the investment that antique clocks can provide. The market for antique clocks has continued to rise throughout the years and a rare clock can be a very wise investment for any family to make. The cuckoo clock continues to be a staple of the antique industry and is commonly found in homes throughout the UK, and across the world.
Parts/Materials/Components of Antique Cuckoo Clocks
Like other antique clocks, the cuckoo clock comes with a variety of important pieces that need maintenance and maybe also repair. However, they also have a number of specialised pieces that any potential collector should be made aware of, as they may require additional care. The parts in a cuckoo clock are listed below.
| Part | Description |
| --- | --- |
| Music Box | Some cuckoo clocks come with music that plays on the hour, these songs are usually simple Bavarian folk songs. |
| Cuckoo Call | On cuckoo clocks this call replaces the chime or bell or other clocks. |
| Moving Figures | Certain moving figures, such as Bavarian characters, can be found on certain pieces. |
| Case | The protective housing that surrounds the many moving parts within the clock. The case can be simple or elegant depending upon the style and cost of the piece. |
| Dial | The face of the clock where the numbers are printed. |
| Escapement | The escapement or movements of the clock is the mechanism inside that actually drives the timekeeping element of the clock. On a cuckoo clock this is usually a pendulum. |
| Hands | The hands of the clock that indicate the correct time on the dial. |
| Dancing Figures | Certain cuckoo clocks have dancing figures that are positioned under the cuckoo bird who dance along a track every hour with the cuckoo's call. |
| Pendulum | Drives the time keeping element of the clock, keeping near perfect timing. |
Types of Antique Cuckoo Clock
| Type | Description | Advantages | Considerations |
| --- | --- | --- | --- |
| One Day Clocks | A one day clock needs to be rewound every day | Less chance to forget winding and cause damage. | Of equal quality but usually cheaper. |
| Eight Day Clocks | Only needs winding once a week. | Requires less attention. | More expensive than one day clocks. |
| Shield | A style with a flat surface and mechanism in the back. The cuckoo is revealed through doors at the top. | Simple design and reliability. | A less opulent style. |
| Frame | A simple image of the Black Forrest scene. The cuckoo is incorporated into the frame and does not pop out. | A simple, yet elegant style that is easier to maintain and care for. | A less showy piece for simpler rooms. |
| Bahnhausle | The classic cuckoo style that appears to be a railway station. | The most popular and well crafted style. Often very elaborate with many moving parts. | Ensure that any mechanical parts are in top working order. |
| Chalet | The Swiss style that turns the clock into a little ski house. | A twist on the old German style, with unique features and music. | Very delicate, use caution when moving. |
Factors to Consider When Buying an Antique Cuckoo Clock
The cuckoo clock provides certain considerations that other antique clocks lack. It is important to consider a few things before making a purchase.
Checking the condition of any cuckoo clock is paramount when buying online. The many moving parts and delicate attachments mean that everything must be investigated to understand the true condition of the clock. Cuckoo clock repair is a difficult process and is best avoided.
Ensure that constant noise will not be a problem. Cuckoo clocks that come without a night-time function will continue to sound throughout the night so long as they're wound. Ensure it is not placed in a bedroom or any other space that will require silence.
How elaborate is the piece? Certain cuckoo clocks can be flashy conversation pieces, while others are more restrained. The buyer should decide which style is right for them, and why they want their clock.
Typical Features of an Antique Cuckoo Clock
Part of the charm of cuckoo clocks, are the unique features and designs that they come in. Each element is a unique piece that helps make a cuckoo clock special.
1. Hand crafted reliability
Any clock produced before the nineteenth century was handcrafted by a growing industry of clock makers throughout Europe. The care and detail afforded to these pieces keeps them functioning well after machine made clocks may broken down.
2. Different music styles
Cuckoo clocks can come with a number of German folk tunes to can liven up a room. Certain clocks come with two or three songs with varying degrees of complexity that play on the hour. These songs can help add a level of variety and surprise to every hour.
3. Completely eco-friendly
Cuckoo clocks are eco friendly as they do not require electricity to run.
4. Moving parts
The moving parts are often dancers or musicians who help add colour and flair to ant chime. These pieces are valuable and can help a cuckoo clock have a distinct character.
How to Care for an Antique Cuckoo Clock
Caring for the outside of an antique cuckoo clock is a simple thing. It will need to be dusted as ensuring the face is clear from dust is important to keeping the various pieces functioning well. However, the mechanisms inside the clock are a different matter. There are a great deal of pieces inside any cuckoo clock and an expert should look these at every few years to keep it in top condition. Always keep a cuckoo clock wound on schedule to avoid undue stress, and prevent jostling and shaking of the case to keep pats safe and sound.
Popular Antique Cuckoo Clocks
When searching for the right cuckoo clock it may be important to learn the names of some of the mediums more skilled craftsmen. These names often have prestigious styles associated with them and can influence the value of any clock. Some of the more sought after names are below:
Johan Baptist Beha
Theodore Ketterer
The Black Forrest Clock Association
Rombach and Hass
Hubert Herr Clocks
Trenkle Urhen
Finding Antique Cuckoo Clocks on eBay
Once you determine the type of antique cuckoo clock you want to purchase, visit the Antiques portal on eBay, click on Antique Clocks, then click on cuckoo clocks and start searching item listings. The Categories list on the left-hand side of the eBay page helps to narrow the search.
Searching for Antique Cuckoo Clockson eBay
Search eBay listing titles for specific words when shopping for antique cuckoo clocks. For example, to find a Black Forest musical triple weight cuckoo clock, type 'Black Forest musical triple weight cuckoo clock' into the search box, and then click the Advanced button to customise the results. Also visit eBay's Search Tips page for more advice on searching for antique clocks with keywords. If you can't find the exact cuckoo clock you want, try shopping eBay Stores.
Conclusion
Choosing an antique cuckoo clock shouldn't be daunting, and the information in this guide should help set any potential buyer on their way. Whether the clock in question is of the Swiss chalet style or the German frame style, understanding what is available, and what maintenance will be required, will help a buyer have fun choosing the clock that us right for them. Once you have collected this information, you can buy an antique cuckoo clock safely and securely on eBay.