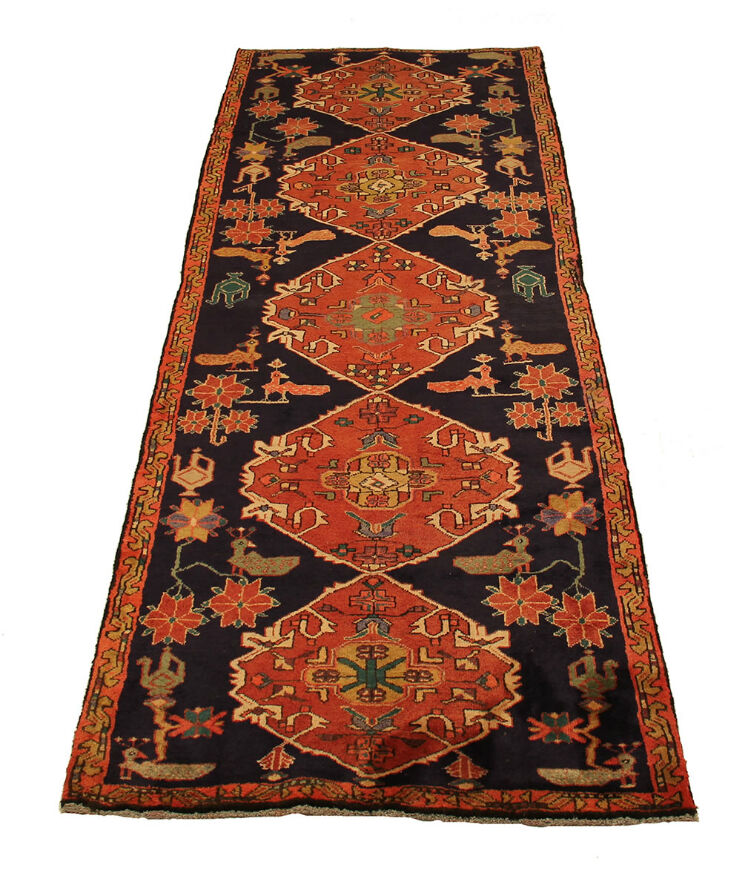 An antique runner is an especially decorative piece designed to be placed in a hallway. With their colourful designs, runners add attractive accents to the home, and they are available in a variety of lengths, widths, patterns and styles. Antique runners were hand crafted so they have a durable pile. They are useful to have in the home, adding warmth and softness underfoot. The value of an antique runner is determined by market demand and factors including age, condition, colour and rarity. This guide will provide useful advice for any buyer considering the purchase of an antique runneron eBay.
History of Antique Runners
A runner is a long, narrow rug or carpet that is usually placed over stairways or hallways. Many antique runners were made by Nomadic tribes who carried their weaving looms from place to place. While the width was determined by a particular loom's width, carpets could be made in incredibly long lengths. It is believed that the antique rug originated in 7000 BC when rugs were hand crafted by the Neolithic tribes. One antique rug that is in mint condition, dating back to 500 BC and held at the Hermitage Museum in Russia's St Petersburg, is known as the Pazyryk rug. This amazing pile rug was found in a burial mound and it is believed that the cold temperatures contributed to its preservation and lasting beauty through the centuries.
One of the first carpet-making techniques to be developed was flat weaving, and it involved both vertical and horizontal threads, called warp and weft. The durable materials used for warp and weft were wool, silk and cotton. Any carpet that is over 80 years old is considered an antique. However, several characteristics will determine if one is indeed an antique runner. The materials used and the technique employed to weave the carpet are two important factors to consider. From 1925 onwards, there was an increase in the use of synthetic dyes over vegetables dyes. These resulted in less intense colour. Hand-spun yarns were replaced by machine-spun yarns, which altered the appearance of the carpet's surface.
Discover Antique Runners
The purchase of any antique is a worthwhile investment. If the antique runner is in mint condition, it will continue to rise in value. Antique runners can be very long in length, but what really sets them apart from a modern runner is their vivid colours and bold designs.
Parts of an Antique Runner
A rug has several parts, including the warp, weft and fringe. Discover more about each part below.
| Part | Description |
| --- | --- |
| Warp | The strings that run vertically across the loom beams. Cotton is mainly used as a warp material, Wool has sometimes been used but it is more elastic and can be affected by moisture in the air. |
| Weft | The strings that run horizontally between rows of knots and over/under the vertical strings. They build a strong structure and hold the knots securely. |
| Fringe | The strings that appear at each end of the rug, formed from the knots in the warp strings. |
| End Finish | Using the warp strings of the rug, the wefts and knots are used to create an end finish. |
| Edge Bindings | The edge of the rug is strengthened by wrapping a pairs of warp threads around the yarn and cutting it at the standing end. |
| Knots | Pairs of warp threads loop around yarn, and the knot then becomes the rug pile. |
Types of Runners
There are a variety of different runner types, from Persian and silk to Afghan and nomadic. Learn more about the styles of runners below:
| Type | Description | Advantages | Considerations |
| --- | --- | --- | --- |
| Antique Runners | Available in a variety of lengths and styles, antique runners bring history to the home. | Hand woven in a multitude of shades and patterns. | Can be purchased on eBay or through second hand stores. |
| | Featuring eclectic patterns and shades. | A popular runner to have in the home. | Complements most furnishings. |
| Silk Runners | Woven with silk for a strong pile. | Available in an array of colourful patterns. | There are ivory shades to complement lighter décor. Expensive. |
| | Feature intricate designs in a variety of warm shades. | Colours include burnt orange, deep reds and brown. | Eye-catching colours and design. |
| Nomadic/Tribal Runners | Styled with vibrant shades and bold patterns. | Complements contemporary or traditional décor. | Creates a bold statement in a home. |
| Contemporary Runners | Adventurous colours and vivid patterns. | Ideally suited to the modern home. | Will complement any interior decoration. |
Factors to Consider When Buying an Antique Runner
Rug age - If the rug was made over 100 years ago, it is considered to be an antique. Antique runners were hand-made and colours were made from vegetable dyes. There are, however, many runners that were made in the early 19th century that will become antique if kept long enough. The notable difference is that runners made after 1925 will have more subdued colours than their older counterparts.
Design - The design on the runner can determine the period in which it was made, since craftspeople included images that were popular at the time. Some of the regional and cultural references that are found in antique runners depict animals and vegetation of that era, while others are a collection of geometric designs.
Pattern - There are a variety of patterns and colours available on antique runners, so it is important to determine whether the piece will complement the other interior furnishings in the home.
Budget - When considering the purchase of an antique rug, setting a budget is important. Determine how much to spend and what style of antique runner to buy.
Quality of materials - Mass-produced runners were often woven loosely and therefore were not very durable. A quality antique runner was tightly woven to a high standard using strong materials that produced a durable pile. This is a particularly important factor in a runner as they are typically used in high traffic areas.

Imperfections - Antique runners were hand crafted, so some of the designs may have flaws, including mildly irregular edges, an uneven design, or wrinkles on its surface. These imperfections are not likely to reduce the value of an antique runner.

Strong structure -Antique runners have a strong structure or weave, which can be determined by turning the rug over and examining the back. This will help to identify where the runner was made, and reveal the quality of the weave.

Rug quality - Two factors come into play when identifying rug quality, namely the materials used and the technique employed. When a designer has used colours effectively, with good spacing between the patterning, the rug will be worth more. A densely woven rug will last longer, but always look for the density of weaving, rather than a higher number of knots. Quality waft and weft is what determines quality craftsmanship.
Buying an Antique Runner on eBay
With the wide selection of antique runners available online, it is important for buyers to feel confident in their purchase and satisfied with the results. This section will address making the process easier and alleviating any fears customers may have before completing online transactions. Below are a few tips on how to buy an antique runner on eBay:
1. Research the seller
If a gorgeous antique runner is being listed at half the price of other sellers, perhaps it is indeed 'too good to be true'? A good method to ensure that sellers are going to deliver exactly what they have promised is to research that seller. Click on seller's hyperlink, this will bring up a variety of information available about them.
A few possible questions to consider are:
What is the seller's feedback rating? How many transactions have they done? Ideally, the feedback rating should be over 95%. And it might be a bad sign if a seller doesn't have very many completed transactions.
The buyer's comments? Are they positive?
Does the seller offer a return policy? A money-back guarantee?
2. Always pay with Paypal
When making payments online, Paypal is the most secure and eBay advises that you use it over all other forms of payment, as it offers superior protection against unauthorized. Try to avoid sellers that claim their Paypal is not working, as well as less secure online forms of payments such as Western Union or moneygram.
3. Ebay Safety centre
If there is an issue with a seller, or you as a buyers wants to collect all available information in order to make a safe and secure purchase check the following link. There is a variety of information for protecting yourself in online transactions available at eBay's safety centre.
How to Care for Antique Runners
Since antique runners are often laid in hallways, they can wear easily and require special care and maintenance. Grit can damage the weave, so it is important to vacuum the runner regularly. Stains can be removed with soap and water, but expert cleaners can remove any stubborn stains. Rotate runners yearly to ensure there is uniform wear. If possible, avoid walking on the runner with spiked heels, as this could damage the surface. An antique runner made with silk or wool can be prone to insect infestation, so check under the carpet a couple of times a year. Check the webbing for holes and insect droppings. The best way to store an antique runner is to roll it up, and wrap in a clean cotton sheet tied with string.
Popular Origins of Antique Runners
East Turkestan
America
Afghanistan
China
Morocco
Israel
France
India
Persia
Caucasus
Spain
Turkey
Uzbekistan
Ukraine
Scandinavia
Finding Antique Runners on eBay
Once you determine the type of antique runner you want to purchase, visit the Antiques portal on eBay, click on 'Carpets / Rugs' then 'Runner' and start searching item listings The Categories list on the left-hand side of the eBay page helps to narrow the search.
Searching forAntique Runners on eBay
Search eBay listing titles for specific words when shopping for antique runners. For example, to find a handmade Zanjan Azarbay Jan Oriental Runner age 80-90, type 'Antique Runners' into the search box, and then click the Advanced button to customise the results. Also visit eBay's Search Tipspage for more advice on searching for antique runners with keywords. If you can't find the exact antique runner you want, try shopping eBay Stores.
Conclusion
An antique runner is a long narrow carpet designed for the hallway or staircase. Some styles are colourful with intricate designs, while others can be plain. This guide has provided factors and features to consider before buying an antique runner, and information on different types of runners, including Afghan, Silk and Persian. If you have seen a particular runner on eBay, information is lacking about its origins, do not be afraid to ask the seller further questions. Once you have collected this information, you can buy an antique runner safely and securely on eBay.