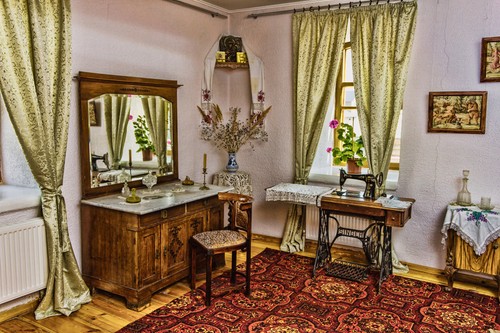 The art of sewing has been practiced for thousands of years. But before the nineteenth century, it was all done by hand. The sewing machine and sewing table allowed for faster manufacturing methods, and eventually, the mass production of garments. Fine hand-sewing, and sewing by individual machine, is still a hobby throughout the world. Textile artists and hobbyists use sewing tables to create their pieces, as do tailors, dressmakers and the haute couture fashion industry. For these reasons, antique sewing tables are much in demand.
This guide will provide information about the history of antique sewing tables, parts of sewing tables, types of such tables and factors to consider in the purchase of one.
History of Antique Sewing Tables
Before the eighteenth century, a seamstress had to keep her needlework in a work basket or bag. It was cumbersome and messy. The sewing table was developed as a result. In the beginning, they were elegant little tables with a flip-up top and silk work bag slung underneath. Before the invention of the sewing machine, these tables were often used for other activities including basket-weaving, crochet, macramé and even painting. In fact, the sewing table was commonly referred to at the time as a work table.
This multi-purpose nature is reflected in the additional features of some antique sewing tables. For example, a pull-out reading and writing slope with an ink stand was popular. Chess boards and backgammon boards could also be included, often facilitated by fold-down extensions. One 1815 model even had a zograscope, a type of 3-D viewer for perceiving depth in paintings. By late Georgian London, the marketing of sewing tables expanded to appeal to middle class homes too. By the mid-1800s, the new 'sewing machines' were in common use, and sewing table design was altered to include them.
Discover Antique Sewing Tables
Some of the most valuable antique sewing tables are in the American Federal and Empire furniture styles. Mahogany and bird's-eye maple are highly-prized as construction materials, and should be watched out for while searching eBay for sewing tables made in the United States. British models in the Georgian and Regency style are also very desirable but can vary greatly in value. Quality of craftsmanship and overall condition are the primary factors. Many show restoration work and newly-replaced silk pouches. Some rare European pieces from the Biedermeier period (1815-1848) cannot really be classed as tables. They are actually globes which split open to reveal intricate compartments for sewing materials and games pieces. Some drum-shaped pieces were also made in this style. Most of these elaborate works come from Berlin and Vienna, and feature great craftsmanship and fine veneers.
Parts of Antique Sewing Tables
An antique sewing table generally offers a large amount of room in which to store things, with a drop leaf sometimes attached to increase space even more. A chair and a waste bin are also necessary.
| Part | Description |
| --- | --- |
| Table top | Surface area for sewing or other activities, often flips up to reveal storage. |
| Pouch | Usually silk and hung under the surface for storage. |
| Drawers | For storage of things like sewing materials and game pieces. |
| Legs | Usually four legs to support table, though some early sewing tables had pedestals. |
| Chair | Could be included with sewing table or purchased separately. |
| Waste bin | Purchased separately but an essential for sewing. |
| Extensions | Opens to reveal additional games or provide more work area. |
Types of Antique Sewing Tables
Antique sewing tables can be divided into two main types. Pre-sewing machine era tables were really multi-purpose pieces of furniture that offer storage. Post-sewing machine tables were built solely to house the sewing machine.
| Type | Description | Advantages | Considerations |
| --- | --- | --- | --- |
| Pre-sewing machine tables | More elegant and daintily constructed, includes pouch for sewing materials. | Often designed for multiple uses by several people together. | Wide variation of shapes and styles. |
| Post sewing machine tables | Designed to house sewing machine, with one user sitting in front to operate. | Strong, study construction. | Built for one purpose only. |
| Tilt-top sewing table | Top flips up with facing surface becoming part of work area. | Provides a pad for holding needles and pins. | Solid construction. |
| Pedestal sewing table | One main support which splits at bottom into three or four support legs. | Can assemble several people around table to socialise while working. | Less storage. |
| Treadle sewing table | Has pedal at bottom for sewing. | Faster than hand-sewing. | Can be made of wood or heavy, sturdy cast iron. |
| Occasional/ sewing table | Exterior appearance is that of an occasional or side table. | Multi-functional. | If using as a sewing table, then only the top surface can be re-purposed, as the inside contains sewing materials . |
Factors to Consider When Buying an Antique Sewing Table
Comparing a sewing table of interest to similar pieces will help to determine the value. Similarities might include design style, type of wood used, accents or date they were made. Learning details and examining images can also tell a lot about the condition of a piece. Written documentation about provenance can also add value. Shopping for an antique sewing table can be exciting and interesting. But a little research and knowledge will greatly assist in making an informed choice.
Dating – Check the underside of the cabinet and inside the drawers for the manufacturer's label. It may include the actual date of manufacture, but at the very least it will help identify the period. If a sewing machine is present inside the cabinet, it can be easily identified by serial number and manufacturer. This will also help date the cabinet, but check to ensure it is still the original machine. If your vintage sewing cabinet has an intact machine, this may give you some clues as to the date of the cabinet.
Treadle (foot pedal) – The presence of a treadle likely means the cabinet is at least pre-1950s, but it's not a definitive antique sign. In fact, some recent cabinets still include treadles for use by people who know no other method.
Style - Stylistic features like wood finish, accents and shape can help determine a cabinet's vintage. The combination of blonde wood and chrome was a popular 1950s style. Older turn-of-the-century cabinets will have more ornate detailing, smaller drawers and a curving shape.
Materials – Many cabinets are made to look like pieces from an earlier era. These aren't fakes, but simply an homage to earlier styles. Fiberboard construction began in the 1960s, while chrome and plywood date back to the 1950s. Any cabinet using these construction materials, while not undesirable, is not an antique.
Typical Features of an Antique Sewing Table
1. Chair
Some antique sewing tables came with a chair, some did not. Either way, the chair may no longer be present and selecting a style-appropriate model is recommended.
2. Cloth Bag
An accessory originally included with most antique sewing cabinets, in many cases the cloth bag has long since disappeared.
3. Escutcheons
Decorative plates around drawer keyholes to protect from abrasions and prevent lock cylinder from being removed
4. Gilding
Gold or silver trim on corners and edges common to pre-sewing machine era tables
5. Cabriole
A curved table leg where the knee faces out and the ankle face inward, more common in pre-sewing machine era tables
6. Extensions
This feature was common to both pre and post sewing machine tables. In the former it could reveal chess boards or other games, in the latter it served to expand the work surface.
How to Care for an Antique Sewing Table
Antique sewing tables are fragile and require careful attention. Direct sunlight can easily damage the wood, as can moisture common to basements or attics. Cleaning antique furniture means removing anything on the surface such as dirt, oil, polishes, waxes, grime and fingerprints. The objective is to get right down to the clean original finish. The easiest and safest method is to wipe down the wood with warm water and a mild dishwashing detergent. If more cleaning is required, mineral spirits or paint thinner can be used, but always apply it first to an inconspicuous area to see the results, then move on to the rest of the piece.
Some antique sewing tables use cast iron construction, which is subject to rust. Use natural products like white vinegar or baking soda. Either way, leave on until the rust begins to loosen, and then use a scrub brush to remove it. Always use gloves when cleaning rusty items.
Popular Antique Sewing Table Manufacturers
It is easiest to identify antique sewing tables according to furniture style. Below are some of the most popular.
Edwardian
Victorian
Gothic
Mission
Rustic
Shaker
Sheraton
Germanic
Federal
Empire
Accessories and Add-ons for Antique Sewing Tables
Antique sewing tables require special care, including products that can be useful for maintenance.
Modern sewing materials
Refinisher
Antique furniture wax
Mild soaps or cleansers
Soft cloths or brushes
Finding Antique Sewing Tables on eBay
Once you determine the type of antique sewing table you want to purchase, visit the Antiques portal on eBay, click on 'Antique Furniture', then 'Tables' and start searching item listings. The Categories list on the left-hand side of the eBay page helps to narrow the search.
Searching for Antique Dressing Tableson eBay
Search eBay listing titles for specific words when shopping for an antique sewing table. For example, to find a walnut Victorian sewing table, type antique sewing table into the search box, and then click the Advanced button to customise the results. Also visit eBay's Search Tipsppage for more advice on searching for antique sewing tables with keywords. If you can't find the exact antique you want, try shopping eBay Stores..
Conclusion
Finding the right antique sewing table begins with knowing what style you want. The information on eBay can help assist in matching the right antique sewing table with the right room decor. Once you have collected this information, you can buy an antique dressing table with your preferred style safely and securely on eBay..