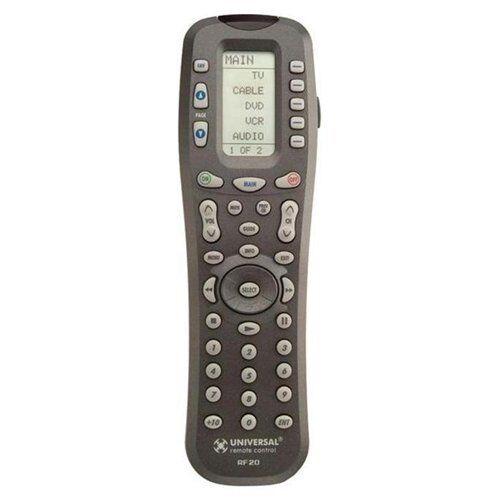 More and more people continue to add devices to their home entertainment space, and these commonly include HDTVs, DVD or Blu-Ray players, media receivers, media storage devices, and the like. Each of these gadgets, however, possibly come with their own remote control, which can lead to your owning a number of remote controls. Good news comes in the form of singular remote controls to suit all audio visual equipment, and these are commonly referred to as universal remote controls.
When using varied remotes is getting to be a problem, looking for a universal remote control is a good idea. The good news is that they are easy to come by and can be purchased online through websites, such as eBay, as well as at regular shops that deal in audio visual equipment. What you need to take into account, include aspects like how the remote is used, your budget, as well as the different technologies at play.
Initial Considerations
Among the first elements you should consider include the number of devices for which you need a singular remote control, your budget, the features for which you are looking, as well as the remote control's design.
Number of Devices
The number of devices that you need to control is the first thing you should consider, and what you should also take into account at this point is if you are adding more devices to your collection in the near, or not so near, future. Most universal remote controls are capable of handling standard setups that comprise of televisions, disc players, television reception and set-top boxes,, and AV receivers. With some models, if you wish to add another device you have to upgrade your remote, and some come with a limit of handling five devices. As a result, planning just how many devices you may acquire during the remote's life is definitely suggested.
The Budget
Deciding on how much you wish to spend on a universal remote control is something you should do even before you make a list of your requirements and begin looking at the alternatives on offer. You can purchase universal remote controls rather cheaply, or you can purchase high-end models, which may be quite expensive.
Features
The most common features that people look for in universal remote controls include: the ability to pair them with all of the given devices in question, programmable custom buttons, battery level indicators, and motion sensors. If you look at the universal remote controls on offer, you may find that their best features are prominently displayed, in order to attract the attention of buyers.
Design
The design of a remote control extends to more than how it looks; it also takes into account how well it is made in terms of the materials used. Take into account that most remotes are designed with practicality in mind and not appearance. You should be able to hold onto the remote control comfortably, which involves checking its height, width, and length. The remote's source of power is also something that needs your attention. While most models function using AA batteries, some draw power through power cradles. The material used to make these remotes also varies significantly. While cheap alternatives are often made using low grade plastic, the same is not the case with higher priced models.
Different Types of Remote Controls to Suit All Audio Visual Equipment
For simplicity's sake, universal remote controls can be classified under programmable remotes and pre-programmed remotes. The user interface that these remotes offer can vary from model to model, where some come with touch screen LCD displays, some come with simple rubber buttons, and some, a combination of buttons as well as displays.
Programmable Universal Remote Controls
These remote controls, also commonly referred to as learning remotes, work to identify and remember infrared (IR) command codes of corresponding audio visual devices, and some of these remotes are even capable of operating devices, like air conditioners and light switches. Programming these remotes can involve the transmission of relevant information through old remotes, and some models can also be programmed through the use of accompanying computer software.
Pre-Programmed Universal Remote Controls
Pre-programmed remote controls come with pre-fed infrared codes that run in the hundreds and even thousands, which enables them to function with most commonly available brands and models of modern day audio visual devices. Such a remote generally comes with a guide containing scores of different brands and models along with their corresponding codes, which need to be manually fed, or it can also offer USB connectivity and require you to hook it up to an Internet-enabled computer to look for the relevant code and accompanying signal-related information online. The latter is looked upon as a better alternative because it helps to simplify things and speed up the process.
High-End Universal Remote
High-end universal remotes, in almost all cases, come with complex programmability, state-of-the-art LCD screens, as well as unmatched control over any given gadget. What one also needs to know is that the prices of these could be as high as any other high-end audio visual accessory. On the other hand, if you are looking at the best alternative to control your home entertainment setup, high-end universal remotes are the way to go.
A number of these high-end remotes come with radio frequency (RF) capabilities along with relying on infrared, which allows them to control devices even through obstacles like walls, thereby doing away with line-of-sight requirements that are commonly associated with remote controls. The high-integration levels offered by these remotes is not easy to achieve, and some need the assistance of custom installers to get them going. Some even come with the ability to integrate with home automation and surveillance systems.
Added Features
Some high-end remotes come with the capability of streaming music through computers using Wi-Fi signals. Some come with docking stations or rechargeable cradles, which does away with the need of replacing batteries every now and then. Some remotes are available with back-lit buttons, which makes operating them in the dark quite easy. Some are available with touch screens, and although setting these up can be a challenge, they do offer great user-friendliness once they are programmed. The ability to follow macro commands, in which the remote performs multiple commands, like turning on a television, disc player, and audio visual receiver, can also be found in high-end universal remotes.
High-end universal remote controls can also come with the capability of controlling more than just your audio visual equipment, which can include control over gadgets, like air conditioners, lights, and blinds.
What you need to understand is that high-end universal remote controls that come with an array of features are often difficult to programme, and you may well need the help of an audio visual specialist. If you intend to go through the programming aspect on your own, a fair amount of patience could be required.
The Batteries
Most universal remote controls draw power through regular alkaline batteries, with AA batteries being most commonly used, and most models work perfectly well with their rechargeable counterparts. Some models come with inbuilt rechargeable batteries,, which are recharged through the use of manufacturer-supplied recharging units, docking stations, or recharge cradles. Some come with Li-ion and LiPo batteries, which may be charged through USB connections or through a direct source of power, like a plug point.
What you need to take into account when looking at models that come with inbuilt batteries is that not all models offer replaceable batteries, and if you cannot remove batteries from any given remote, the life of the remote depends on the life of the battery.
Buying Remote Controls to Suit All Audio Visual Equipment on eBay
eBay offers users varied options when it comes to looking at remote controls to suit all audio visual equipment, which includes simple and affordably priced options, as well as state-of-the-art, high-end models. These remotes are fully capable of controlling devices, like HD televisions,, DVD players and Blu-ray players,, as well as a host of other audio visual equipment.
If you are looking at quick deliveries, looking for local dealers is suggested, which can also result in lower shipping costs. Since similar universal remote controls may be offered by more than a few dealers on eBay, if you carry out an extensive search you could well be rewarded with a great deal. Another definite advantage of searching through eBay is that you are given the opportunity to look for new as well as used universal remote controls,, and even if you are looking for used remotes, you are offered a number of options from which to choose.
Conclusion
The primary task of a remote control to suit all audio visual equipment is that it should be able to replace all existing remotes that you own, which means it needs to be programmed to all of the devices that you own. Consequently, it should come with enough functionality so that you do not have to resort to using your old remotes again, irrespective of the commands you wish to execute. If you are not tech savvy, or do not wish to get professional help for the installation process, it is best that you look for simple alternatives that offer easy configuration.
These remotes are designed with the idea of making your life easier, which is made plainly clear through functions like macro commands. Establishing just how much you wish to spend is a good start, given the plethora of alternatives on offer. If you wish to look for an affordable alternative at this point, you always have the opportunity to upgrade later.