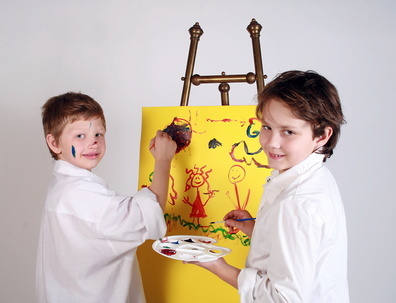 An easel that is specifically designed for children allows little ones to paint, draw, and play at a comfortable height, giving them the freedom to express themselves in a healthy environment. Most children love using vibrant colours to create artworks of their own. Easels can also double as boards where children can create scenes using magnetic or felt figures. This simple, relatively inexpensive device can keep your child entertained for hours.
Although the combination of children and easels tends to equal mess, buying an easel for a child has a number of benefits. Learn about these before you start shopping. Knowing which types of easels are available allows you to choose the best one for the child. Finally, learn what features and characteristics to look for when shopping for an easel for kids. Easels for kids are available from art supply and craft shops, department stores, toy shops, and online from sites like eBay.
Benefits of Easels for Kids
Although giving a child an easel can be a rather messy exercise, the benefits of allowing a child to use an easel far outweigh the disadvantages. An easel offers a large inviting space for the child to express his or her creativity, and is more appealing than a blank sheet of paper laid on a table. The eye level perspective is similar to how children see the world and allows them to capture their worldview more easily. Aside from the cognitive advantages, working with an easel aids the development of the muscles used for writing. This type of exercise improves children's motor skills and prepares them for more detailed tasks that require more control.
Types of Easels for Kids
A variety of easels for kids are available and the model that you choose does not necessarily have to be a smaller version of an adult's easel. Easels are available with three main types of surface: chalkboard, whiteboard, and magnetic. Easels also come in different shapes and sizes.
Chalkboard Easels for Kids
Chalk creates less of a mess than paint, but still allows children to express themselves in a range of colours. Chalkboard easels are easy to keep clean and dropped art supplies seldom ruin carpets or flooring because chalk is easy to vacuum up. A piece of drawing paper can usually be attached to chalkboards to turn them into regular easels.
Whiteboard Easels for Kids
Whiteboard easels, also known as dry wipe boards, are easy to keep clean and allow children to be creative with non-permanent markers. These easels are more suitable for older children as non-permanent markers can be difficult to remove if accidently applied to carpets, walls, and furniture.
Magnetic Easels for Kids
A magnetic easel allows children to create pictures using magnetic signs and pictures. Ask children to recreate a scene from their favourite story, to tell about the scenes that they create, or simply allow them to arrange people, animals, or shapes in ways that they find pleasing. Letters and numbers are available to help older children with their literacy and numeracy skills. The magnetic surface can be covered with a piece of drawing paper to turn the easel into an artist's easel.
Tabletop Easels for Kids
A tabletop easel is more compact than a standard model and, as the name suggests, sits on top of a table. These are convenient if space is at a premium or if the child using it is unable to stand for extended periods of time. Travel tabletop easels are compact enough to be taken along on holiday. These are often integrated into art sets that allow the child's art supplies and easel to travel together.
Double-Sided Easels for Kids
Many kids' easels are double-sided, featuring different surfaces on each side for greater versatility. Double-sided easels can be transformed into drawing or painting easels by simply clipping a sheet of paper over one surface. Double-sided easels are especially handy if more than one child wants to use the easel as both can keep busy at the same time.
Felt Boards for Kids
If you have a creative streak, make your own felt board by attaching a piece of felt to one side of the easel. Cut characters, figures, numbers, or letters from coloured felt or buy ready made fuzzy felt sets that can be placed on the board to create pictures and storyboards. This allows children to have an easel with a chalkboard, whiteboard, and an excellent substitute for a magnetic board in one.
Features of Easels for Kids
Several features should be considered when choosing an easel for kids. The table below lists these features with a short explanation.
Feature of Easel

Explanation

Allows the easel to grow with the child

Child can always work at a comfortable height

Flexible

Supports multiple media

Different surfaces on each side

More than one child can use the easel at the same time

Easy to clean

Removable trays and boards are easy to keep clean

Supply trays

Provides easy access to art supplies

Items are less likely to be dropped and ground into carpets

Portable

Can be used in different rooms

Allows parents to supervise without stopping what they are doing

Can be placed outside on a pleasant day

Easy to assemble

Makes the parents more likely to use the easel

Can make the easel more easy to store

Safe

Components should be appropriate for the age of the child and not pose any hazards

Stable

The more sturdy and stable the better

Less chance of being dragged or knocked over

Young children may steady themselves against the easel

Storage for supplies

Storage bins below the easel

Adds to stability

Excellent way to keep supplies together and tidy
It may be wise to consider where the easel is used. An easy-care rug or mat that fits under it saves a lot of time when cleaning the surrounding floors and carpets. Choose floor coverings that are machine washable and easy to dry.
Buying an Easel for Kids on eBay
To find the perfect easel on eBay, learn how to search effectively. This is as simple as typing a phrase, such as "childrens wooden easel", into the search field that can be found on every page to see the listings available. Narrow your search results by choosing the most appropriate item features. If you would like to expand or narrow your search results, use the advanced search option.
Before You Buy on eBay
Before committing to buy an easel for kids on eBay, take a moment to learn about the item and the seller. Click on a listing to view the item listing page for that easel. Here you can find more information about the product, including details such as the full item description, buying options, the seller's accepted payment methods, postage and packaging costs, postage options, and the seller's feedback information. Contact the seller by clicking the "Ask a question" link if you have any queries about the easel.
eBay's seller feedback feature acts as a seller's online reputation. Buyers leave feedback about specific sellers' products and customer service at the conclusion of each transaction. Use this information to form your own opinion of a seller before buying from him or her. Detailed seller ratings provide more information on aspects such as the accuracy of the item description in the listing and the seller's communication. Click on the number next to the seller's username to access these details.
Conclusion
Buying an easel for kids has a range of benefits, aiding both cognitive and physical development. Although young children tend to get a little bit messy when doing arts and crafts, this can easily be contained by working over a washable mat or rug or by choosing the right type of easel. Most easels feature a chalkboard, whiteboard, or magnetic surface and are transformed into painting or drawing easels by simply clipping paper over these surfaces. For added versatility and if more than one child wants to use the easel, look for one that is double-sided. It is also easy to turn any easel into a fuzzy felt background by attaching a felt backing to the surface.
The easel chosen should be easy to assemble and store, and portability is always a bonus. If space is at premium or the child cannot remain standing for extended periods of time, then consider buying a tabletop easel. These often come as part of an art supply set and can be taken along on holidays or play dates. The easel that you decide to buy should be versatile in order to meet the needs of the child, as well as having a supply tray to keep everything that the child needs close to hand. Choose a safe, sturdy design that is easy to keep clean. An easel with storage bins means that art supplies are kept together, and this adds stability to the easel, which is especially helpful for younger children. A range of easels are available at competitive prices from eBay sellers.