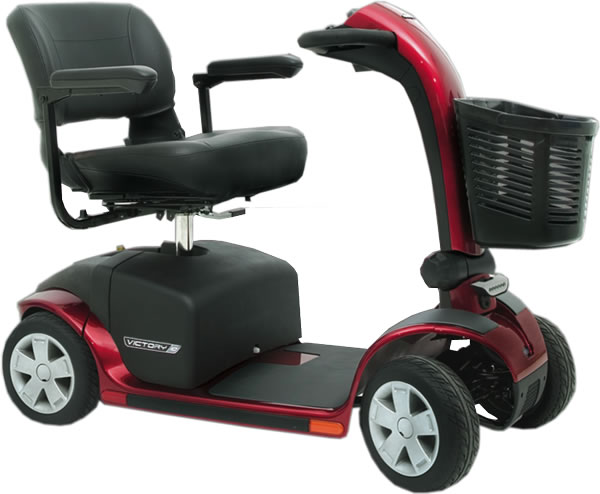 Mobility scooters are a must if you are disabled or confined to a wheelchair, but still want to be able to get around and live a normal, active lifestyle. A motorised mobility scooter can give you the freedom you crave, and most scooters are street legal, making it even easier to get from place to place. Mobility scooters, like automobiles, have various features and extras, which can increase the price. Finding a mobility scooter on eBay can be more cost effective and convenient than purchasing one from a retailer.
Mobility scooters range from lightweight and basic three-wheel scooters, to deluxe and heavy, four-wheel models. You should choose a scooter that offers the features you need for the price that is in your budget. Select a scooter based on how often you are going to use it, the battery capability, how fast it goes, and how easy it is for you to operate. Select the perfect electric mobility scooter from a wide range of styles and types of scooters that you can find on eBay.
Types of Electric Mobility Scooters
There are a couple of different types of mobility scooters. These vary in features and pricing, and some are easier to navigate than others. Scooters may vary in battery life, number of wheels, and whether or not they are built for long distances. Some scooters carry heavier amounts of weight, and some offer a switch which enables the riders to change between pavement and a rockier terrain such as an unpaved road.
Three-Wheel Scooters
The great thing about three-wheel mobility scooters is that they can be simpler to manoeuvre than four-wheel scooters. They turn sharp corners easier, and they work well indoors such as when you are in a store or other retail environment. However, they may not be as durable. So if you simply need a scooter for indoor, light use, a three-wheel scooter is the best option.
Three-wheel scooters are also more affordable and more lightweight than the more deluxe, four-wheel versions. Three-wheel scooters also have a bit more legroom than four-wheel scooters, and they also may operate at a slower speed than their four-wheel counterparts. The great thing about three-wheel scooters is since they are light, it may be easier to travel with them. They can also be taken apart easily and put back together.
Four-Wheel Scooters
Four-wheel mobility scooters have the ability to ride on more rugged and rough terrain, such as unpaved roads. They are not as easy to manoeuvre around tight corners or spaces, but they provide more stability when riding. They can also be operated at higher speeds and accommodate more weight. However, four-wheel scooters are not that handy when you are in narrow spaces, such as stores with narrow aisles or small rooms.
The seats are generally adjustable which is convenient, but four-wheel scooters are much heavier than three wheelers, so they may be harder and more cumbersome to travel with frequently. Four-wheelers have more power and drive behind them, but they are simply not as portable or as lightweight as three-wheel scooters. For users who are looking to pretty much replace car travel with mobility scooters, deluxe, larger, four-wheel versions are a good option since they come with many of the same features that cars do, such as front and rear lights as well as hazard lights, full suspension, horns, adjustable seats, front bumpers, and high tech brake systems.
Electric Mobility Scooter Extras
There are additional items you can buy to make life with your mobility scooter even better. If you use your mobility scooter frequently, you should enjoy adding some extras to your electric mobility scooter which you may need to make your journeys more enjoyable and more convenient.
Covers
If you store your mobility scooter and you want to keep it dust-free and dry, you need a storage cover for it. Storage covers for scooters are made to fit each style and size of scooter, and they are waterproof and easily fit around the scooters entirely with elastic to keep the scooters completely covered. Covers are generally made of nylon, polyester, or PVC, and they come in a variety of colours.
There are also mobility scooter covers available that are lightweight and made for more short-term coverage. They slip over the scooters but may not have elasticised bottoms and may be made of thinner material. There are also scooter covers called canopies, which actually provide a roof which goes over scooters in case there is need to travel in inclement weather. They zip up and are clear to provide maximum visibility.
Lifts/Ramps
Lifts and ramps for mobility scooters enable scooters to get in and out of cars easily. A lift does the heavy work when it comes to getting a scooter in and out of a car, and a ramp can enable you to get your scooter up and out of a trailer, van, or truck. Since a scooter is oftentimes quite heavy, you may need a lift or ramp to help get it in and out of a vehicle when you are travelling with it.
Batteries
Having an extra mobility scooter battery on hand when you are away from home is always a good idea. Most batteries for mobility scooters are rechargeable, but batteries only last for a certain amount of time. Do not be caught without an extra battery if you are travelling with your mobility scooter. When you are purchasing batteries for your mobility scooter, make sure you are buying the correct batteries. The battery specification is generally listed on the battery itself, and you need the right battery for your exact scooter so that it fits and works properly.
Make sure the battery comes with the necessary tools to install and connect it, unless you already have those items at home. An extra battery that stays charged is always a good idea, especially if you use your mobility scooter frequently.
Storage Bags
Storage bags fit over the back of the seats of scooters and come in many different sizes, styles, and colours to fit each type of scooter. A bag typically has strong straps that slide comfortably over the back of your chair, and is convenient to hold your items when you are using your scooter and do not have free hands.
There are some styles of mobility scooter storage bags that are saddle bags and fit over the whole seat, and offer a side bag as well as a back bag. The weight of the bags is distributed evenly to make carrying more items comfortable and easy.
How to Buy an Electric Mobility Scooter on eBay
Search through all of the available scooters on eBay and find the right one for you. Use the simple-to-navigate eBay search engine to find electric mobility scooters, and browse the all of the options. There are new scooters as well as used ones, so if you are buying a used scooter, check the seller's listing carefully for all of the relevant information, and make sure the scooter is in good condition, find out how much it has been used, and if there is any cosmetic wear and tear. Look at images of the scooter, and ask the seller about the scooter if you have any questions. You can do this easily by clicking the "Ask a Question&" link on the seller's page.
For a heavy item like a mobility scooter, a personal pickup is preferred, so look for local sellers, and find out if they can give you a good deal on other scooter related items you may need, such as covers, extra batteries or chargers, storage bags, tire puncture kits or sealant, and rain ponchos to wear while driving your scooter in bad weather. Purchasing more than one item from the same seller sometimes results in a discounted price.
Conclusion
Mobility scooters are the key to freedom for many people who need help walking but do not want to deal with the inconvenience and limited range of wheelchairs. Mobility scooters can be driven on the street just like cars in most cases, and are easy to navigate. They are sturdy, reliable, efficient, and powerful. Get from place to place without aid when you have a good electric scooter to help you get around. Mobility scooters can also be easily put into vans or trucks to take along with when travelling.
Scooters may not be inexpensive, but they should last for a long time with the proper maintenance. Mobility scooters range from lightweight and easily manoeuvrable to the deluxe, sturdy versions that work well on rough roads and bumpy terrain. Whether you are disabled or just have a limited range of movement, an electric mobility scooter ensures that you live a normal life and do all of the things you did when you had full mobility. Do not skip out on activities and events just because of health problems; simply use a motorised scooter to help you get the most out of your life.