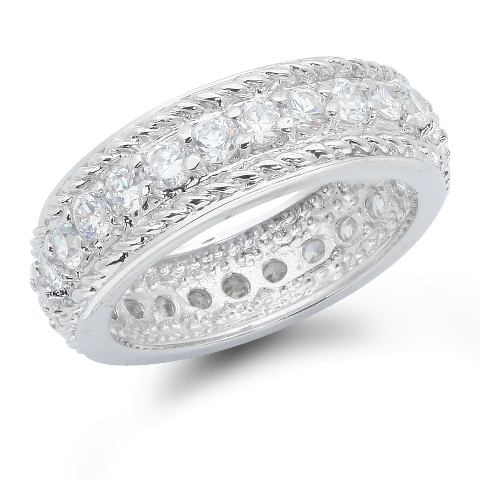 Eternity rings are a traditional anniversary present with a timeless appeal. The design consists of a row of diamonds or other precious stones set in a band of precious metal and symbolises never-ending love. The eternity ring is said to have been invented in the 1960s by the diamond company De Beers. Today, it is made by many fine jewellers and can be found in many different styles with the same basic design. It makes a beautiful gift on the occasion of an anniversary, but shopping for one can be difficult because of the choices available.
There are full eternity rings and half eternity rings, rings made from various precious metals, different precious and semiprecious stones, and with different stone settings. Since an eternity ring is a significant purchase, all these things have to be taken into account when one is shopping. By learning about the different types of eternity rings, the precious metals and stones used in their construction, and the stone settings used to secure the stone in the ring, anyone can make an educated decision when shopping for an eternity ring for a loved one.
Types of Eternity Rings
The two basic types of eternity rings are the full eternity ring and the half eternity ring. The half eternity ring has stones only halfway around the ring. This is done more for comfort than for the price although the advantage of half eternity rings is their relative affordability. A full eternity ring can be uncomfortable to wear because of its thickness around the whole finger. They also have to be custom made because of the sizing difficulties, something which adds to their price. On the other hand, half eternity rings can be more easily made in all sizes, making them more popular with retail jewellers. When the significance of the ring is the most important factor, a full eternity ring is the best option. However, when comfort and affordability are important, a half eternity ring can make a beautiful statement as well.
Metals Used for Eternity Rings
Several precious metals are used for eternity rings. The most common are gold, silver, platinum, and palladium. Precious metals are priced by their purity. Understanding metal purity as well as the types of gold alloys commonly found on the market is important.
Gold
Pure gold is too soft to be used in jewellery. For this reason, gold jewellery is made up of an alloy with gold and other metals that add hardness. This can be zinc, nickel, silver, copper, or a mixture of those metals. The purity of gold is expressed in terms of carats. To find the percentage of pure gold in a gold alloy, simply divide the number of carats by 24. For example, a 22-carat eternity ring has 22/24 or 91.66 per cent pure gold.
Rose Gold
Rose gold is actually a gold alloy with a high amount of copper. The copper adds a reddish tint to the gold. There is no such thing as 'pure rose gold' since rose gold by definition is an alloy of metals.
White Gold
Similarly, white gold is a gold alloy with a high percentage of silver or another white metal. Some white gold jewellery is plated with a metal called rhodium. This plating is often confused with the white gold itself. Rhodium plating is used to brighten the look of the metal when the gold alloy is somewhat off-white.
Gold Plated Rings
Gold plated rings are not solid gold all the way through. Instead, they have a thin layer of gold which is fused to a base of a non-precious metal (like brass) through a process called electroplating. Plated gold wears out over a period of several years, exposing the metal underneath. Gold plating is most often found on costume jewellery but may also be found on low-end fine jewellery.
Gold-Filled Rings
Gold-filled rings, while not solid gold, are a big step above gold-plated rings as far as quality. Solid gold is fused with heat onto a base metal and the amount of gold has to be at least 1/20 the weight of the base metal. This ensures that a thick layer of gold is placed on the ring so that it does not wear out quickly.
Silver
Sterling silver is marked with the number '925'. This indicates that the ring is 92.5 per cent silver and 7.5 per cent other metals. Other standards for silver also exist, depending on the country of origin of the ring. Like gold-plating, silver-plating also exists and consists of a thin layer of silver on top of a base metal like brass or pewter.
Platinum
Platinum is a precious metal that is far more rare than gold or silver. Unlike these, platinum does not tarnish or wear out, making it ideal for jewellery. However, the rarity of the metal makes platinum expensive.
Palladium
The least common of the precious metals, palladium has been used in jewellery since 1939. Its whitish colour made it ideal for making white gold, along with nickel and silver. However, when the price of platinum increased and the price of palladium decreased around 2008, palladium became a popular alternative to platinum.
Precious Stones Used in Eternity Rings
Diamonds are the traditional stone in eternity rings. In fact, some accounts claim that the eternity ring was made popular as a way to use the abundance of small diamonds that were available since previously, only the large single diamond ring designs were in demand. In recent times, eternity rings have been made with many other precious stones in combination with diamonds. These include sapphires, rubies, and emeralds.
Cut, clarity, colour, and carat weight are the four criteria to consider when buying a diamond, and in large part, they are the same criteria to consider when buying gemstones. The difference is that cut is generally the main criteria with diamonds while colour is the most important factor with coloured gemstones. Synthetic stones are also available, and many lab-created synthetic gems provide the same qualities as the naturally occurring gems, at a fraction of the price.
Stone Settings for Eternity Rings
Regardless of the stones used in an eternity ring, the setting type should be carefully considered. The setting secures the stone to the ring and when it is poorly made, the stones can slip out and get lost. There are four basic types of settings used for eternity rings.
Shared Prong Setting
A shared prong setting uses small prongs made of metal to hold the gems in place. This setting allows the most light to enter the gem since the sides are exposed as well as the face. However, it may not be as secure as the other settings since a bent or broken prong is all it takes to lose a stone.
Channel Setting
The stones in a channel setting are placed into a deep groove, channel, or metal. A lip at the top of the channel keeps the stones inside the groove. A regular channel settings has the stones touching one another, but there is also a variation known as the bar channel setting. This setting has small metal pieces between each stone, giving the ring a different look. Both are very secure settings but only let light enter the gem through the face.
Bezel Setting
Bezel set eternity rings have a separate metal 'holder' for each stone that surrounds the stone completely except for the face. While a bezel setting is usually used for single stones, there are several beautiful and creative designs for eternity rings in which each stone is in its own bezel all around the ring.
How to Buy an Eternity Ring on eBay
eBay offers a wide selection of eternity rings of all sizes and colours for anyone looking for a readymade ring. It also makes online shopping simple with advanced search options and seller feedback scores. To find an eternity ring on eBay, simply enter the term 'eternity ring' in the search box on any eBay page. Then use the search criteria like category, condition, price, and seller (among others) to narrow down the offerings. You can also just browse through the listings to get an idea of what is available in each price range.
Finding a reputable seller is an important step in the buying process that gives you peace of mind in a transaction. This is done easily by choosing one of eBay's Top-Rated Sellers. Sellers with this award icon next to their names or on their listings are those with a proven track record of excellent service and fast shipping times. You can also look for newer sellers with excellent feedback since they often offer bargain prices and great service. eBay's feedback system motivates sellers and buyers alike to complete transactions in a fast and responsible manner.
Conclusion
Many variations on the eternity ring have been created since De Beers first came out with the diamond eternity ring in the 1960s. Some use a combination of gemstones instead of pure diamonds while others have diamonds only halfway around the ring. Half eternity rings are much more affordable than full eternity rings and are generally also more comfortable. Eternity rings can be made of various types of gold, as well as silver, platinum, or palladium. They also use one of several setting types to secure the stones to the band.
The channel setting, shared prong setting, and bezel settings are all used to hold gemstones in a row. By learning about the metals and settings used in the construction of full and half eternity rings, anyone can go online with enough expertise to find a beautiful and well-made eternity ring on eBay. A genuine eternity ring makes a wonderful anniversary present or wedding band and is a gift that will be treasured forever.