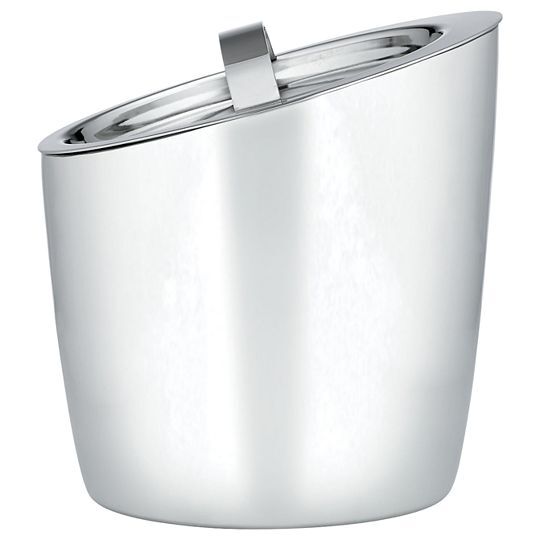 Buying an ice bucket may seem, at a first glance, to be an easy thing to do. Imagine the clean, simple lines of the metal ice bucket brought to the restaurant table to keep the white wine or champagne chilled to perfection. Or, perhaps, a moulded plastic ice bucket for the home, brought out when there is a hot summer's day and a glass of gin and tonic or two need regular doses of ice. When starting to explore the options on eBay, bidders should leave their preconceptions at the door ­– or the entrance to the site – and revel in the imagination of ice bucket designers through the years. Vintage ice buckets rub shoulders with retro models; many of the top drinks companies have their own quirky, branded models; and there are many classic designs that may find favour with buyers.
Uses for Ice Buckets
Ice buckets are no longer an occasional visitor to the dining or picnic table, they have become an integral part of how drinks can be served cold. The most familiar images of ice buckets are those filled with a bottle of champagne or wine lounging on a bed of ice, but ice buckets are also useful for keeping bottles of beer or cider cool, and keeping soft drinks cold when the weather is warm. They can be useful containers for ice cubes, as a well-fitting lid will prevent the ice from melting quickly. More exotic uses for ice buckets include as receptacles for laying out oysters in a half shell on the ice, or other shellfish and crustaceans, such as lobsters and crabs. If the designers can let their imaginations run riot, so too can ice bucket owners.
About Ice Buckets
From the earliest centuries of human existence, mankind has needed to keep many items of perishable food cold. There is little historical information available as to when the use of ice buckets began to be common practice, but it is thought that in the days of the Roman Emperor Nero, wine would be kept cool in containers in what might now be thought of as ice buckets. The aristocracy in Europe during the 15th and 16th centuries chilled their champagne and wine in silver ice buckets of elegant design. In later centuries, the manufacture of ice buckets developed further, becoming especially popular as they became affordable to more people during the 1920s and 30s.
Ice Bucket Collectables
Ice buckets, apart from being extremely useful kitchen accessories, are also very collectable items, and many of these specialist and idiosyncratic objects can be found on eBay. In more modern times, some conceptual artists, such as the famous American Jeff Koons, brought out limited edition ice buckets that nowadays can sell for many tens of thousands of pounds. Keen collectors can find a wide range of collectable ice buckets on eBay, and in so doing introduce favourite themes into the decor for their kitchens or other rooms.
Facts About Ice Buckets
An ice bucket, which will usually be insulated, but not always if it is made of metal, will generally have a lid, rather like a hat, that can be put on or taken off by using a spherical handle or knob in the centre. Normally, it is not necessary to turn the lid as it should fit snugly. Some ice buckets may have a small cut out in the lid just large enough for the neck of a bottle to protrude, while preventing air that will melt the ice from getting into the bucket. In restaurants, metal buckets may be served with a cloth over the top, helping to keep the temperature down, yet ensuring that the neck of the bottle is accessible. An ice bucket may often be sold with tongs for removing cubed ice, especially if the bucket is used for putting ice into drinks rather than keeping bottles cool, however, ice tongs are also often sold separately, allowing the buyer to choose their preferred tongs as accessories to the bucket.
Ice Bucket Materials
There are many materials used currently and in the past for the manufacture of ice buckets. These include stainless steel, wood of different types, acrylic, metal, plastic, glass, and they may also be made of silver, or silver-plated. Choosing an appropriate material will depend on how an ice bucket will fit in to the overall decor of the home, or if several are needed for a party or other celebratory event, this may need to work with a particular theme. One of the prime things to look for when choosing an ice bucket is its insulation properties. Some will keep ice colder for longer, but although a beautifully designed vintage or retro ice bucket may not be as well insulated as a modern item, sometimes the aesthetic qualities are what are most wanted. A lidless ice bucket, no matter what the material, will not keep ice cold and hard for as long as one that is lidded. Temporary coverings such as cotton napkins will enhance the cooling properties, making them more effective.
Stainless Steel
Stainless steel has a bright and shiny look, and as it mirrors other colours on the exterior, is a very attractive finish for an ice bucket. The material is fashioned using chromium mixed with steel, and this enables it to resist rusting and tarnishing, both problems that may be encountered with carbon steel. Stainless steel is a popular metal for making ice buckets, and there are a myriad of designs to discover on eBay.
Wood
Ice buckets made of wood may seem an unusual concept, but they are readily available and are in fact very collectable items. Most ice buckets of this type have wood on the exterior with a lining on the interior, but some are made of wood both outside and inside, featuring a plastic liner insert to contain the ice. Wooden ice buckets may often have metal handles or decorations, and can be modern, vintage, or retro in style.
Acrylic
Acrylic is often known for its use in the textile industry, but it is also a clear plastic that looks like glass, is half the weight of glass, and is extremely strong. In its solid form, acrylic is used for shower doors, skylights and windows, but its flexibility means that it is well suited to making ice buckets. eBay has many examples of acrylic ice buckets, and many different shapes and styles are available, including ones that look as if they are made of crystal, an attractive addition to any kitchen or dining area.
Silver
The term silver can refer to the precious metal itself, ice buckets that are metal but that have been silver-plated, or just the colour that many metals, such as stainless steel, display. There is a good choice of silver-plated ice buckets on eBay, and these are a charming addition to any household. Bidders should always check the full description of items described as silver when buying an ice bucket, and remember that a pure silver item is likely to be aimed at collectors with the budget to buy it.
Finding Ice Buckets on eBay
To find ice buckets on eBay, select either collectables or Brewerina from the drop down categories listed at the top of the page. eBay has a range of categories that can be used when searching for the ideal ice bucket. Breweriana, for example, provides access to hundreds of examples of ice buckets branded by top drinks companies, and there are many unusual shapes to be found. In Vintage/Retro there are classic examples of old style ice buckets made of various materials, which are often a focus for ice bucket collectors. Designs range from unusual art deco items through to classic square buckets and cylindrical ones that taper down towards the base. All manner of imaginative styles are available: there are ice buckets that look like old-style bath tubs, and retro kitsch ones in the shape of apples or oranges. Finding an ice bucket on eBay to suit personal preferences is easy and fun to explore.
Conclusion
Ice buckets are much more than an accessory for a special occasion; they have become an essential part of kitchen equipment. There are several thousand options to choose from on eBay, and bidders do well when they do some research beforehand in order to decide what is the best type and style of ice bucket to buy. Comparing prices will help to understand the state of the marketplace in general, and it should be remembered that vintage and antique collectable ice buckets would usually attract higher prices than those that are for everyday use.