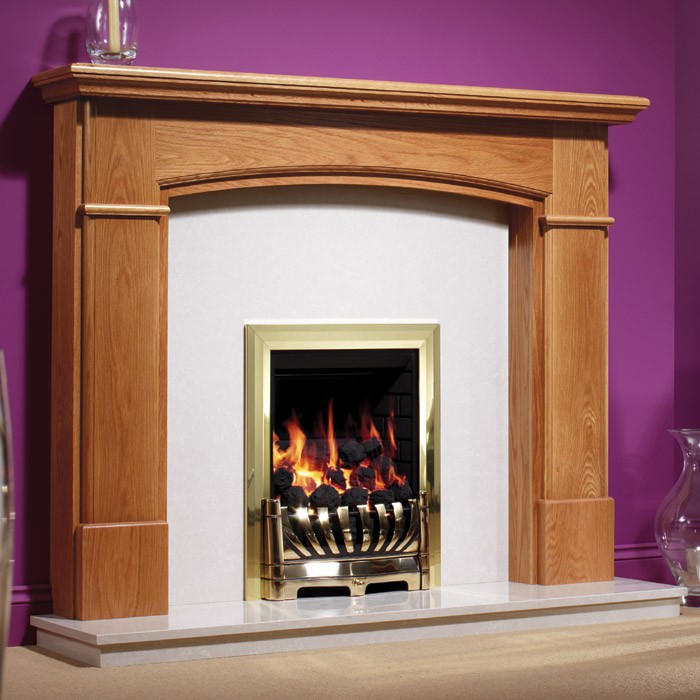 An oak mantelpiece can be just the thing to lend an air of style to a living room. Many people have been looking for just the right piece of timber to really set off the design of their mantel, but haven't done adequate research to achieve the best look possible. This guide is designed to give the interested buyer a starting point, providing the basic background knowledge necessary to complete further research into the specific needs for a mantel to suit the room.
About Oak Mantelpieces
Oak has been a prized building material for millennia. From the most important Viking longboats to the panelling of the House of Commons in London, this particular wood has stood out from the competition due to its superior graining and its vivid depth of colour. A mantel made of oak will also be well suited to serve its purpose for years to come, as this surprisingly durable wood is able to stand up to any amount of scratches and bumps it may receive throughout its lifetime. Oak has accumulated a reputation as a luxurious material, and so will be well capable of adding a touch of class to any room. With a density of 0.75 g cm-3, oak is one of the most dense naturally occurring materials available for purchase. Its density makes it hard wearing and scratch resistant. Oak is an ideal material for use in construction of a mantelpiece; just right for use as a majestic mantel. Oak is packed full of tannin, an astringent (a material that constricts body tissues). The tannins are of great use in protecting woods from insects and fungi. Because of its hardwearing nature, conferred in no small part by tannin, oak has been used for centuries in any application which requires durability and resistance to the elements. Through the ages, oak has been used for everything from prestigious ships to structural supports for buildings, and now oak can be used in the design of any living room.
Choosing an Oak Mantel
As with all other types of wood, oak has many different varieties, and different ways in which the wood can be treated.
Green Oak
Most woods are 'seasoned' before use in construction. This seasoning is achieved by drying the wood in a kiln, or simply in the air. The drying process ensures that any moisture still present in the wood is removed. If the moisture were left in the wood during construction, it could have catastrophic effects for the building since wood changes shape during drying. This process cannot be utilised when dealing with oak, however. Seasoning oak results in a whole host of problems when using it for construction. While it is true that seasoned oak is harder than green oak, this can quickly cripple even the simplest construction project as power tools invariably struggle to cut and shape seasoned oak. Since an oak beam can take around a decade to dry fully, even the most powerful kilns won't be able to dry the wood properly without considerable effort and expense. Since oak changes shape astonishingly when dried, it would also require a much greater amount of processing after drying to get the exact shape and size right. The final problem with seasoned oak is the fissure lines which manifest themselves during the process, often making even the most beautiful piece of oak look unsightly. Because it takes so long to dry, green (unseasoned) oak is commonly used as a cheap, more durable, and less labour intensive alternative to seasoned oak.
Staining
In general, hardwoods are much easier to stain than softwoods. This is due to the porous nature of the softwoods which leads them to internalise any stain applied by capillary action. In contrast, the composition of hardwoods, such as oak, allows the majority of the stain to remain on the surface of the wood, making it easy to create the desired effect with a minimal coating. Because of the beautiful warm colour boasted by oak, people often choose not to stain their oak mantels, letting the natural tints and hues of the wood show through. For those, however, who want a slightly different look for their oak, there are a number of options available. It is possible to buy pre-stained oak, but many prefer to complete the process themselves. The choices available are explored in the table below.
| | |
| --- | --- |
| Pre-stained | Buying a pre-stained oak mantel has certain obvious advantages, but it is important to make sure the colour is exactly right before committing to a purchase. |
| DIY Stain | DIY staining involves several steps: application of a conditioner ensures that the stain is coated evenly over the wood, application of the stain comes next, and finally applying a finishing product to 'seal' the wood. This can be the best option if getting the exact colour is paramount, but can be rather more labour intensive than the other methods described here. |
| Unstained | Unstained oak has a natural beauty that many find strangely appealing, so for a mantel with that natural look, unstained wood might just be the thing. |
Types of Oak
There are over 600 different types of oak, so which one is best suited for pride of place on a fireplace mantel? The table below gives some examples of the various types of oak and their uses, in addition to their respective Latin names.
| | | |
| --- | --- | --- |
| Cork Oak | Quercus suber | Is a Mediterranean oak whose bark is used for making corks. |
| Northern Red Oak | Quercus rubra | An American oak, which along with White Oak is one of the most popular. Because of the striking colours of this type of oak, it is incredibly popular, although its propensity to gain large openings over time leaves it prone to fungal infection, and, therefore, useless for outdoor applications. This, however, is of no consequence inside, and the beautiful colourings and markings will make a great complement to a room's decor scheme. |
| White Oak | Quercus alba | An American oak which is one of the most popular types of oak, along with Northern Red Oak. |
| English Oak | Quercus robur | The English Oak is the most popular European Oak for indoor furniture and interior panelling. This durable wood boasts seductively shaded brown rings which, highlighted with just the right stain, will have the mantel the main feature of any living room. |
| Sessile Oak | Quercus petraea | Sessile oak is another member of the European oak family, although less with interior design, it is more suited to timber framing and manufacture of wine barrels. |
Potential Pitfalls
There are a few, but important, things to look out for when dealing with oak.
Sustainability
Many of the oak forests harvested for use in today's industry are sustainable, meaning that every time a tree is felled, a new one is planted. This responsible approach to forestry means that buying a hunk of oak for a mantle doesn't have to leave an imprint on the conscience. In addition to oak's sustainability, it is also a commonly recycled material. Now that train line sleepers are being replaced throughout the country, large amounts of high quality oak logs are becoming available. In addition to railway line sleepers, driftwood is fast gaining popularity as a material for fireplace mantels due to its innate beauty and its smoothness carved by the waves.
Expense
Oak, like many hardwoods, is often considerably more expensive than its softwood counterparts. Because oak takes many decades to fully mature, and because pinecones don't appear on the trees until they reach this point of maturity, providing a continual supply of oak wood, therefore, requires a lot more investment and maintenance than providing a supply of softwoods. This pushes the price up, but it is well worth the investment to have a stunning oak centrepiece in front room. Sometimes paying retail price isn't the only way to get just the mantel required, though. Have a look around eBay. This can be a great way to pick up a bargain not otherwise available.
Conclusion
For a majestic wooden mantel, there really is no alternative to oak as a material. This guide will give the best change to find just the type of mantel needed to suit a perfectly decorated living room. There are a whole host of bargains to be had on eBay for those who know where to look, so give it a go today.