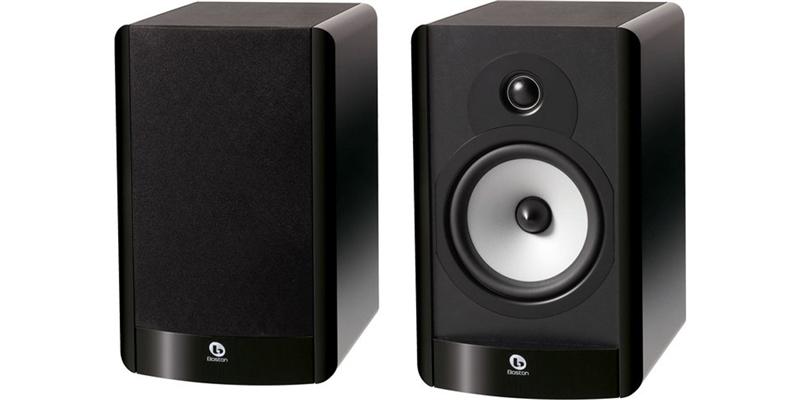 Wall and bookshelf speakers are any type of speakers that are relatively small and lightweight enough to be stored on shelves and on speaker racks on walls. Generally, bookshelf speakers can be fit into small spaces, making them excellent for anyone living in a flat or small home, as well as for anyone who does not necessarily want to sacrifice living space for their audio or cinema setup.
Speakers can be purchased as stereo or surround sound speakers, and can be Hi-Fi, digital, or analogue, depending on the needs of the user. The number of speakers is another consideration that depends on the audio setup, the size of the space, and the preferences and budget of the buyer. Usually, wall and bookshelf speakers are small enough to easily fit into any space, but buyers should choose speakers based on available area, design, and of course, quality and sound of audio. Speakers of this type can be purchased in electronics stores off and online, and on eBay. Anyone looking for the best set of wall or bookshelf speakers for their home should know how to select the right speakers as well as how to place them to create an optimum audio setup.
Choosing the Best Types of Wall Speakers
There are multiple types of wall speakers, including those that take up more room, and those that are designed to fit into as compact a space as possible. Considerations include that smaller speakers have less volume capabilities, and that they might also be lower quality. However, small speakers are easier to fit into a space, which is excellent for anyone with a small room. Large speakers also have their downfalls; they can be heavy, might not be suitable for a house with weak walls, and can be too loud for anyone living in a flat.
Bookshelf Speakers
Bookshelf speakers are a common type of speakers and are generally quite small. They can range from about the size of a paperback book, to more than 20 centimetres high. In either case, they are intended to be placed on walls, on shelves, and on tables, ideally being suitable for bookshelf placement, and thus the name. Placement options include using speaker racks, cornering brackets, shelves, speaker shelves (which are usually the exact size of the speaker), and on tables and actual bookshelves. Variations include corner bookshelf speakers that are made with geometric design that leaves the back an ideal shape for fitting into a corner.
Wall Speakers
Wall speakers are similar to bookshelf speakers but are usually designed to be hung on a wall rather than placed on a shelf. Hanging methods can include special brackets, hooks, and speaker racks, but many speakers can also be bolted directly into the wall, which saves the homeowner the expense of hanging or building shelves. Variations include ceiling-hanging speakers, which are simply bracketed or bolted directly into the ceiling. The disadvantage of wall speakers is that the homeowner needs to drill to create a hole in the wall for bracketing, and that if the wall is not strong enough, the speakers may eventually collapse. Anyone hanging their own speakers should ensure that the brackets are placed in firm areas of the wall, such as posts and foundation pillars rather than in gypsum walls with no support.
In-Wall Speakers
In-wall speakers are those that are actually installed within the wall. The benefits include a clean and modern look that can be nearly hidden from view, not taking up extra space in the room, and not posting the danger of falling. The disadvantage is that in-wall speakers must be installed inside of the wall or ceiling. They are not appropriate for anyone renting who will have to pay for damages at the end of their tenancy, and not appropriate for anyone who does not either know how to install them, or who is not willing to hire a professional company to install the speakers. Usually, the best time to install wall speakers is during home remodelling because the cords and cables for these speakers must be installed inside of the walls.
Surround vs. Stereo Speakers
Another thing to consider when looking for bookshelf or wall speakers is the sound setup. There are two major sound setups, including stereo and surround sound, usually linked with digital, Hi-Fi, and analogue sound. Stereo is two-channel audio, usually a very simple setup, and easy for anyone to install. The term Hi-Fi simply refers to high-quality digital speakers, usually multi-drive woofers and subwoofers with a wide range (usually 15-25 decibels) of sound.
Surround Sound
Surround sound is multiple-channel audio with four or more channels and high quality digital formatting. Surround sound requires multiple speakers, usually including two woofers, one or more subwoofers or bass speakers, and one or more tweeters, although the last is not necessary in a surround sound setup. Surround sound systems can usually be purchased in a bundle package with a mixer or equaliser as part of the setup. Surround sound is advantageous for small areas with a viewing or listening area somewhere in the centre because it allows one to create a type of 3D sound. However, it is not appropriate for elongated rooms, very large spaces, or rooms where the speakers cannot be equally balanced around the room, as it simply creates an imbalance of sound.
Stereo Sound
Stereo sound is the most common type of speaker setup because it is a simple two-channel audio that can be set up with speakers placed in any location in the room. The number of speakers can range from two and up depending on the user's needs, and usually include multi-driver woofer speakers that may or may not be analogue, digital, or Hi-Fi. Stereo bookshelf or wall speakers are best for any irregular space, any large rooms, and for placing speakers in multiple rooms.
Creating an Optimum Audio Setup
Creating an optimum audio setup includes choosing speakers and a speaker system that fit well into a space and sound good in it. While physical appearance is purely a personal decision, audio quality is more important for everyone concerned. For physical looks, it is simply a good idea to ensure that the speakers do not clash with the decor, are in good shape, and firmly secured to the walls for safety purposes. Smaller speakers are, of course, better for smaller areas, but by placing larger speakers higher, they can be kept out of the way.
Speaker Placement
Audio quality can be easily affected by speaker placement and choice. For example, speakers should, as a general rule, point in about the same direction as the listeners will be sitting or standing. For this reason, any speakers intended to be mounted in corners should be fitted into the corner so that the face is opposite the corner, rather than choosing to place them in a single direction. For this purpose, choosing corner speakers, or using a wall mount to place the speakers across the corner provides an optimum sound quality.
Speaker Size
Usually speakers should be of about the same size, and powerful enough to provide sufficient audio for your home. Usually the decibel rating (dB), and the watt rating (W) determine how loud the speakers are, although there can be other factors involved. Generally, the smaller the space, the lower the decibel rating should be in order to avoid having sound bleed through walls and doors. Anyone in a flat should look into purchasing low-volume speakers and placing them about midway up the wall in order to avoid having sound bleed through the roof or through the floor. Generally, front-facing speakers do not produce as much sound to the back, but it is still a good idea to never place speakers directly against the wall if they are being placed in a flat.
Buying Wall and Bookshelf Speakers on eBay
If you have decided which wall speakers or bookshelf speakers you are buying for your space, you can visit the home page of eBay to begin your search on the site. eBay features a wide selection of new and used bookshelf and wall speakers from a variety of brands, and in a range of different prices to suit most budgets. Depending on your needs, you can choose a wall speaker, in-wall speaker, or bookshelf speaker for your space.
You can search for "bookshelf speakers", "corner speakers", "bookshelf surround sound speakers", or a number of other options, depending on your needs. Once you have found what you are looking for, you can choose to purchase the speakers new or used, contact the seller about any additional information, and then purchase your speakers, and have them shipped to you. Important considerations you can keep in mind is that most speakers are cheaper to ship locally, and can sometimes be picked up if the seller lists it as an option.
Conclusion
Bookshelf and wall speakers can be great for saving space, setting up a surround sound system, or just adding speakers to a room or area. No matter what the speakers are being used for, it is important to choose speakers that fit well into the area with consideration to choosing quality audio sound, not bleeding through walls to neighbours' houses, and for providing optimum listening, no matter where the listener is in the room.
Great options include using stereo speakers for very large or irregular spaces, surround sound for small and evenly-balanced areas, and choosing speakers with a decibel rating to match the space. Generally the smaller the space, the quieter the speakers should be, so the lower the decibels. Usually speakers sound the best when pointing in the direction of the listener, so it is also important to choose speakers that can be set up to face the centre of the room, no matter where on the wall they are positioned. Wall and bookshelf speakers can be purchased in audio stores, music stores, electronics stores, and their online equivalents, as well as on eBay.