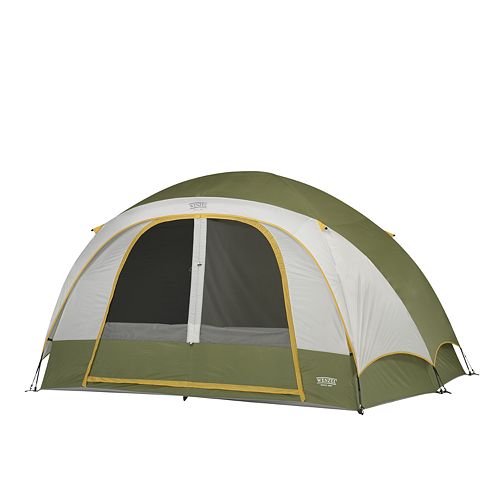 Camping can be an enjoyable and relaxing adventure, or a soggy, cold, windy nightmare. Which of these experiences ends up becoming the reality will depend on where the camper plans on camping and what they plan to camp in.
With the proliferation of inexpensive new tents and the rise in popularity of festival-going across the UK, people are faced with a vast array of choice, and the savvy buyer should undertake research into their activity, and the type of tent that would best suite it. This guide will equip you with all the knowledge you need to choose the best tent for your purpose. As budget is often a concern with potentially expensive purchases like a tent, eBay is an excellent option for choosing, as you can browse a large selection from the convenience of your own home, as well as choose from many different sellers at a range of prices.
The right tent is absolutely vital for a harmonious camping experience. It keeps its occupants safe from the elements and from midges. Getting the right tent will mean getting a good night's sleep with enough space for all occupants. It is also vital to choose a tent that offers the best comfort for weight and size. One thing is for sure: there is a tent for everyone, whether they're scaling Everest or spending the night at the Glastonbury Festival, and it can be found on eBay.
What to Consider When Buying a Tent
Here are some of the key things tent buyers need to be aware of:
How will the tent mainly be used?
Will the whole family be involved or is camping a solo venture?
Will the buyer be going by car?
Is the tent for festivals or for serious outdoor trekking?
Will the buyer be exploring the countryside?
Will the tent be carried?
All these questions and more will help decide which design of tent is best, how heavy or light it should be and how easy it is to pitch.
Other factors are how much room will be required for storing all the gear that campers need – a porch might be needed for storage. It's important also to buy the best tent that's within budget. Anyone making a hobby out of camping would be advised to invest in a good mountain or trekking tent, which will pay off in the long-term.
Which Tent to Buy
Family Tents
When buying a family tent, the key factor will be space – lots of it will be required. Family tents, which can bought on eBay, will usually have at least two separate bedrooms. The tents also have integral groundsheets to keep out cold, damp and insects. These tents are designed for loading in the car, rather than being carried on the person, so weight is not an issue.
Hiking Tents
Buying a hiking tent or trekking tent allows the camper to leave the beaten track and camp in the wild, away from marked campsites. These tents are made of lighter material and tend to be smaller, so that they can be carried easily in a backpack. The tents often come in a tunnel shape, which permits rigidity and wind resistance.
Mountain Tents
For those keen to explore wilderness living, a tough tent will be needed that can withstand extreme weather conditions. Mountain tents can stand up to the roughest wind, rain and snow and can be used on longer excursions. The tents are designed to have a lower profile, so gusts of wind will have less effect, and their geodesic design makes for stability and easy pitching.
Tent Design
There are three basic designs for tents – dome, geodesic and tunnel.
Dome Tents
Dome styles are good for family tents. The design offers a good headroom-to-footprint ratio. It is quite easy to put up a dome tent, but they do require low-level pitching and shelter. Dome tents are best suited to family-orientated campsites.
Tunnel Tents
Tunnel tents give a good feeling of space. The advantage of these tents is that they are light and easy to set up, with few poles. Some tunnel tents are built for extreme conditions, however they might not be ideal in wind. In tough conditions, more poles and guy lines could be needed and choice of campsite will be vital.
Geodesic Tents
Intelligent pole positioning is behind the geodesic tent design, which is based on the dome tent. Geodesic tents are rigid and stable and can sometimes be freestanding. These tents come with more poles than is usual, which make them heavier when carrying around. If camping in hot climates, the inner tent alone can be used to reduce the total weight to be transported.
Key Features of a Tent
A tent is made up of various parts, all of which will come included in the purchase of your tent when you buy one on eBay. Each element can also be bought individually, if one feature needs replacing or upgrading in order to make a tent suitable for a particular climate or purpose.
Flysheet
The external skin of the tent
Flysheets stop the inner tent getting wet and being exposed to winds.
They are usually constructed from nylon or polyester.
Flysheets usually have some kind of waterproof treatment, like Polyurethane, so that water simply rolls off. This results in a more expensive tent, but it is generally thought to be money well spent.
Taped seams, which increase the waterproofing function of flysheets, are another important feature.
Inner Tent
The material used for the inner tent will depend on budget, usage and climate.
Some are manufactured with a lot of mesh to ensure they breathe easily and do not weigh too much.
For durability, others are made from polyester or nylon.
Airflow is a big factor in 'inners', as is reducing condensation.
Groundsheets
The groundsheet is the floor of the tent.
Which material is used for the groundsheet has a huge effect on what a tent weighs and how durable it will be.
Performance can be enhanced on some mountain tents by increasing groundsheet cover.
Tent Poles
Types of tent pole affect the price, rigidity, toughness, and weight of tents.
On basic tents, poles are made of fibreglass, which are inexpensive to make and suited to mild conditions. They tend to be slightly fragile, but can be replaced easily.
Aluminium poles are generally found in performance tents. They are strong and light, but of course this means they cost more.
Before Using A Tent
Before hitting the road, it is a good idea to learn how to set up a newly purchased tent, as struggling with a new tent in the wind and rain is nobody's idea of fun. This can be done in a back garden. For those without a garden, a trip to the local park works just as well, making sure the weather is fine. This exercise will also confirm that all the parts needed are present and correct.
The first step is to choose a flat piece of ground, which needs to be readied before the tent comes out of its stuffsack. This means clearing the ground of stones, wood and other debris. With the tent pitched securely, there are unlikely to be issues with loose pegs and guy lines.
Wind is something to be avoided wherever possible when pitching a tent – the back of the tent should face the wind. If there are big rocks or a hill to shelter behind, that is a good thing. Getting the tent pitched securely is vital in case of a switch in weather conditions.
When returning from a camping excursion, it is important to let the tent air somewhere dry to stop the onset of mildew. Wipe down and dry all the pegs and poles before storing the tent back in its stuffsack.
Find Tents on eBay
Before anyone bids for tents or camping gear on eBay, it is a good idea for buyers to be very clear about what is required. Equally important is to conduct the appropriate research on the seller. This involves
Looking closely at feedback scores and comments
Getting familiar with how eBay consumers are protected by eBay and PayPal.
Factoring in postage and packing costs when buying tents and camping gear on eBay, if the buyer is not making a local pickup.
About eBay Buyer Protection
Buying tents and camping gear on eBay is a very safe process. That is because eBay has put plenty of safeguards in place to ensure that you get the item you wanted or, if that is not possible, that you get your money back in full – including postage.
For those using PayPal, eBay Buyer Protection is almost always free. If you choose to pay another way. eBay can still help, but PayPal is the recommended route. Firstly, the seller should be contacted to try to resolve the issue. If there is still disagreement, eBay should be notified and they will start an investigation, while keeping you informed all the time.
If that still has not resolved matters, it is best to contact eBay. They will speak to the seller and attempt to get a quick resolution.
Conclusion
There are many tents on the market and because they vary so widely in design and purpose, eBay – which offers the ability to search very precisely for the right tent – is a great place to buy them. Always bear in mind how the tent will be used, how many people will use it, and try to get the best tent possible for the budget available. The best places to browse tents on eBay is in the Tents section, which is classified under Sporting Goods, and then Camping.