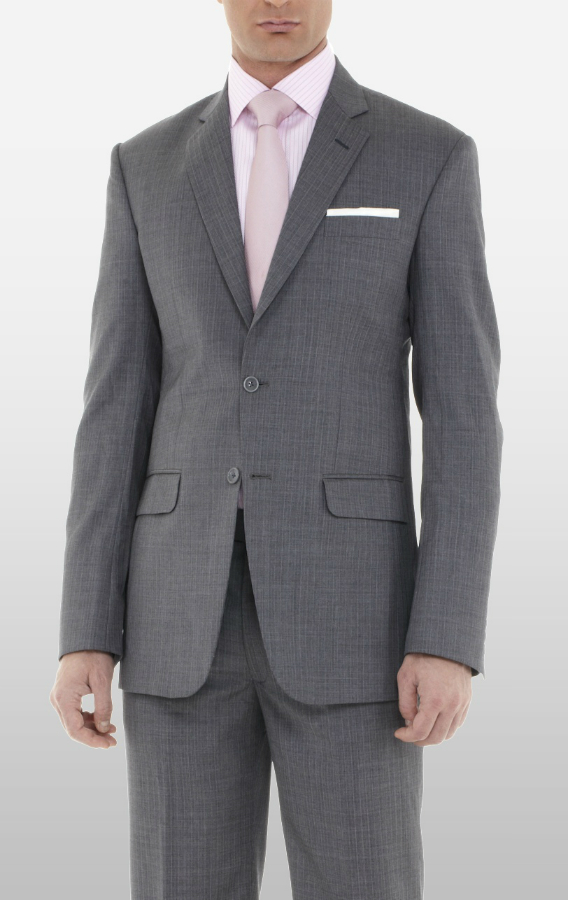 Men have myriad choices when it comes to selecting a men's suit. In fact, the choices can be so close that men typically buy more than one suit for more than one occasion. They buy men's business suits, formal social event suits, and suits to wear to church. Buying multiple suits eliminates the suit buying conundrum. However, what if men had to make one choice for buying a men's suit? Would they know about the one suit that every man should own?
Men's suits can be bought in the men's section of large department stores, although men receive personalised and expert customer service shopping for suits at men's formal wear stores. Men can also find the one suit that rises above the rest by shopping online at eBay. After the preparation process, men can choose the one suit that they should own. However, before men take the big plunge to find the Holy Grail of suits, they should first consider a few time tested men's suit buying tips, learn about the details that define the best men's suits, and follow some sage suit buying advice imparted by the best tailors in the world.
What to Consider When Buying the One Suit Every Man Should Own
Men can find the best suit if they follow a few time-tested tips from some of the world's leading men's suit experts. Remember that the best men's suit does not come cheap.
Say No to Bargains
Men's clothing stores discount men's suits for a number of reasons, all of which is reason enough to avoid purchasing a men's suit at bargain prices. The suit may be defective, the design may be out of style, or the fabric used to make the suit does not provide comfort or breathability. Defects can include wrinkles, loose buttons, out of place suit shoulder pads, and poor size proportions between suit components.
Fabric
Upper-end men's suits possess a blend of wool and cashmere. However, the very best men's suits are made with 100 per cent cashmere. Men can find such suits in upscale department and men's clothing stores. Avoid polyester suits, since the purpose of using synthetic fabrics is to extend the life of a suit that has little utility. Consider stylish cotton, or cotton blend, suits to wear in warmer climates. Egyptian or Pima cotton provide the most luxurious look.
Super Number
The super number refers to the fineness of a suit's individual fibres. Super numbers can be Super 150s or higher. The higher the super number, the thinner the fabric, and the better the suit. Suits made with wool fibres can attain super numbers above 180, which is what men should look for in a top of the line suit.
Strength
Suit strength is determined by grabbing some of the suit fabric, squeezing the fabric, and then observing whether the fabric springs back to its original state. The best suits possess strong structure, or what tailors refer to as "guts". The best men's suits must be able to endure long periods of movement and environmental stresses.
The Details That Define the One Suit Every Man Should Own
The best men's suits possess the little details that most other suits do not include. While the details do not add much value individually, they enhance the appearance and feel of a suit collectively. The top brand name suit designers incorporate most, if not all, of the following details into their suit designs.
Flower Loop
The flower loop is the hand-stitched lapel in which men place a flower. Since very few men add a flower to their suit presentation, the tradition of inserting a flower loop shows that a man has an abundant amount of class. For high-end tailors, tradition goes a long way in determining the quality of a suit.
Sleeve Lining
A hand-stitched sleeve lining indicates that the shoulder fits snugly and feels comfortable. Check the inside seam at the point where the arm meets the body of the suit jacket. Hand-sewn stitches do not leave perceptible creases or pleats where the two fabric sections adjoin.
Interior Pocket
The best men's suits have internal breast pockets that have been reinforced by another fabric. The fabric is cut into strips to prevent the internal part of a suit coat from sagging.
Hidden Pocket
In a nod to James Bond, tailors create a credit card-sized storage compartment between the right front pants pocket and the zipper. This compartment stores valuables, such as no-limit credit cards and expensive men's jewellry.
Vented Pleats
A vented pleat is a subtle fold that tailors make just below the internal pants waistband. The fold ensures the perfect fit and it prevents tucked-in shirts from inadvertently slipping out of the suit pants. Vented pleats are one way to establish a consistently exquisite appearance.
How to Find the One Suit That Every Man Should Own
Men's clothing sales representatives promote their favourite suits, the suits they deem to be the one suit that every man should own. Following the suggestions of a salesperson, assume the salesperson has good taste. In fact, there is probably a financial incentive behind the suit promotion. Buying the one suit that men should own requires men to follow their own perceptions of taste and style. After that, they can follow a few tips to ensure they wear one of the best suits.
No Pleated Pants
Pleated pants create a curvy, feminine look on a man's lower body. Men's suits should project masculinity in every setting they are worn. Pleated men's suit pants are cut baggy near the waistline, which means men have to wear the pants high above the waistline. Pleats add unnecessary fabric around the hips that make men look wider. Men cannot wear pleated pants and expect their suits to be considered high-end.
Lower Than Average Rise
Pant rise is measured from the crotch to the top of the pants waist. Most tailors recommend a rise around 25 cm. However, the average rise forces men to wear suit pants near the navel. Suit pants should be lower and closer to a man's hips. Therefore, men should seek pants that have a less than average rise of around 18 cm. Large suit pants rises create a sloppy appearance that detracts from the overall appearance of a men's suit.
Suit Coat
The men's suit coat is the defining part of a men's suit. Some men's suit salespeople fit suit coats too loosely, thus presenting a baggy, unkempt appearance. A suit coat that fits just right feels slightly constricting, especially when a man moves either arm. The purpose of a tighter than normal suit coat fit is to keep the arms at positions that promote a dignified posture.
Buttons
The best tailors recommend that men wear two-button suit coats and they never wear a suit coat that contains more than three buttons. The best suits allow men to unbutton the bottom suit coat button, which presents a confident look. James Bond has made the two-button suit coat appear regal, and more and more men are changing suits just to slip into two-button suit coats.
Less Tailoring
There is not enough tailoring to transform a poor-looking and poor-fitting men's suit into one of the best men's suits. The less tailoring required to fix defects means men can wear suits that are produced in pristine condition. The one suit that every man should own is the one suit that no tailor needs to adjust.
Two of the Almost-Best Men's Suits
Two suits fell just short of being the one suit that every man should own. If there is enough money left over, make one of the next two suits a part of your upscale wardrobe collection.
Tom Ford
Tom Ford suits have the reputation of being beautifully designed for fashion-conscious men. The brand presents five silhouettes that have an edgy appeal, yet highly stylish components. Tom Ford's most elegant men's suit, the O'Connor, creates a look reminiscent of the 1960s nightclub suit, with a slightly wider, two-button notch lapel that presents visual appeal.
Presidential Two-Button Men's Suit
The pure black design exudes subtle confidence. The super fine tropical weight fabric provides incomparable softness. From online reviewers to professional tailors, this Italian designed men's suit garners praise for its two-button, single-breasted, and dual side coat vents that include a notch lapel. The flat front pants only have a drop of 15 cm, giving this suit an ultra modern look that works as a business suit for everyday use or as a wedding suit.
The One Suit Every Man Should Own
Start saving for the one suit that every man should own. The versatility of the Gino Valentino men's suit makes it appropriate to wear inside of a corporate boardroom or when a man cuts a rug at his daughter's wedding.
Gino Valentino Three-Button Vented Men's Suit
This suit provides extra fine super 180 wool-silk fabric that presents a dignified, yet hip image. The coat possesses three buttons in a single-breasted arrangement that includes flap hip pockets, dual side vents, four-button vented sleeves and three inside coat pockets. Men wear flat front pants that line to the knee and have a 100 per cent cotton-reinforced waistband. The pants come unhemmed in a 15 cm drop. A five-button men's suit waistcoat that possesses two pockets adds the finishing touches to what many men's clothing professionals refer to as the best men's suit.
Buying the One Suit Every Man Should Own on eBay
Men who want to own the one special suit should consider shopping on eBay. Not only do buyers find a wide selection of name brand men's suits on eBay, they may also find discounts that do not diminish the quality of the suits. Simply type keywords into eBay's search engine, and then navigate through the search results pages until you find sellers offering the one suit every man should own. Type specific keywords in the search engine to narrow your search and reduce the time it takes to find the seller who matches all of your buying criteria. For instance, type "Gino Valentino men's suit" or "cashmere men's suits".
Buying the best men's suit requires you to consider buying from eBay's Top-Rated Sellers. These sellers have established strong records of offering superior products at affordable prices. eBay also lists seller customer feedback on the product pages. Look for eBay sellers who have received positive feedback over the past year, preferably for selling men's clothing. Moreover, make sure to buy from a seller who offers a generous return policy for buying a men's suit. Once you establish a business relationship with an eBay seller, you may be able to bypass the auction process and directly purchase other products from the seller. eBay sellers may bundle ties or dress shoes with a men's suit.
Conclusion
If a man had to choose one suit for his wardrobe, what suit would it be? The answer to that question varies amongst men, as the criteria used to define the best men's suit changes from one man's taste to another man's perception of elegant style. However, there are a few indicators that define the one suit that every man should own. It starts with buying high-end suits that present impeccably tailored features. After that, it comes down to ensuring a few details are integrated within a suit and that the suit has no more than three buttons and no pleats in the pants.
The three best suits discussed previously may not appear in some men's top 10 best suits list. Yet, the three finalists all share the common thread of requiring little or no tailoring after the suit is purchased. The high-quality, super fine fabric presents a stylish look that is on par with the suave James Bond. Lower than average pants rises and hidden suit coat pockets add elements that most other suits do not possess. Some men may not consider the Gino Valentino men's suit to be the one suit that every man should own, but they certainly cannot go wrong hanging that suit in their wardrobe.