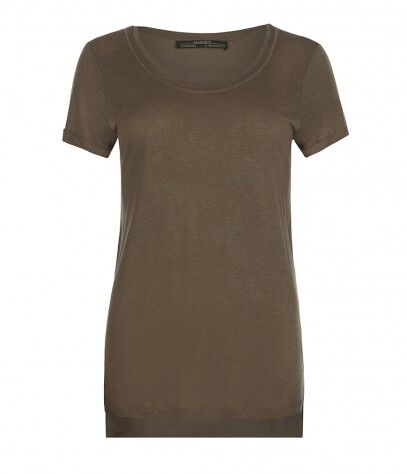 Layering helps protect nicer shirts from sweat stains and body odour, but also helps nicer, more expensive overshirts to last longer while helping a wearer keep warm, especially over cooler months. The perfect T-shirt for layering is soft and comfortable, but closely fitted, so that overshirts are still worn comfortably without any sign of a rumpling or causing a baggy undershirt. The perfect undershirt for layering is usually made of cotton or cotton and synthetic blends, which help it to keep its shape through multiple washings, but also keep it from being too hot for a wearer to bear. Many layering T-shirts are available in manufacturer-produced sets of multiples.
Whatever one's perfect T-shirt for layering winds up being, he should skip the retail shops and begin the shopping process online first. Shopping online not only saves time, but websites such as eBay help the buyer find brand name shirts at reduced prices.
Identifying the Perfect Layering T-Shirt
There are several points which should be considered when identifying the perfect layering T-shirt for your particular style. These include the neck style of the shirt, the fabric type, the fit, the hem length, and the colour.
Selecting the Best Neck Style for a Layering T-Shirt
There are a few standard neck styles commonly available in layering T-shirts: crew neck, V-neck, and scoop neck varieties. One should choose between these varieties based on whether or not he likes the layering shirt visible and how comfortable he is with material closely fitted to the neck.
Crew Neck
Crew neck styles are the standard T-shirt neck style, and they are a simple circle cut to closely follow the line of the neck, revealing as little of the shoulder or chest as possible. Crew neck options are the best if one desires to put a layering T-shirt on display, especially as a pop of colour beneath cardigans or half open overshirts.
V-Neck
The V-neck adds an element of class to the crew neck, allowing the collar to dip into a V to frame the hollow of the throat and curve of the clavicle. This has a slimming effect on most individuals. The V of a V-neck T-shirt accentuates the deeper V of a cardigan's front closure or a comfortable, casual blazer.
Scoop Neck
The scoop neck is the best option for the individual who wants to hide the layering T-shirt, which is ideal for the one who wears these shirts beneath more formal overshirts. This also frees up room in the neck and throat for button-up shirts to close comfortably at the collar.
Selecting the Best Fabric Type for a Layering T-Shirt
The fabric variety of any T-shirt used to layer can greatly affect its wearer's comfort. For best results, a buyer should look to purchase a shirt with either cotton, cotton and synthetic blends, or a full synthetic fabric.
100 Per Cent Cotton Varieties
Shirts fashioned from 100 per cent cotton are soft and absorbent, while also being low maintenance and environmentally friendly. However, 100 per cent cotton T-shirt varieties tend to lose their shape over time, becoming baggy and loose.
Cotton and Synthetic Blends
Cotton and synthetic blends seamlessly meld cotton fibres with synthetics like rayon, acrylic, or spandex. This means that a fabric retains the softness and absorbency of cotton while having more insulation than synthetic fibres alone, and it also maintains its shape better over time.
100 Per Cent Synthetic Varieties
Those T-shirts which are manufactured of 100 per cent synthetics are soft, but rarely absorbent, and they offer little-to-no insulation for a wearer. They are often cheaper than cotton varieties; however, retain both colour and shape far longer than full cotton T-shirts. Synthetics used commonly include acrylic, rayon, nylon, and spandex.
Selecting the Best Fit for a Layering T-Shirt
Anyone looking to purchase a layering T-shirt should thoroughly consider the pros and cons of the different fit styles. These styles include ribbed, fitted, and loose options.
Ribbed T-Shirts
Ribbed T-shirts are woven or knitted and feature a distinctive ribbing, which ensures the fabric hugs the body snugly. Ribbed T-shirts are often the tightest variety of T-shirts, but one may find them tight enough to be constricting or uncomfortable. Contrarily, they are so closely fitted that even clothes worn over them are tightly fitted enough to put one's figure on display.
Fitted T-Shirts
Fitted T-shirts,, as the name implies, are fitted close to the body without hugging it, so that even clothes worn over the tank top still display a man's figure. These shirts represent a happy medium between ribbed and loose fit T-shirts.
Loose Fit T-Shirts
Loose fit T-shirts do not hug the body, but instead are comfortably loose. These shirts are best employed when one does not intend to wear anything fitted over the T-shirt, such as an unbuttoned flannel shirt or cardigan.
Selecting the Best Hem Length for a Layering T-Shirt
How one prefers wearing a layering T-shirt may influence the hem length of the perfect shirt. Most shirts are available in either standard or extra long hem lengths.
Standard Length T-Shirts
Standard length T-shirts feature a hemline which terminates at one's belt line. These are the traditional length, but for some may be prone to coming untucked over the course of a day. For that reason, they are most ideal for the individual who prefers leaving layering shirts untucked.
Extra Long T-Shirts
Extra long T-shirts, as the name implies, are simply T-shirts with a hemline which drops a few inches below the belt line. The shopper who prefers tucking in his T-shirts may find that the additional length provided by extra long T-shirts prevents the shirts from becoming untucked throughout the course of the day.
Selecting the Best Colour for a Layering T-Shirt
Anyone looking to purchase the perfect T-shirt for layering should carefully consider the various colour options available. White or black options are best when one does not want the shirt to be seen, while other colours add a layer of interest underneath shirts, sweaters, and blazers.
White Layering T-Shirts
A white layering T-shirt is best for those occasions where one does not want the undershirt to be seen, and the overshirt is a white or slightly transparent fabric under which any darker shirt is highly visible. A white T-shirt should be laundered frequently and switched out for a newer shirt if it begins to yellow with use or age.
Black Layering T-Shirts
Black layering T-shirts look more stylish than white varieties, but are very prone to fading over multiple washes. For this reason, if one prefers black layering shirts, it may be best to find them in synthetic varieties.
Warm Coloured Layering T-Shirts
When one does desire layering T-shirts to be seen, warm colours are a safe bet in summer and fall. Warm colours cover the range of yellows, oranges, reds, and some purples. They pair well with blacks and greys, warm plaids, and warm neutrals such as tans and browns.
Cool Coloured Layering T-Shirts
Cool coloured layering T-shirts are more appropriate for winter and spring, and comprise of blues, greens, teals, and blue-violets. Cool coloured shirts are best matched with greys and whites, though they may also be worn with their complementary colour. In this case, navy may be paired with yellow, orange, or gold. Another example includes red or pink with green.
Buying the Perfect T-Shirt for Layering on eBay
Once you have identified the qualities of the perfect T-shirt for layering, head to eBay's homepage and locate the search bar there. This search bar is also located on each of eBay's internal pages, so that a user can create new searches or edit old ones without needing to return to the homepage. After clicking the search bar, type in the words which describe the perfect shirt. Some examples are, "white crew neck T-shirt&" or "fitted black V-neck T-shirt&". Keeping the search general ensures that you get the maximum amount of possible results, which can later be refined based on your preferences.
The eBay software allows the user to refine these searches in several different ways. You can choose to refine the search based on the colour or size of the shirt, as well as the brand or style. Other options include organising the listings by total price or the listing's termination time.
Conclusion
The perfect T-shirts for layering help protect overshirts from body sweat while also keeping the wearer warm and cosy. The best shirts for layering str also fitted, rather than baggy, and lay smoothly against the skin on the arms, shoulders, chest, and waist to avoid rumpling the overshirt. These shirts are found in a variety of fabrics, but cotton and cotton blends ensure maximum wearer comfort while also being lightweight enough that they do not cause the wearer to overheat. The choice between white or black undershirts should be made based on what type of overshirt is most often worn. Anyone who prefers layering with T-shirts should consider purchasing several of the variety he likes to avoid quickly wearing out a single shirt.
The buyer looking to purchase T-shirts for layering should strongly consider avoiding brick and mortar clothing retail stores in favour of shopping online at websites such as eBay,, which offers these shirts at considerable savings and convenience.