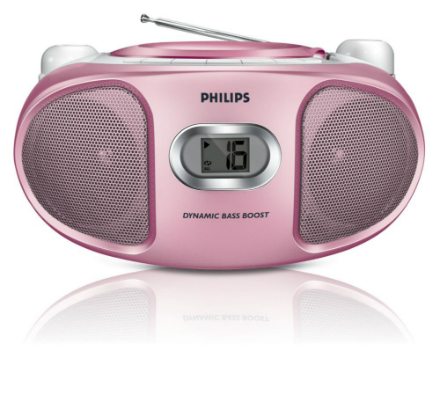 Having a CD player in the bedroom is a good way to relax after a long day of work. Just by turning on your favourite music, you can immediately set in a cosy atmosphere. A CD player is also a good alternative to having a TV in the bedroom, something that many people tend to avoid. If you are interested in buying a new CD player for your bedroom, there are several factors to take into account, with the quality of sound and the size of the player being some of the most important of them.
Even though digital players are widely available these days, many prefer CDs for their crisp sound. Moreover, if you have a personal CD collection, you can use this opportunity and listen to it together with your loved one. Regardless of the reasons for which you need a CD player for the bedroom, knowing more about the characteristics of these devices can help you choose the right model.
Features to Look for in a CD Player
Choosing a standalone CD player for the bedroom may not be an easy task, taking into account that there are so many features to consider and numerous models to choose from. Even though many think that the quality of sound is the most important and perhaps the only thing to look for in a CD player, there are other essential factors as well. Some of them include connectivity, the number of CD formats a device can read, and whether the player has a remote control or not.
CD Player Digital Outputs
CD players can be connected to speakers in two ways, analogue and digital. The most popular option is digital, not only because it provides an enhanced sound quality, but also because there are more speakers and surround systems that support this type of connection. The vast majority of CD players have two types of digital outputs, a coaxial and an optical one, both of which provide excellent quality. If you already have a set of speakers that you would like to use for the bedroom, look for a CD player that can be easily connected to them. If not, you may want to look for a bundle that offers you both a CD player and a speakers system suitable for your bedroom.
CD Player Remote Control
Having a remote control for your bedroom CD player is desirable, mostly because many people like to be able to control their music while lying comfortably on their bed. By opting for a CD player and receiver manufactured from the same brand, you may get a single remote control that allows you to operate both devices without having to oscillate between two controllers. However, this should not keep you from buying devices from different brands, because you can easily get a universal remote control and operate all items with a single device.
CD Player Formats
When choosing a new CD player for your bedroom, you should ask yourself what kind of music you enjoy listening to. If you have a large selection of CDs and you do not plan on listening to any other format, you should not worry about formats too much. However, if you enjoy listening to long sessions and use to download music and burn it to blank CDs, you should be looking for a bedroom CD player that allows you to play several kinds of music formats, including WMA and MP3.. Of course, your listening preferences may change over time, so it may be worth opting for a device that offers flexibility. Another thing to take into account is the multi-disc capacity of a CD player. You can choose from models that allow you to load the device with several CDs or players that include enough space for dozens.
Other Features
You should also pay attention to several other features when shopping for the right CD player for your bedroom, as these may enhance your listening experience. For instance, a CD-text feature is useful because it allows you to select the track you want to listen to directly from the display of the player. Thus, you do not have to browse through booklets in order to reach a certain song. Most CD players that have this feature display the title and artist as well as extra information, such as the length of a track. If you enjoy listening to homemade compilations, you can create your personal CD text information when burning your discs.
The random play feature is another thing to look for. This allows you to play a specific selection, from one or more CDs, in a random order. This feature is a must-have for those who get bored quickly when listening to their music in the same sequential order. Some CD players have a recorder feature and even though they tend to cost more, they are useful for those who love music and wish to record music from sources such as radio.
Types of CD Players Suitable for Bedroom
Choosing the right type of CD player for a bedroom is a matter of taste. While some people consider that a simple portable CD player would be just enough for listening to music in their bedroom, others may want a high-end model that can provide them with the same crisp audio quality as their living room devices. Regardless of your needs, there are quite a few types of CD players available in electronics stores or online, on websites such as eBay. Make sure you consider your preferences well before choosing the right type of CD player for your bedroom.
Portable CD Players
Portable CD players are a very popular choice for bedrooms because of their size. There are plenty of models to choose from, many of them offering useful features such as an alarm clock. The majority of these CD players have built-in FM radio tuners and they may have room for one or more CDs. If you would like some more flexibility, you can choose a model that features a line-in jack to connect an MP3 player. Some of the models are battery operated, so you should take this into account when shopping for a portable CD player for your bedroom.
Standalone CD Players
This type of CD player is a more sophisticated choice than portable CD players. Most of the models in this range come with USB and SD card slots, also allowing users to connect external audio components such as MP3 players and laptops. When shopping for a standalone CD player, you should pay attention to some extra feature such as using the radio function or CD player for your wake-up call. If you do not have enough space in your bedroom, it would be a good idea to opt for a compact model.
CD Changer and Recorder Combos
Those who are serious about listening to music in their bedroom may opt for a CD changer and recorder combo. This type of CD player allows you to load up to 100 CDs and classify them into various groups in order to make it easier to find what you want. The recording function is also useful for those who wish to burn new CDs from different audio sources.
How to Find the Right CD Player for Your Bedroom on eBay
In order to find the right CD player for your bedroom, you need to research the options available on the market. This way you can get an idea about which type of CD player would work better for you. A good place where you can buy a CD player is eBay, as the website offers a rich selection of such devices in all styles and sizes. You can easily browse through the selection and choose the right item for you according to brand, price, functions, and more.
The quickest way to start searching for the right CD player on eBay is typing the words "CD player" into the search bar of the website and browse the numerous results you get. Alternatively, you can incorporate more keywords into the search if you are looking for a particular model or brand, for example "Sony CD player". Make sure you pay close attention to things such as a product description and the seller's return policy before committing to buy a CD player for the bedroom on eBay.
Conclusion
CD players can be excellent additions for your bedroom, as they can provide you with your favourite music and function as alarm-clocks at the same time. Many people find it pleasant to wake up to the sound of their favourite track and, if you are one of them, you should consider purchasing a CD player for your bedroom. The choice can sometimes be a rather difficult one, however, given the numerous models to choose from. The best way to find the right CD player for your bedroom is to have a look at as many models as possible and choose the one that satisfies all your requirements.
eBay is a good place to start your search for the right CD player for your bedroom, mostly because the website offers a large number of such devices available from various sellers, but also because of the user-friendly search system that allows you to narrow down search results easily and find your ideal bedroom CD player in no time.