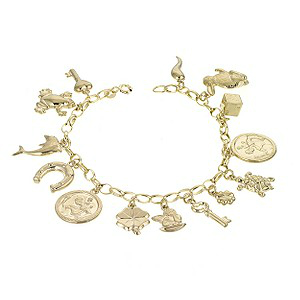 For many women, a charm bracelet is more than a piece of jewellery; it is a form of self-expression. Each charm bracelet is adorned with various assortments of hand-picked charms, making every bracelet as unique as the person wearing it. Finding the right chain for your charm bracelet first starts with a basic understanding of the three main styles. The traditional charm bracelets with the dangling charms have been around for decades; European and Italian charm bracelets are a recent edition, and they are both sleek, contemporary alternatives to a classic style.
Once a style has been decided on, shoppers must then consider a few other elements about the bracelet. The purchased bracelet should be within an acceptable price range, appropriately sized to fit the wearer, and made of a preferred metal. Buying the right chain for a charm bracelet involves shoppers familiarising themselves with the three main types of charm bracelets as well as other factors including budget, size, and materials.
Styles of Charm Bracelets
The first step in choosing a chain for a charm bracelet is learning about the most popular options. There are a plethora of charms available for traditional, European, and Italian style charm bracelets. Traditional charm bracelets are made from an interlinked metal chain; charms are then soldered onto the chain, and they dangle from the bracelet. European charm bracelets are beads that come in an assortment of sizes and colours; like traditional charm bracelets, some charms can be engraved for personalisation. Italian charm bracelets consist of 18 flat, rectangular links that lock together. The sections below offer more detail about the three most popular styles of charm bracelets.
Traditional
Traditional charm bracelets are keepsake mementos. The chain linked bracelet is home to dozens of charms that dangle and jangle. Gold,, silver,, and alloy metals are the most popular metals used. The charms are bought to match the metal bracelet; they are typically small, no more than a centimetre in length. There is an infinite array of charms to pick from, and many have charms that depict favourite animals, hobbies, sports, and more. Once charms are chosen, they are soldered on by a jeweller, making the permanently fixed to the bracelet.
European
European charm bracelets look very different from traditional models. Instead of hanging doodads, charms are typically rounded beads that are threaded through a wire chain. These chains hold their shape better and are less flexible than the chain links. The size of the bead depends on the brand. Pandora is one popular brand of European style charm bracelets, and all of their charms are compatible. While traditional charm bracelets are permanent once soldered on, European charms are interchangeable with one another.
Italian
Italian charm bracelets are similar to European charm bracelets, but they of course have their own unique qualities. These styles of bracelets are sold with 18 blank, silver charms that can be removed. Buyers can buy a variety of charms, and although nearly all are silver, women can add colour with enamel coated or gold charms. The bracelet itself is made of an elastic material, and the charms are snapped and linked into place. Like European charm bracelets, charms can be changed out whenever the wearer wants.
Considerations When Buying a Charm Bracelet
After deciding on which style of charm bracelet you want to purchase, there are a few more factors to consider. First, set yourself a budget before all else. The bracelet is typically the most expensive part, and charms cost much less. Moreover, consider the size and bone structure of the wearer. Comfort and a correctly sized bracelet go hand in hand. Most women fall into a gold or silver category. Before purchasing a charm bracelet, find out which she prefers. The following sections are designed to help you select the perfect charm bracelet chain.
Budget
The budget is one realistic factor that can determine which charm bracelet you end up with. Setting up financial boundaries before you begin your search keeps you from overspending and looking outside your price range. While not everyone can afford a Tiffany & Co. charm bracelet,, there are many comparable options available.
Although you should always buy within your price range, never buy a cheaply made bracelet to save a few dollars. Like most jewellery, buyers get what they pay for. Inexpensive charm bracelets may be made with low quality clasps and links. You can avoid unnecessary trips to the jeweller by buying right the first time.
Size
In addition to choosing a charm bracelet that fits the budget and the wearer's preferences, it must also fit around her wrist. Traditional and European bracelets typically range between 16 centimetres and 23 centimetres long, but some Pandora bracelets are designed to be wrapped around the wrist two or three times. Before deciding on one of these bracelets, measure the wearer's wrist. If you are buying for a little girl, account for growing room and the fact she may want to wear it as an adult, so it is best to buy larger. Because Italian charm bracelets typically have 18 links in them, they come in a standard size.
Material
After setting a budget and settling on a style, buyers can then choose what type of material they want their charm bracelet chain to be. Italian bracelets are fixed and nearly all look identical, and the elastic band is covered by the predominantly silver charms. There are some charms available that are either coloured with enamel or accented with gold and other precious gemstones. Traditional charm bracelets are interlinked metal chains, and buyers can choose from various golds,, including rose, yellow, and white; sterling silver;; and platinum. European charm bracelets most commonly have silver and leather options; gold can be found occasionally.
Choosing a Charm Bracelet
Selecting a chain for a charm bracelet, whether for yourself or for a gift, does not have to be complicated. Charm bracelets are often given as gifts, but there is no reason to refrain from purchasing one for yourself. No matter who you are buying for, it is always important to buy a high quality chain since charm bracelets are typically kept for a long time. In addition to buying the bracelet, a starter charm, or few, is always appreciated. Below are several more helpful hints to consider when choosing a charm bracelet.
For Yourself
Finding a charm bracelet chain for yourself is often much easier than choosing one as a gift. Remember to measure your wrist before buying. It is even better if you can try on various sizes before making a decision. Gold and silver are popular choices for traditional bracelets, but European styles have leather options too. Once you settle on a colour, all the charms you have for it should match. Try to refrain from mixing golds and silvers unless you have a charm to tie them all in.
As a Gift
A charm bracelet is a thoughtful gift for a little girl, family member, or lifelong friend. You typically have a close relationship with the person, so before buying a bracelet consider the wearer's style and gold or silver preference. If buying for a young girl, traditional charm bracelets are great for building memories and a custom piece of jewellery.
Buying Charm Bracelet Chains on eBay
After scouring eBay&'s listings and seller's shops and coming up with a few preferred charm bracelet chains, you are strongly advised to learn about the seller before proceeding. First, check the approval rating and feedback to see how previous transactions were handled. Scroll through the feedback comments to see what other buyers have said about the seller's service and quality of goods.
When looking at a seller's profile, find out what his preferred payment methods are. PayPal is eBay's number one preferred payment; with just a few clicks, you can transfer payment to the seller with maximum security and safety. Moreover, PayPal payments are traceable. Credit and debit cards are also accepted by most vendors. Like PayPal, the transfer is reliable, traceable, and secure; it just takes a few more minutes to input all the information in. Buyers who purchase large ticket items should look for seller's using escrow accounts. Finally, a small number of sellers accept personal cheques, wire deposits, and postal orders.
Conclusion
Finding the right style of charm bracelet chain starts with deciding which of the most popular styles best suits the wearer. Traditional charm bracelets are a classic gift for little girls. They start receiving charms throughout the years, and before too long, the bracelet becomes an invaluable memento that can be worn at any age. European and Italian charm bracelets are a modern upgrade to the classic look. From glass to gold charms, there is no rule against wearing more than one European charm bracelets. For the minimalist who still wants their jewellery reflect their personality, Italian charm bracelets are designed to fit flat and close to the wrist.
After choosing the style, women are then to decide between gold and silver. If gold is essential, buyers can eliminate Italian charm bracelets. Buyers should never sacrifice quality for cost with charm bracelets as they are a piece of jewellery that will be worn throughout the years, so it is better to spend the money upfront instead of on repairs. Taking the aforementioned factors into considerations would guide you in finding the right chain for your charm bracelet.