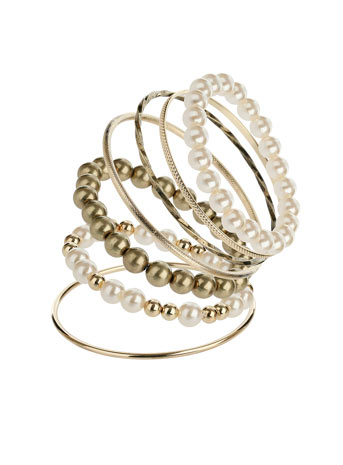 Bangles are stiff bracelets that are meant to fit loosely on the wrist. Their looseness and shape draw more attention than other bracelets, and imbue them with a particular quality that can be in turns flirtatious, playful, bold, or elegant. With a range from fine jewellery to inexpensive accessories, there is a bangle for nearly every budget and fashion sensibility.
Before shopping for a bangle, it is important to understand how to find the right fit. Many bangles slide on over the hand, and therefore need to be sized accordingly. Others have hinges or even an open structure, meaning that they can be put on over the wrist. Aside from size, there are considerations of style and material. Bangles come in a wide variety of styles, from simple to extravagant. They can be made from many different materials, including precious metals like gold or platinum, plastic, or leather. Learning about how to determine the right bangle fit, as well as what different kinds of bangles are available, helps buyers find one that is an excellent addition to their jewellery collection.
How a Bangle Should Fit
When choosing a bangle size, it is important to keep in mind how it should fit. While bangles are generally meant to fit somewhat loosely on the wrist, there is still some variation in the degree of looseness. This partly depends on personal preference, and partly on the bangle design.
How to Measure for the Right Bangle Size
In order to get the right size bangle, it is important for the wearer to measure their wrist and, in some cases, their hand. This ensures that the bangle is neither too tight nor too loose, and that it can be put on and taken off with ease, while not sliding off over the hand.
Measuring the Wrist
To measure wrist size, use a cloth tape measure. Wrap the tape measure around the wrist, so that it fits snugly without feeling too tight or too loose. Mark where the tape measure overlaps: this is the wrist size. A piece of string and straight ruler can also be used if a cloth tape measure is unavailable.
Measuring the Hand
To measure the hand, position it as though putting on a bangle, with the thumb tucked in against the palm. Wrap the measuring tape along the widest part of the hand, usually the knuckles and thumb. The measurement where the tape measure overlaps is the hand size.
Determining Bangle Size Based on Wrist and Hand Measurements
Bangles come in different styles which should be taken into consideration when determining their correct size. While some bangles have openings where they can be slipped over the wrist, many others are designed to slide over the hand. These may or may not have hinges. With hinged bangles, buyers only need a wrist measurement to determine size. For an average fit, they should add 2.5 cm to their wrist measurement to get their bangle size; for a loose fit, they should add 3 cm. For bangles without hinges, the hand size should be used for an average fit. For a looser fit, they can choose a bangle one size larger.
Buyers should also note that the bangle's width often affects size. Wider bangles tend to fit more snugly than thin ones.
Bangle Sizes
Bangles may be sized differently according to the manufacturer or retailer; with some indicating width (diameter), and others more generally categorised as small, medium, and large. There should be sizing information available, either at the shop or on the retail website. Always check in advance if there are any questions.
Different Bangle Styles
There is a fair amount of variety among bangle styles. One factor is closure: while many bangles are closed circles, some are hinged with a clasp, while others have openings to fit over the wrist. Width can range from wide to very thin, and can be flat, round, or twisted. Some are embellished with precious stones like diamonds and pearls, semi-precious stones, or crystals; others may be engraved or feature an intricate design. The material also has a big impact on the bangle's look.
Choosing a bangle style depends on one's personal style and the occasions for which the bracelet is intended. For casual occasions, several thin bangles look well when worn together. A single bangle is perfect for an elegant appearance, whether it is a wide cuff, an understated design, or set with jewels. Bangles can range from very delicate to strikingly bold, whether traditional, vintage, or modern.
Bangle Materials
Contributing to the broad range of bangle styles is the variety of materials used to make them. From simple silver to bold leather, consumers have a lot of choice when looking for a bangle that works with their fashion sense.
The following chart outlines some of the most common materials used for bangles.
| Bangle Material | Description |
| --- | --- |
| | A precious metal that is rust- and corrosion- resistant, though prone to scratching; purity indicated in carats (ct), with 24 ct being pure gold; usually mixed with other metals for durability in jewellery, optimally as 18 ct; yellow gold mixed with copper; sometimes coated with rhodium for appearance of platinum |
| | Gold alloyed with palladium or nickel, zinc, and copper for silver colour; due to nickel's toxicity, this is carefully monitored in Europe |
| | Gold alloyed with copper for a pink hue |
| | A highly rare and valuable precious metal renowned for its durability, strength, and luster; often used in 90 to 95 percent pure form mixed with iridium, which is normally present in platinum |
| | More affordable precious metal; malleable for intricate designs; sterling silver is alloyed with 7.5 percent copper for strength and labelled 925, .925, 92.5, or "Ster"; fine silver has 0.999 silver finish; may be matte, highly polished, brushed, oxidised, antiqued, sandblasted, or satin; requires regular care to prevent tarnishing; anti-tarnish silver is coated in rhodium |
| | Very strong and durable metal; does not tarnish; slightly less luster and shine than other metals; may be made without nickel for a hypoallergenic bangle |
| | Lightweight and highly durable metal; can come in different colours that do not fade; nickel-free, a good choice for those with allergies |
| | The rarest and most expensive metal used in jewellery; bright luster does not tarnish and is extremely hard; often used to plate white gold or silver; hypoallergenic |
| | Also called "jewellery-grade ceramic"; alloy of tungsten and carbon; four times harder than other metals used for jewellery; heavy; retains its polish; carbon colour |
| | Collectible material used in bangles from 1920s to 1950s; can be differentiated from plastic by its slick inner patina, and also if it smells of formaldehyde when run under hot water |
| | Semi-translucent plastic with a dull appearance; may be cloudy or translucent; sometimes develops yellow patina; popular in collectible vintage pieces; comes in a range of colours |
| | Natural material from animal hide; strong, bold look; can be dyed any number of colours and tooled for designs |
Given the extensive range of materials, buyers should decide what kind of look best suits their style. They should also consider how much of an investment they wish to make, and how durable they want the material to be.
How to Buy Bangles on eBay
From sets of casual silver bangles to diamond-studded gold pieces, you'll find a tremendous range of bangles on eBay's auction website. To begin, go to eBay's home page and enter keywords, such as "crystal steel bangle" into the search bar. You can then refine your original results by entering your price range and selecting other limiting factors, such as seller location. You can sort your results as well, according to things like price.
When you've found an item you're interested in, take the time to read its description carefully. It should contain details about materials, quantity, and the seller's return policy. Note postage conditions and fees, which are additional. You can contact the seller with any questions you might have.
Checking the seller's feedback rating and reading comments from previous buyers help give you an idea of how reliable they are. Top-rated sellers earn their status by their track record of providing excellent customer service.
Conclusion
Bangles are a highly popular form of jewellery that comes in different styles. Generally speaking, they are stiff bracelets that are meant to fit loosely on the wrist. They can be worn together, uniformly or mixed and matched, or worn individually for an understated elegance. When buying a bangle, it is important to find the right fit to ensure it is comfortable on the wrist, without being overly snug or loose, and that it can slide on and off with ease. In addition, it is important to consider what style and material best suit one's individual taste.
To find the right fit, the wearer should measure their wrist if the bangle is hinged, and hand if the bangle does not have a hinge. Next, they should think about what kind of bangle they want: casual, formal, traditional, bold, playful, or vintage. They can choose a style, design, and material that matches their needs. The options range from plastic to gold, and from diamond-embellished to tooled leather.
Bangles are an excellent addition to a jewellery collection; with the right preparation, consumers can find the bangle or bangles that are stylish and just their size.