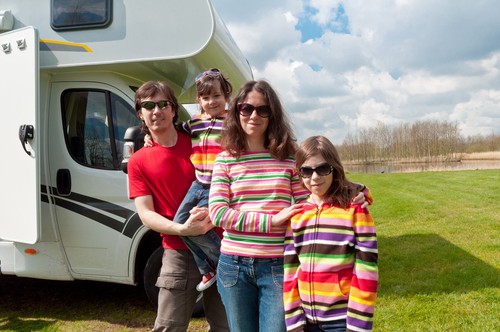 Caravans are a popular type of recreational vehicle that provide families with a home away from home while travelling on the road. They come in a wide variety of shapes, sizes, and styles. They differ in the level of amenities that they are equipped with, such as electricity, gas, and water. The best models are designed to provide the ultimate convenience.
Caravans usually have a kitchen area, bathroom, and sleeping quarters. Larger styles may also have a family room or dining room area. They may be designed to be towed from the back a car or to be placed at a single location. Some people choose to buy a caravan, whereas others prefer to rent one. When caravanning with the family, you should consider the various types of caravan, understand the different factors that help to form a well made decision, become familiar with the advantages and disadvantages of ownership, and learn how to inspect the vehicle properly for damage. If you wish to buy a caravan, various models are available on eBay.
Types of Caravan
Choosing the right type of caravan is essential for a happy holiday with the family. There are two basic types: static and touring. Static caravans are designed to stay grounded at a single location, whereas touring caravans are meant for road travel. There are many models of touring caravan, such as full, pop-top, pop-top expandable, and compact. Buyers should ensure that the model suits the needs of the family. The popular models of touring caravan and a description of each of them are listed in the table below.
Model of Touring Caravan

Description

Full, or standard, caravan with similar features to a house

Full frame with solid sides, roof, either glass or acrylic windows, and a solid door

Plenty of living space and headroom

Family can walk freely within

Minimum amount of set-up time

Easy to level on the caravan site

Easy to connect to amenities, such as electricity, water, and drainage systems

Shower, toilet, lounge or dining area, full kitchen, and single, double, queen, or king sized beds

Plenty of storage space

Varies in size and weight

Measures up to 10 metres long

Solar panels and air conditioners can be fitted on the roof

Pop-top

Similar to a full caravan

Roof can be raised and lowered with either gas struts or easy lift handles

Zip sections with fly screens to allow airflow without letting in insects

Door height is lower than the doors of full caravans

Limited cupboard space

Weighs less than a full caravan

Lower centre of gravity and less wind resistance

Good ventilation and airflow

Pop-top expandable

Variation of the standard pop-top caravan

Additional pop-out end usually for a sleeping area

Extra living space without the increase in towing length

Compact

Extremely small, hard shelled

Body extension mechanism to increase its size once set-up

Quick and easy set up

Lightweight

Low centre of gravity

Less wind resistance

Better fuel efficiency

Can be towed by soft-road vehicles and even some two-wheel drive sedans

Relatively inexpensive

Great for the single traveller
Larger caravans are better suited for family use, offering a spacious living environment and room to host friends in comfort. However, larger caravans require more powerful towing vehicles. In addition, manoeuvring is often more difficult both on the road and at caravan sites.
Factors to Consider When Caravanning with the Family
When caravanning with the family, buyers should consider family size as well as their intended travel destination. These aspects help to determine the best caravan for family use.
Family Size
The number of people in the family may largely determine the size of the caravan. Both static and touring caravans tend to range in size and the number of people that they can accommodate comfortably. Static caravans are commonly 3 or 3.7 metres wide, although they are also available in widths of 2.4, 3.9, and 4.3 metres. They also vary in length, with most ranging from 8.8 to 11.2 metres. They are designed to sleep between two and eight people. These caravans may have one, two, or three bedrooms, diminishing the need to share rooms. It is important to bear in mind that larger static caravans tend to sell for a higher price. Larger families should not choose a compact touring caravan, as they are designed to sleep only one or two occupants.
Caravanning Destination
By keeping in mind where the family will be caravanning to, buyers can decide which model best suits their needs, especially for static caravans. If planning to holiday in Wales , buyers should consider the static caravans available in that area. On the other hand, those travelling to France may need a robust model that can make a longer trip.
Advantages of Caravanning with the Family
There are many advantages to caravanning with the family. The tight living quarters allow the family to spend time with each other in a close environment. Families may choose to unhitch their touring caravan so that they can use their car to enjoy tourist spots in the area. Caravanning also eliminates the need to repeatedly pack and unpack at various destinations, and diminishes the need for camping gear for families who still want to spend time outdoors.
Disadvantages of Caravanning with the Family
Although there are many benefits to caravanning, buyers should take into account the disadvantages. In addition to vehicle registration fees, buyers are also responsible for insuring the caravan. It is a good idea to consider caravan storage when not in use. Storage can often present an issue and become quite costly if there is no space to park it at home.
Condition of the Caravan
Buyers should consider the condition of the caravan before making a purchase. Buyers are free to purchase new models, although used vehicles are often the more cost effective alternative. New caravans, while offering the latest styles, tend to depreciate in value quickly. On the other hand, a secondhand caravan may limit the areas that you can visit. If planning to purchase a static caravan, it is important to remember that some caravan parks set limits on how old the caravan can be. Buyers can check the age by the CRiS document, license plate registration, or coded etchings that indicate the year of manufacture. For those planning to purchase a used caravan, they should inspect it carefully for signs of damage.
Interior Inspection
Buyers should check the interior of the caravan for signs of damp. Damp may cause rot beneath the floor and walls. It can stem from the water not being drained properly from the boiler during storage or from varying temperatures in winter, which causes pipes to expand and contract, in turn causing them to weaken and burst. Damp can cause bad smells or more serious health issues associated with mould. It can also cause bulging or discolouration of the floor boards and lead to costly repairs.
Exterior Inspection
When inspecting the exterior of the caravan, buyers should take note of any dents, scratches, or broken surfaces that affect its ability to be lived in or its aesthetic value. Buyers should also examine the sealants carefully. Most sealants require frequent replacement. Oil-based sealants should be reapplied every 5 years, acrylic compounds every 10 years, and silicone-based sealants every 20 years. It is important to check the handles, wheels, aerial roof, lighting fixtures, door, hitch, and electronics. These components should be in proper working order.
Conclusion
Caravanning with the family provides long lasting memories of fun with loved ones. In order to make the holiday more enjoyable, buyers should understand a few basics when planning their adventure. Firstly, consider the various types of caravans available. To choose the most appropriate model, it is important to consider the size of the family, as well as the destination. It is possible to purchase a static caravan, which does not require towing as it is stationary, or a touring caravan, which needs be hitched from the back of a car. A full or pop-top expandable caravan provides the most luxury and comfort for a larger family. However, it requires a reliable towing vehicle.
Buyers should check the condition when purchasing a caravan. It should be in proper working order and should provide a clean and safe living environment. With so many options available, eBay can guide families on their way to a perfect caravanning holiday.