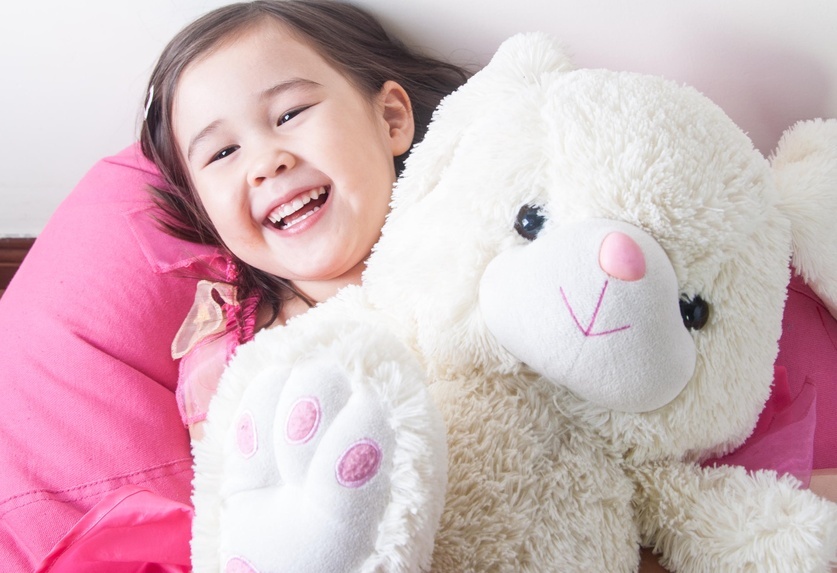 Cushiony, soft, and loads of fun, bean bags give kids a thrill, as well as a comfortable place to sit for a variety of activities. Manufacturers make these chairs in much the same way as they make toy bean bags meant for tossing. Typically filled with polystyrene beads, bean-bag chairs offer both children and adults place to sink right into for leisure time. Learn how to choose children's bean bags so they are as safe as they are fun.
Consider Your Child's Size

Do not choose a bean bag that completely overwhelms your child's small body when he or she sits down. Choose a bean bag shaped just like a chair for a toddler, so your child does not sink as much and have a hard time standing again. These chairs are a bit more solid and have backs and armrests in much the same way traditional chairs do. Some manufacturers make baby bean bags for children under three years old that feature more solid builds that those for older children.
Consider the Space

If you are placing a bean bag in a child's small bedroom, choose a traditional round bean bag that fits by a bed or dresser. Do not let the bean bag overwhelm the room, but try to make it become part of the decor. A smaller bean bag works best in a child's bedroom, as does one that coordinates with the decor. A pink and white bedroom deserves a pink and white bean bag and a room with a Thomas the Train theme looks great with a Thomas the Train bean bag. If the child uses the bean bag in a larger room like a living room or family room, try a double-sized one shaped like a mini sofa. Two children can use this type of bean bag together to play video games or watch a favourite TV show.
Consider Your Child's Tastes
Bean bags come in a variety of styles with a variety of themes. Find a feminine floral bean bag for a little girl or a bean bag decorated with peace signs for an older girl. Little boys who love planes, trains, and automobiles enjoy bean bags featuring Disney Cars or Disney Planes, and even ones featuring military vehicles. Kids get a thrill with bean bags of their favourite pop culture characters, so find Disney Princess and Hello Kitty bean bags for small girls and Star Wars or Spiderman bean bags for rough and tumble boys.
Consider Comfort
While adults do not always mind vinyl bean bags, they might irritate a child's sensitive skin. Thankfully, bean bags come with a host of different soft covers, ranging from chenille to cotton. Bean bags are for comfortable lounging and sitting, offering relaxation to even the smallest people, so make sure the bean bag cover offers as much comfort as the soft beans inside.