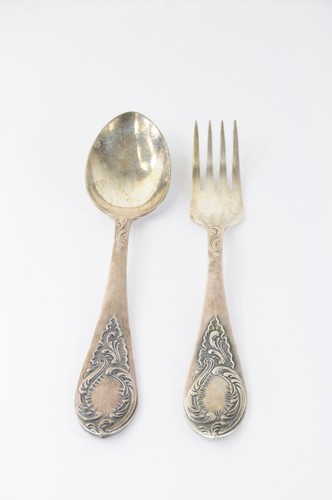 Whether purchasing a set (or canteen) of cutlery, or searching for individual items, choosing a cutlery pattern is an important decision that will impact both the aesthetic and functionality of cutlery. Cutlery patterns run along a scale from simple to ornate, and are often derived from popular art and design styles found in their period of origin. With thousands of cutlery patterns available, it's relatively easy to find a cutlery pattern to suit any taste or need. This guide provides a brief history of cutlery patterns, a list of makers, and helpful tips for choosing the best cutlery pattern to pair with the rest of the table setting.
The History of Cutlery Patterns
Decorative cutlery patterns emerged during the Georgian era in England, spanning from the year 1714 to the early 19th century. In particular, Sheffield became the forerunner of cutlery designs, after it grew into the hub of knife-making and cutlery production throughout the colonial world. Famous Sheffield patterns, such as 'Rattail' and 'King's' appeared, many of which are still in production. Silver cutlery reached the height of its popularity in the Victorian era, which saw the proliferation of many more cutlery patterns by several well-known manufacturers at the time, as well as mass-produced styles. Cutlery patterns could be likened to table jewellery during the peak of the silver cutlery trend. As the modern period approached, styles became more simplistic and functional, although many still echo the refined elegance and ornament of their predecessors.
Discover Cutlery Patterns
Choosing a cutlery pattern for a canteen or individual piece is important for setting the decor of the dining table, matching the style of food you serve, and for functionality. Exploring the types of cutlery patterns available will unfold a rich history of craftsmanship and beauty. Many cutlery patterns follow artistic trends popular at the time of their creation, such as Baroque, Art Deco, or Modern designs. The more information available about cutlery patterns, the easier it will be to match pieces and build a full canteen with a consistent pattern.
Some Elements of Cutlery Patterns
Cutlery patterns may contain one or several design elements to achieve the overall look. Here is a list of some details you may notice in a cutlery pattern.
| Detail | Description |
| --- | --- |
| Lines | Whether they're straight, curved or twirled, lines are a key feature on most cutlery patterns. |
| Piercing | Spaces between scrollwork and other intricate designs for a more realistic effect. |
| Finials | A decorative accent placed at the end of a handle, in varying styles. |
| Scalloped edge | A wavy pattern reminiscent of a scallop shell. |
| Motif | A recurring theme or image. |
| Scrollwork | A decorative pattern based on incomplete circles and spirals, very common in the Baroque period. |
Types of Cutlery Patterns
There are thousands of cutlery patterns to choose from, ranging hugely in style and availability. Some of the most popular cutlery patterns are outlined in this chart. Many cutlery patterns are variations on these basic styles.
| Type | Description | Advantages | Considerations |
| --- | --- | --- | --- |
| Rattail (Hanoverian) | An upward curve on the handle. Little or no ornament on the rest of the piece. | Simple style that's great for everyday use. One of the oldest English patterns. | May be too simplistic or traditional for some tastes. |
| Fiddle | A larger handle shaped like a fiddle or violin. Little or no ornament on the rest of the piece. | A simple, elegant design that's great for casual use. Most common pattern in the 1800's. | Fancier dinner parties might require another, more intricate cutlery pattern. |
| King's | Image of a honeysuckle flower on the handle framed by soft, curved lines and shells. | An ornate, popular style that should be easy to find and match with other pieces. Varying degrees of intricacy available. | Typically reserved for extravagant dinner parties. |
| Scroll | Soft, curved lines with a twirl at each end. | A versatile pattern with a blend of decorative and practical features. | Might be too detailed for everyday use, or too simple for ornate dinners. |
| Chantilly | Ornate flowing lines and a plume design. | Introduced in 1895 by Gorham, Chantilly is the official cutlery pattern of the Air Force One and one of the most popular patterns of all time. Highly ornate. | An ornate style that's best kept for special occasions and parties; it can also have a heavy handle. |
| Bead | Introduced in 1793, it has a small beaded pattern around the handle. | A subtly ornate design that is best for more casual dining. | Buyers may want something that demonstrates more elaborate design-work. |
| Albany | A Victorian design from Sheffield. The handle features delicate fluting that's capped with a finial. | Delicately styled yet functional enough for casual dining. | Very traditional in appearance. |
| Spaten | A minimalist German design, setting the standard of classical cutlery from the 16th century. Wide-ended handle is ideal for engraving or a monogram. | Simple elegance for formal or more casual dining. | A very traditional style which may not suit all tables. |
| Chippendale | Combines Baroque and Asiatic influences to strike a balance between intricate detail and straight lines, first appearing in the early 18th century. | Toned down lines that work with casual, everyday dining or elegant dinners. | A classic style that may not suit ornate tastes. |
Factors to Consider When Buying
When choosing the right pattern of cutlery, it may be helpful to consider some of these factors before making the purchase. Typically, there should be a harmonious balance between style and functionality. The decision will be determined by the buyer's tastes and intentions for the cutlery set, however here are some points that can help a buyer to make an informed decision.
Try to match the cutlery pattern with any dinnerware and stemware. Typically, curved cutlery patterns tend to match with rounded styles on dinnerware and stemware, while straight lines on cutlery will work best with angular motifs. In addition, very ornate cutlery patterns are best flattered by plain dinnerware and stemware, whereas plain cutlery will complemented an otherwise highly decorative table setting.
Choose cutlery patterns with a size and weight that will feel comfortable and easy to use at the table.
Popular or rare designs. This is an important factor if one is thinking of adding extra pieces to a set later on and still wants them all to match. If one is buying a popular cutlery pattern for a canteen, then it's likely to be quite easy to find subsidiary pieces, like serving implements and slicers, in the same pattern. Keep in mind that the most ornate pieces are usually the rarest, and will be harder to collect further down the line. Elaborate, high-styled pieces are more suitable for special occasions and dinner parties, whereas a simple, more subdued cutlery pattern may be more appropriate for everyday or casual use.
How to Care for the Cutlery Patterns on Your Flatware
Caring for cutlery and cutlery patterns mostly depends on the metal composition of your set. For sterling silver cutlery, frequent use and washing in soapy water are the best ways to inhibit tarnishing. If the cutlery patterns begin to tarnish, turning a discoloured yellow colour, then use silver polish with a soft cloth to remove the stains. Silver dip may be needed sparingly on the harder to reach areas including the tines (prongs) and on the deeper design details. If any cleaning solutions are to be used, the instructions must be carefully adhered to, as incorrect use can damage cutlery or be hazardous to the user. Non-abrasive cloths must also be used. Stainless steel cutlery patterns should be low-maintenance and easily cleaned in the dishwasher or by hand-washing.
For vermeil (gold-plated silver), hand-washing is the best way to clean cutlery patterns, since the finish is susceptible to dents and nicks in the dishwasher. However, vermeil doesn't tarnish, so polish isn't necessary.
Popular Cutlery Patterns
Inkerman Silver
W. Wright
Kirk Stieff
William Turner
Arthur Price
Carrs Silver
Alvin
Royal Crest
Osbourne
Accessories and Add-ons for Cutlery Patterns on Flatware
Cleaning and polishing products help to preserve the appearance of cutlery patterns on your flatware.
Silver polish for your solid silver or silver-plated cutlery
Soft cloth or sponge to hand-wash cutlery
Cotton balls help remove silver polish from the deep crevices in intricate cutlery patterns
Silver dip helps get out hard dirt from deep crevices
Finding Cutlery Patterns on eBay
Once you determine the type of cutlery pattern you want to purchase, visit the Antiques portal on eBay, click on 'silver', then 'cutlery sets' and start searching item listings. The Categories list on the left-hand side of the eBay page helps to narrow the search.
Searching for Cutlery Patterns on eBay
Search eBay listing titles for specific words when shopping for cutlery patterns. For example, to find cutlery sets in the King's cutlery pattern, type 'King's cutlery pattern' into the search box, and then click the Advanced button to customise the results. Also visit eBay's Search Tips page for more advice on searching for cutlery patterns with keywords. If you can't find the exact cutlery pattern you want, try shopping eBay Stores.
Conclusion
Choosing a cutlery pattern that suits your tastes, decor, and other dinnerware is vital for a cohesive and elegant table setting. Whether you're looking for casual, formal or multi-purpose cutlery patterns, rest assured that there is a wide variety to choose from. Popular makers and designs can be found on eBay whether looking for a consistent table setting, or a rare cutlery pattern you've always wanted for a special piece. In addition to different silver and gold cutlery, there are many patterns and makes that should be considered when searching for your preferred set. Once you have collected this information, you can buy cutlery with your preferred cutlery pattern safely and securely on eBay.