Designer handbags are popular accessories designed to a hold a woman's wallet, keys, makeup, and other small items. They often contain dividers, pockets, and compartments, allowing women to separate and better keep their contents organised for quick and easy locating. Designer handbags come in a variety of materials, ranging from leather to silk and velour. Some many contain embellishments, such as intricate beading or sequins, while others are embroidered.
Hobo Handbags
Ladies hobo handbags are oversized, allowing the wearer to carry around many accessory items, such as a camera, wallet, phone, and favourite book. These large designer handbags are ideal for those who find themselves constantly requiring more space. Crescent shaped in design, they generally have a medium or long strap, allowing them to hang waist level. While a canvas hobo may be better suited for daytime use, satin or suede is ideal for upscale occasions and evening events. Still, designer leather handbags are versatile and the preferred choice of many; they tend to hold up well over time and are easy to care for and maintain.
Totes

Similar in size to a hobo bag, totes are squared shaped options. These ladies designer handbags typically feature a wide strap slung over the wearer's shoulder. Designer totes are ideal for trips to the beach, as they are able to carry a wide range of accessory items, including sunscreen, water bottles, sunglasses, and snacks. Renowned for their high quality, these handbags help owners make a distinct statement amongst their peers.
Satchel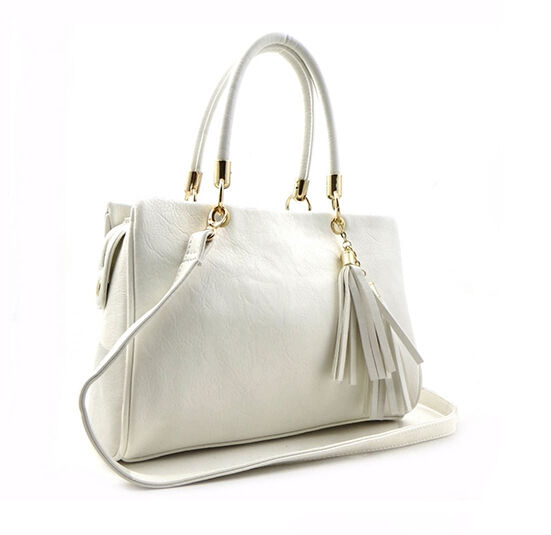 Satchels generally feature a long strap hung over the wearer's shoulder and across their chest. Designer satchels are generally constructed of durable material, allowing them to transport heavier items, such as textbooks and a laptop. Well suited for both students and businesswomen alike, they prove both functional and stylish. Brown and black designer handbags pair well with a wide array of wardrobe options, while brightly coloured satchels, such as pinks and reds, can add a dash of colour to a woman's ensemble, and they suit spring and summer wear.
Shoulder
Shoulder bags come in a wide array of shapes, sizes, and fabric; choices include leather, denim, and cotton blends. While some shoulder bags contain a single strap, others feature double straps. These designer handbags often display the designer's brand logo on the front. Widely recognised for their exclusive handbag collections, Gucci, Coach, Louis Vuitton and Vivienne Westwood designer handbags are on the more expensive end, as buyers are ultimately paying for the name brand. Conversely, buyers can opt for a less expensive designer handbag brand, such as Guess, Roxy, or Fossil.