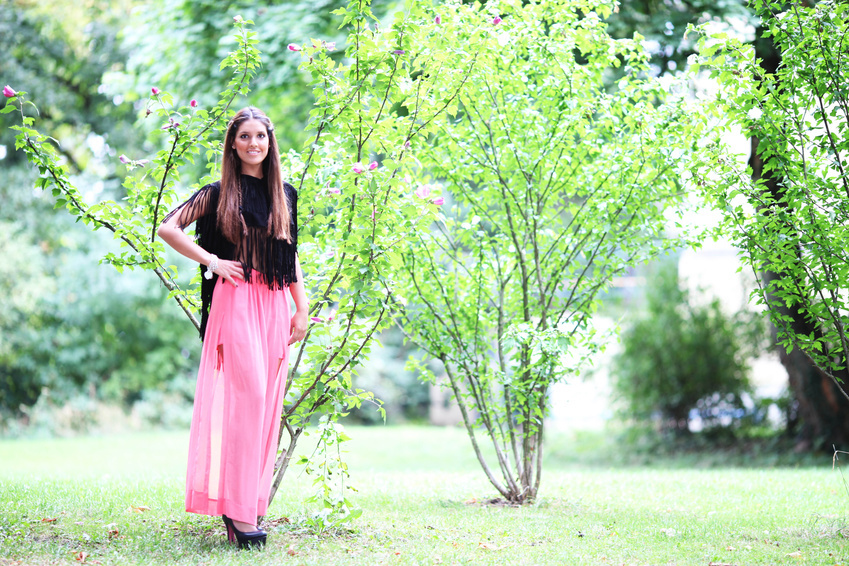 Chiffon skirts that flatter your body are your best friend on shopping sprees with friends, first dates, and much more. The fabric is lightweight, elegant, and feminine, but the garments can also be your worst enemies if you choose skirts that look better on the rack than they do on you. Chiffon skirts that flatter your figure are the key difference between looking awkward in a crowd and enjoying a fabulous night with plenty of admiration.
Dress by Body Type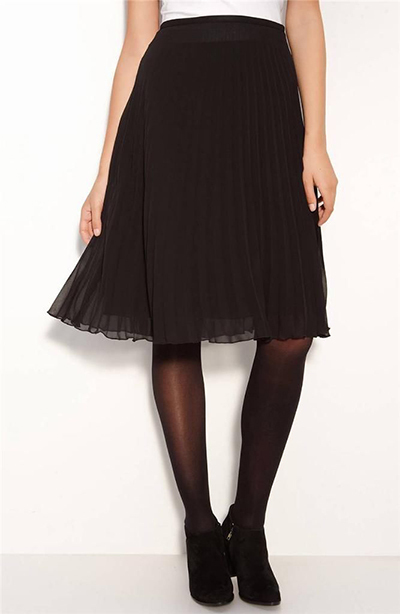 Women have bodies in all shapes and sizes, and each woman must acknowledge her personal shape to find chiffon clothing that flatters and draws attention. In general, the four key body shapes are apple, pear, hourglass, and ruler. Those with apple-shaped bodies carry most of their weight on the top halves of their bodies. They have broad shoulders, large chests, and round mid-sections. Pear-shaped women carry most of their weight in their hips and thighs. The hourglass figure can wear most types of clothing because the upper and lower parts of the body are equal in size with a small mid-section. The ruler figure has very few curves. The upper body, mid-section, and hips all have similar widths.
Hide Problem Areas
After women learn about their body shapes, they can focus on minimising or hiding problem areas. Those with wide hips should look for skirts that do not cling to their legs or have low waistlines. The best choices are high-waisted chiffon skirts that hit just under the belly button and fan out. They should stay away from pockets, belts, or any other embellishments that add bulk to the skirt. Dark, solid colours and the vertical lines on pleated chiffon skirts also have a slimming effect. These rules also apply to those who want to hide their thighs. Moving eyes away from the upper body with a flattering skirt is all about finding the right skirt and top combination. Those with apple figures can wear low-riding, A-line skirts that fan out or skirts that cling to the hips if they pair them with loose tops. A-line tops create the appearance of a curvy figure and hide the mid-section.
Be Attractive and Appropriate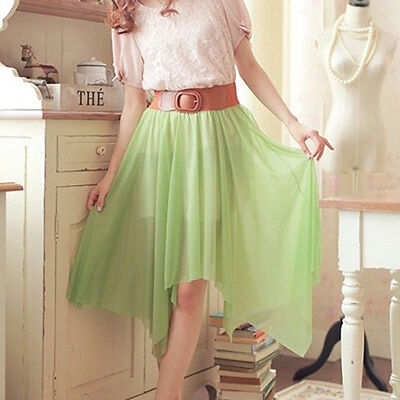 Chiffon mini skirts show off the legs and are great for casual occasions, but longer skirts that still show off the legs are sometimes more appropriate for certain occasions. Short chiffon skirts that are knee length are versatile and suitable for most body types. Apple figures can wear form fitting skirts with flattering blazers, while pear-shaped and ruler-shaped women should look for looser skirts that flow around their legs. Long skirts hide the legs and make women appear short when paired with the wrong tops. Tops for long skirts should elongate the torso and fit snugly through the chest. Anything that adds too much bulk looks top heavy with a long chiffon skirt.