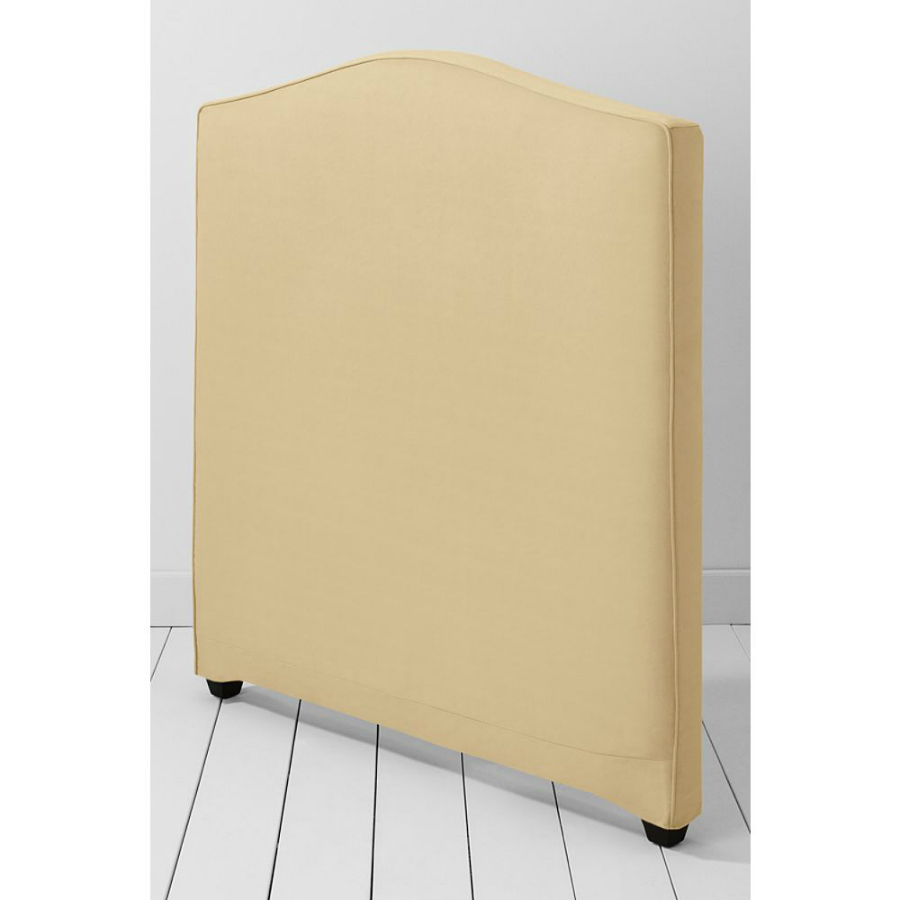 A headboard is, quite literally, a board which rests at the head of a bed. A headboard helps focus attention on the bed as a design element as well as helps visually integrate the bed with the rest of the decor in the room. If a bed were a fireplace, the headboard would be the mantelpiece. A bed does not have to have a headboard, but choosing a headboard really brings a room together as well as provides practical benefits.
A headboard is simple or fancy, decorative or practical, traditional or experimental. Buying or making a headboard is usually a fairly easy way to dress up a room and express a person's creativity and style. Reviewing your headboard options in terms of the size, shape, and material of the item helps you make an informed decision. Buying your chosen headboard in vintage shoppes on high streets or online through websites like eBay all add to the shopping experience. Without becoming overwhelmed, it is best to approach each element of your future headboard pragmatically and intelligently.
Reasons to Choose a Headboard for Your Bed
There are many reasons to get a headboard, as there are many functions a headboard performs. Part of the decision making process is knowing which of these functions is the highest priority. Although there is no functional difference between a practical headboard and a decorative one, it is easier to shop if the options are narrowed down to a particular style or group of designs.
A Headboard Adds Visual Interest to a Room
A headboard offers a visual focal point for the room, just as the bed itself does. A headboard also helps set the mood of the room, whether that mood is traditional, modern, comfortable, or funky. A bed with a headboard looks more formal than one without. A headboard makes it obvious that some effort has gone into the design of the room instead of various pieces of furniture haphazardly thrown together.
To work well as a visual focus, a headboard must not only look good, it must also fit within the context of the room. An ultra-modern headboard clashes with an otherwise antique and romantic decor. Most broad design schemes include a choice of colours. The colour of a headboard can either match the colour scheme of the rest of the room, or it can offer a contrast which manages to complement the decor. The key is for the relationship between the headboard and the rest of the room to look deliberate.
A Headboard Has a Functional Purpose
A headboards is not just decorative. Depending on the design, a headboard oftentimes also serves a dual purpose. For the one who prefers to sit up in bed, a headboard provides a backrest behind the pillows. The wall behind the bed is also a backrest, but a padded headboard is more comfortable. A headboard which is attached to the bed also offer a more secure backrest than a bare wall or a headboard which is mounted on the wall; sometimes the bed pushes away from the wall, creating a gap that swallows the pillows. A headboard is sometimes designed with shelves for books or decorative items, or even just has simple top ledges capable of holding a cup or a pair of reading glasses. A headboard which features raised side posts holds bathrobes or dressing gowns, and hooks can be added to an existing headboard for these purpose. Other headboards may include built-in lights for reading.
Types of Headboards
Headboards vary in shape, material, and construction. Knowing what styles and options are out there is an important part of choosing a good headboard.
Attached Vs. Detached Headboards
The first thing to consider when looking for a headboard is whether to purchase a bed with a headboard attached. The primary disadvantage of an attached headboard is that there is no way to change the headboard without also changing the bed. Selection is usually smaller, too, compared to separate headboard designs. The primary advantage is simplicity; if it is time to buy a new bed, buying one with its own headboard means not also worrying about finding and buying a separate piece. As noted, an attached headboard is sometimes more secure and provides back support if the bed cannot be placed flush against the wall, such as in a room with a low and slanting gable ceiling.
A detached headboard comes in two types: one which stands on the floor and one which is mounted on the wall. Keep in mind that a wall-mounted headboard is sometimes nearly as difficult to change as one attached to the bed, although it has the advantage of taking up less space. If the practical structure of the headboard is not important, a framed window or mirror or even a rectangle of wallpaper or paint serves the same decorative function as a traditional headboard.
Headboard Materials
Wooden headboards are classic and often feature decorative carvings, and while some are stained, others are painted. Metal headboards are also traditional or ornate and feature curls and twists and leaves of iron or brass. They are also sometimes painted or left plain. Other popular options include wicker, bamboo, or upholstery. Some upholstered headboards have a wooden backing and are often framed in wood. One popular style is buttoned or tufted. These headboards are upholstered and accented with fabric-covered buttons at regular intervals. The fabric puffs out between the buttons, giving a somewhat quilted appearance.
Shapes and Sizes of Headboards
There are several standard shapes for headboards, each with its own name, such as York, Cavendish, or Redcliff. Some headboards leave standard shapes behind and explore new designs. Widths are also standardised, but with some exceptions. Headboards are usually constructed to be the same width as standard size beds, so queen-sized headboards match the width of queen-sized beds. The exceptions are headboards deliberately made wider than the beds in order to make a dramatic statement. In terms of height, headboards need to be proportionate to the beds, the occupants of the beds, and the bedrooms. Very large headboards sometimes dominate small rooms, especially if the ceilings are low or the rooms are dark. Taller people who like to sit up and read may need taller headboards than are needed by small adults or children. Wider beds require taller headboards for the designs to look proportionate.
Where to Buy a Headboard for Your Bed
In order to actually get a headboard, all design factors need to be brought together and considered. Beyond choosing what type of headboard to get, there is the question of how to buy the headboard. A headboard is purchased from furniture stores or online, but it can also be made, either from scratch or by customising or altering existing pieces.
Making a Headboard for Your Bed
A headboard can be made from scratch. While traditional metal or carved wood requires specialised skills, an upholstered panel headboard is not difficult to make. Another option is to rebuild or reupholster an existing piece, such as the frame of a large mirror, as a headboard. A store bought headboard can also be customised. Plywood, particle board, fabric, covered buttons, and paint come together to form a professional-quality headboard at a fraction of the cost.
One advantage to making a headboard is the possibility of trying new and creative ideas. For example, use collage, paint, or even a mosaic pattern to decorate a simple wooden headboard in order to create a unique and novel design. Creating something new this way is part of the fun, and the results are not limited to what is available in stores.
Other Headboard Considerations
Whether buying or making a headboard, choosing a design depends on asking and answering a few questions. How big is the bedroom? How big is the bed? What is the overall decorating scheme of the room? What mood should the room inspire? Are structural elements, such as shelving important to include? Is space at a premium? How can colour and design express the your creativity and style while not going over the top?
There are no real wrong answers to these questions. Instead, as long as you ask these questions and carefully consider the answers, the result is a headboard to enjoy for years to come.
Finding and Buying a Headboard and Headboard Materials on eBay
Headboards are available at furniture stores, second-hand shoppes, and on eBay. Materials for making or redecorating headboards are available on eBay and at home and garden supply stores and craft shoppes. Buying through eBay is fairly straightforward, but some tips on how to find the right items and how to keep the buying process running smoothly should help ensure a positive transaction.
Your search for a headboard begins on any eBay web page by typing your search terms within the search bar. Whether you are looking for a leather headboard or materials to craft your own, the options are limitless. If you are generic in your search, you may find a plethora of options, some of which you do not want rendered. To further filter the options, you can search based on price, geography of the seller, or condition of the item.
Buying a Headboard on eBay with Confidence
Reading through the whole listing carefully is always a good idea, since misreading a product description sometimes leads to buying the wrong item, like a footboard instead of a headboard. If you have a question, you can ask the seller through the link on the seller's profile. You can also use the seller's profile to look up his or her feedback rating and get a sense of the seller's reputation.
Conclusion
A headboard makes a room aesthetically pleasing. It also add little functional touches to the bed area, such as extra shelving or a place to hang a robe, both of which make a dramatic difference in the experience of using the bed. There is no one right headboard; bedroom furniture does not have to please anyone but the occupant of the bed. Instead, choosing what headboard to purchase or make yourself depends on thinking clearly about what you really want. Once a buyer knows what type of headboard he or she desires, it is a simple matter of choosing the right item from the many headboards available.
Shopping with confidence and conviction in terms of what you really want and need is an important step in choosing a headboard. It is easy to become overwhelmed with the options available so do not let your task veer too far from the course. Price, size, and function are the three most common factors considered in addition to style.