Swimming is the ideal exercise when you are pregnant. It makes your blossoming belly feel weightless, and it is low impact and refreshing. Finding the perfect swimsuit when you are pregnant can be challenging, but a tankini is a great combination of fashion and function, and makes frequent bathroom breaks a cinch. Find out about the best maternity tankini for you and the wide range of styles before you shop for your summer swimsuit.
Comfort is Key
$small$Pregnancy is not always comfortable, but your swimsuit should be. Look for a tankini which offers stretchy, comfortable fabric that does not pinch or pull your skin. Nylon and spandex are good options that continue to stretch as your belly grows, but are not uncomfortable or stiff. The great thing about choosing a tankini is it offers the perfect silhouette throughout your pregnancy, and you can wear it comfortably postpartum due to the design. Since a tankini offers more coverage than a bikini but allows you the flexibility of two pieces, there are many options for fabrics available. Breathable fabrics work best and swimsuits that move with you. Before purchasing, check to ensure your tankini offers Lycra or spandex for stretch.
The Size is Right
Since your size is changing weekly, consider sizing up a bit to allow for your growing baby. Consider the fact that your curves are getting fuller, so weigh that if you are purchasing separates for your top and bottom. Buy a suit that grows along with you but is still supportive. A halter-style top works well for a large bustline, or opt for a swimsuit with adjustable straps that you can customise as your baby grows. Underwire support, moulded cups, or an inbuilt shelf bra offers the top support you need, while adjustable ties on the bottom expand your tankini's lower portion as your belly expands.
Stylish Swimwear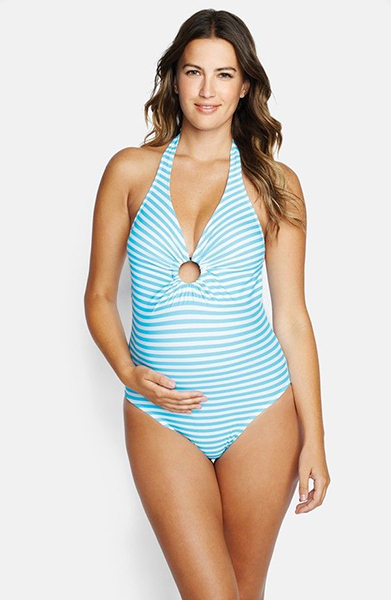 Gone are the frumpy swimsuits of 20 years ago. Modern maternity tankinis are stylish and chic, including designs ranging from solid-coloured styles to graphic patterns like stripes, polka dots, florals, and colour block styles. Suits embellished with ruching, ruffles, buttons, ties, and belts are figure flattering no matter how far along you are in your pregnancy. Some stylish swimwear brands to look for include Next, Mothercare, Mamas and Papas, and TopShop.
Flatter Your Figure
Even though you are pregnant, it does not mean you cannot look gorgeous in your tankini. To flatter your figure, opt for a tankini with a graphic design if you are worried about your growing figure, which minimises trouble areas, or opt for a dark colour, such as black, which is flattering for every figure. Wide straps flatter a large bust, while thin straps work better for small-chested women. Your tankini bottom should comfortably fit under your belly for the most flattering fit. Mix and match tankini tops and bottoms to customise the most flattering, comfortable suit.