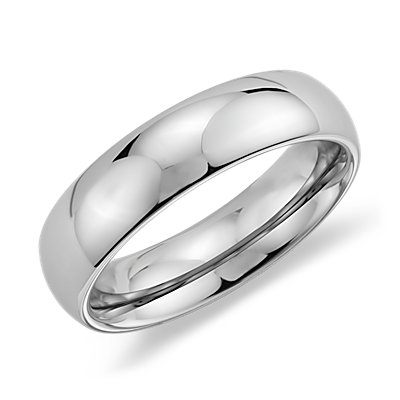 Buying a wedding ring is a momentous decision because this is one piece of jewellery that is intended to last a lifetime. Along with purchasing a stunning diamond as the centrepiece of the ring, both husband and wife need to select matching wedding bands. The metal used for different rings varies, and there are plenty of reasons to choose one over the other. However, all of these options can quickly become confusing in a store, especially with a salesperson putting on the pressure to purchase a ring right here and now. For this very reason, many savvy shoppers choose to buy their wedding rings from a website like eBay that has all the convenience of shopping at home, without all the pressure of shopping at a jewellery store. When selecting the perfect metal for a wedding ring, customers must consider several factors, including what type of work they do and their own style preferences.
Wedding Band Metals
Wedding bands are usually made out of valuable precious metals. One common mistake buyers make when searching for a wedding band, is to simply select the one that is the most expensive because buyers equate cost with quality. The truth is that some of the most expensive wedding bands, such as a 22k gold ring, are impractical for daily wear. Before customers start looking for wedding bands, they need to understand the pros and cons of each type of metal.
Gold Wedding Bands
Gold wedding bands have a timeless quality to them. Popular for many generations, gold is an immensely valuable metal that is strikingly beautiful. Buyers can often choose between different colours such as white, yellow, and rose. Of course, the main consideration when purchasing gold wedding rings is getting the right karat weight.
Gold Karats
Gold is a beautiful metal, but in its natural state, it is rather soft. This is why most gold jewellery is mixed with other metal alloys, hardening the ring. The system of measuring gold is somewhat complicated because there is no accepted universal standard. Americans, and many other parts of the world, measure the amount of gold in a piece of jewellery by using karats, while many European countries use the fractional system that measures per cents.
| Karat Weight | Part in Gold | Per cent of Gold | European Standard |
| --- | --- | --- | --- |
| 24 | 24 in 24 | 99.99 | 999 |
| 22 | 22 in 24 | 91.67 | 917 |
| 18 | 18 in 24 | 75 | 750 |
| 14 | 14 in 24 | 58.3 | 583 |
| 12 | 12 in 24 | 50 | 500 |
| 10 | 10 in 24 | 41.6 | 416 |
| 9 | 9 in 24 | 37.5 | 375 |
A pure gold ring would be marked either as 24k or 999. However, a pure gold ring is quite impractical, so it is much more common to find 12k, 14k, and 18k rings.
Karats and Durability
The higher the karats, the greater the softness of the ring. This presents a unique problem for a buyer who wants to purchase a valuable golden ring, but also needs one that is extremely durable. For example, many men who work with their hands ultimately choose to go with a 10k ring. While this ring is not as valuable as a 18k ring, it resists scratching and scarring. Women who plan to wear their ring every day usually select 14k or 18k rings. Anything higher than 18k is difficult for daily use since the metal is soft, and the finish constantly needs polishing.
Colour
Besides choosing the correct amount of karats, colour is also a main concern. The colour of the gold comes from the different alloy mixtures, and so buyers may see a slightly different shade of yellow, or rose, between different ring vendors. This is especially true of the lower karat values, while the higher karats have a more uniform and rich colour. Yellow gold is the traditional choice, but white gold is gaining in popularity. Just make sure to purchase a white gold ring that is enhanced with rhodium, increasing its brilliance.
Platinum
Those who prefer the colour of white gold should also consider buying a platinum ring. This precious metal is a naturally white colour, so there is no need to enhance it with rhodium. It is an extremely valuable metal whose cost is comparable to gold, so this is another thing to keep in mind if the customer is buying for overall value. Unlike gold rings which are usually mixed with other alloys, platinum rings are usually pure. High quality rings are at least 95 per cent platinum and marked as being 950 Plat, PT, or Plat.
Choosing Between Platinum and Gold
When it comes to selecting one type of metal over the other, the choice largely depends on the personal style of the buyer. White gold rings with rhodium coatings are bright and polished, while platinum rings usually come with a brushed or sand-blasted finish. This is because platinum develops a natural patina as it ages, while white gold does not. Platinum's durability is greater than white gold, especially since the rhodium coating can chip. However, many people who want a traditional wedding ring prefers gold over platinum.
A Note on Silver
Sometimes buyers find wedding rings with a silver band. While this option may seem more affordable, silver is not a particularly good choice for wedding rings. The main reason for this is that silver is softer than gold so the ring cannot be worn every day without sustaining damage. Another factor is silver's tendency to oxidise rather quickly, turning a beautiful silver ring into a dark black one. While there are restoration methods for silver, this can prove quite costly. Silver bands are best suited for rings only worn on special occasions.
Men's Wedding Rings
Men tend to work more with their hands than women, which means that either gold or platinum bands may not be the best choice for their wedding rings. While all metals can scratch, those metals that are selected for men's wedding rings are stronger than gold and platinum. However, since they are not made from precious metals, these rings are not as valuable as their golden counterparts.
Tungsten Carbide
Tungsten carbide is a man-made metal that combines tungsten together with carbon. This makes it extremely scratch resistant, and is definitely a good choice for a man who is a mechanic, or works in the construction industry. It also does not fade, so a tungsten carbide ring always looks polished no matter what. As far as value goes, the price of a tungsten carbide ring is remarkably affordable compared to gold, especially when one considers its durability. However, tungsten carbide is not very valuable and this ring cannot be resised.
Titanium
Those who want all the durability of tungsten carbide, but want a ring with a little more value, love titanium bands. Titanium is the strongest metal known to man, and despite all its strength, it is incredibly light. It is also hypoallergenic, making it the perfect choice for anyone whose skin reacts strongly to metals. Titanium comes in more colours than tungsten carbide, so buyers have a greater selection. However, like tungsten carbide, the durability of this ring makes it impossible to resise, so buyers need to make sure the purchase the right size the first time.
Buying Wedding Rings on eBay
When it comes to picking the perfect wedding band, eBay has a truly impressive selection. Buyers can find rings of all colours, styles, and metals being sold from all over the world. Since all wedding rings are meant to be unique and memorable, it is remarkably easy to find a style not seen anywhere else. Even brides and grooms on a tight budget can get the right ring due to the fantastic deals on eBay at any given time.
Searching for Wedding Rings on eBay
If you want a wedding ring, then you need to get comfortable with eBay's search engine. Start on the main page and type in a broad query such as 'wedding rings'. This pulls up all relevant auctions that meet the search terms you entered, allowing you to browse through the listings. After you make a decision on what metal you want, you can search eBay using terms like 'platinum wedding ring' or 'titanium wedding ring'. You can even narrow down the search by colour by typing in 'white gold wedding ring'. Adjusting the terms changes the search results, allowing you to see different auctions.
Sizing
Make sure you already know the size of the ring you need when shopping on eBay. Most rings can be resised, but keep in mind that tungsten carbide and titanium rings cannot. Always refer to the seller's return policy in case you purchase a ring that does not fit. Some sellers either send another ring that does or refund your money, but other sellers may not accept returns. Do your homework before bidding on an expensive item like a wedding ring.
Conclusion
Made to represent all the love and respect of marriage, wedding rings are typically crafted using only the finest of metals. Selecting the right metal largely depends on a customer's preferences. Traditionalists want a gold ring, but they need to carefully consider the right karat weight before purchasing. Platinum rings are just as valuable as gold, and in many cases buyers prefer the sheen of platinum over the colours of white gold. When durability is a prime concern, buyers can pick from either tungsten carbide or titanium. No matter the final metal selected, chances are that the customer finds the perfect ring on eBay. Not only is the selection on eBay superior to that in the local jewellery stores, the prices are usually far more reasonable. By choosing the perfect band for a wedding ring, customers can pick a piece of jewellery that they treasure for an entire lifetime.