Collectible cigarette cards have been around for over a century, with the first cards making an appearance in the UK in 1887. Churchman golfer cards came into circulation about half a decade later, around the late 1920s, when golf was picking up in popularity. Various golfer card sets were released between 1927 and 1931.
1927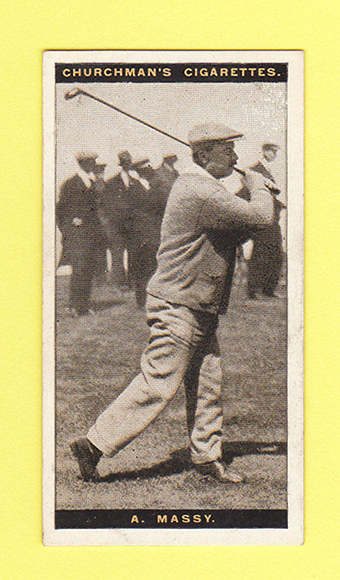 In 1927, Churchman released two golfer card sets: Famous Golfers Large and Small sets. The former had 12 cards and fit into packets of 20 cigarettes, while the latter had 50 cards and fit into packets of 10 cigarettes. All of the cards featured black-and-white photographs of popular golfers, including Bobby Jones, Harry Vardon, Roger Wethered, and many more.
1928
This year saw three sets of Churchman golfer cards: the Famous Golfers 2nd Series Large set and Men of the Moment 1st Series Large and Small sets. As in 1927, the large sets had 12 cards, while the small set had 50. The were black and white photographs of renowned golfers playing golf. The Men of the Moment series, both large and small, featured athletes from a variety of sports, not just golf. This series was also different from the Famous Golfers series in that it was composed of coloured caricatures of the sportsmen rather than photographs.
1929
The Men of the Moment 2nd Series was released in 1929. It had 12 cards and, like its predecessor, featured coloured caricatures of sportsmen. Walter Hagen and Roger Wethered were the two golfers who made it into this 2nd series.
1931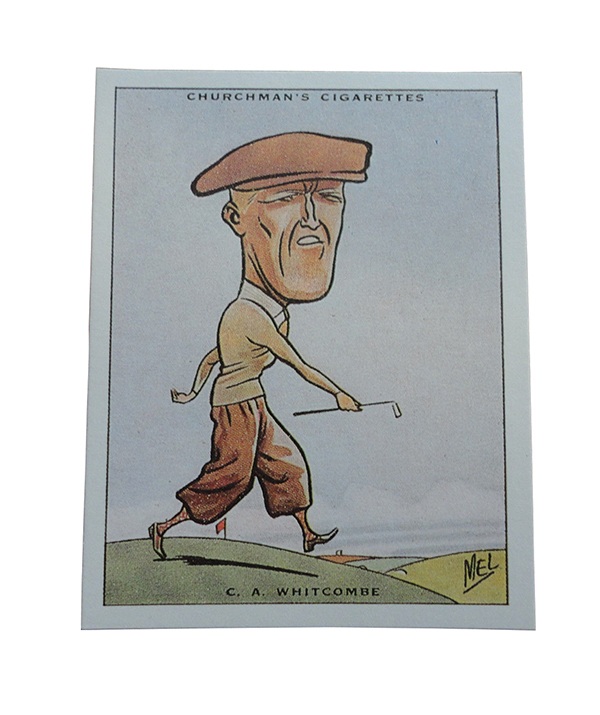 The Prominent Golfers Large and Small sets and Sporting Celebrities came out in 1931. These series carried forward the coloured caricature concept of the Men of the Moment series and showcased athletes in action. The Prominent Golfers series featured Hall of Fame greats, such as Bobby Jones, Miss Joyce Wethered, T. H. Cotton, and Gene Sarazen. The Sporting Celebrities series included a variety of athletes from different sports as well as some golfing greats.
1934
The Can You Beat Bogey at St. Andrews? series of 55 cards was released in 1934, but instead of athletes, it featured maps of the course at St. Andrews with different types of golfing holes drawn out in red ink as well as a few joker cards with insignificant images. Each card had a bogey number and a score written. This scoring system was part of the advertising campaign at the time, where consumers were asked to collect 18 cards that totalled less than the bogey score at St. Andrews to win a silver spoon.