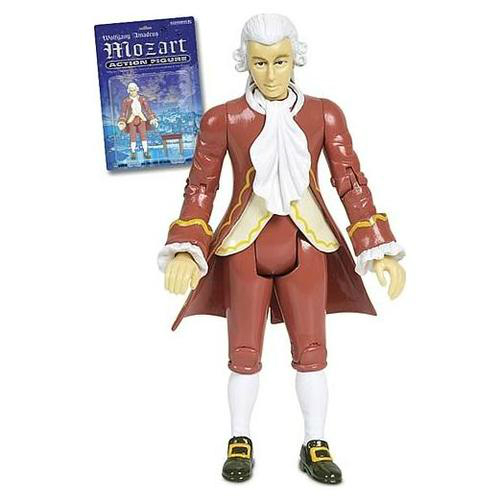 The term "action figure" was coined by toy manufacturers Hasbro in 1964 to describe the newly launched G.I. Joe. He stood 11.5 inches high and came with clothes which could be changed to suit his mission. It was a neat piece of marketing to position him as different from a doll and therefore meant for boys. He's now highly collectible on eBay.
The popularity of GI Joe and Palitoy's Action Man in the UK was confined to pre-teen boys, but the advent of Star Wars in 1977 introduced a whole range of characters. Just 3.75 inches high with individual features and clothing, they begged to be collected.
With the huge success of the film, major shortages soon arose of particular characters, such as the Darth Vader and Han Solo. Scarce figures gained resale value from fans wanting to build up a set. Thus the collectible action figure market was born.
Beyond Star Wars and Action Man
Popular films, TV programmes and video games have followed Star Wars with ranges of action figures, for example:
Towards the end of the 20th century, action figure collecting really took off as adults started to seek out the toys of their childhood and bought new editions for their own children. Today action figures are the most widely collected toys on the market. There are over 35,000 different action figures available, including a host of rare variations.
This guide aims to introduce the hobby to people who are curious about its attractions or want to get started.
How to Build Up a Collection
Where to Start
Whether collecting for enjoyment or financial gain, without a clear direction it's easy to get lost or discouraged in today's complex market, pay too much and end up with a box of mismatched figures of little collective value. On the other hand, with a plan the hobby can be very fulfilling as each acquisition brings you nearer your goal.
Strategy
Begin by identifying existing interests – types of sport, favourite TV programmes, comics, video games, cartoons or movie genres such as action, horror, Sci-Fi, or fantasy. Make a list and choose between up to three unrelated categories to give any collection some variety.
Target
Now aim for a sub-topic of the main category.
This could be, for example, Dr. Who figures, but this is a huge market,
so a sub-topic might be Dr. Who played by different actors,
or Dr. Who's assistants or a particular series
The objective is to find a niche that is tight enough to enable one to build the collection, complete each series or strand, keep costs down and add value.
How to Choose
First make sure the target really is an action figure - a small scale representation of "a character known for vigorous action such as a soldier or superhero" (Oxford English Dictionary). The originals of these heroic characters usually come from
films
TV programmes
video games
pop music
sport
cartoons
comic books
Here are some tips of what to look for in terms of quality and value.
Check the Detail
To create the figure a sculptor will work from sketches, photographs and computer models to build a clay prototype.
This is carved to create a detailed likeness.
In production the body will usually be moulded from a plastic such as ABS.
Softer plastics and nylon may be used for costume elements such as

capes
body suits
face masks

Acrylic paints of myriad colours are used to decorate the figure and face.
Action figures are usually articulated which means the neck, shoulders, hips, and often the wrists and knees can be bent and turned to make the figure poseable. Frequently action figures come with accessories – from bats to rocket launchers to light sabres. Check close-up photos for the quality of the paint job – no smears, gaps or missing logos. Compare its paint application to other items and choose the best.
Note the Condition
The golden rule for collecting action figures is never to take them "off the card", the cardboard backing on which they are enclosed in a see-through plastic bubble. Doing this devalues the figure quite a bit, although if that figure is rare enough it will still be worth a substantial amount. Because these figures should be carefully preserved and many collectors of action figures are also fans of the series from which they came, some will buy two figures - one to store and one to use in displays.
Do figures which are not in gem mint condition have any long term value? That depends on just how close to mint they are. There are various scales which collectors use to assess potential buys. The Collector-ActionFigures "C-Scale runs from C-10 (Mint) to C1 (Very Poor) and is very exacting.
Assess the Rarity
As with any collectible, the harder a prized action figure is to find, the more money a buyer has to pay. The range of action figures on the market can be classified as Regular, Chase, Super Chase, Variant and Custom.
Regular This is the standard issue, bought new with the figure pictured on the packaging. Beware of overproduced mass market figures. Even in mint, carded condition they are unlikely to increase in value for a long time.
Chase This is a version of the regular figure which has been modified in some way by the manufacturing company, for example in clothing, pose or accessory, so-called because its scarcity will stimulate the collecting community to chase it.
Super chase This is a further modification of the chase figure produced in very limited quantities to create an artificial scarcity.
Variant A variant is a different form of the regular figure arising from an error in the manufacturing process or because of a decision to change something in the manufacturing process, for example, a Batman figure with an unmasked Bruce Wayne head. Variants can be extremely rare, both highly prized and highly priced.
Where to Search
One of the most enjoyable parts of collecting action figures is the thrill of discovery.
There is a huge selection of action figures to choose from on eBay. Simply type in what you are looking for on eBay, press "search", and check the results. This is a great way to find carded figures, international figures and rare variants. Look out for people who are selling off parts of or even their entire collections. This can save a lot of time and money when starting off on a new series.
Action Figures on eBay
Collectors can find what they're looking for and place a bid or buy it outright with the "Buy it now" option. But as with any product, the action figures category has guidelines which experienced buyers understand. Here are some of them.
Save time Search use common action figure collectible keywords like "loose", "MIB (mint in box)", "complete" etc. It also helps to get the spelling right whilst allowing for alternatives, for example, Spiderman, Spider Man and Spider-man.
Look A seller's description can only go so far, so look at every single picture, and ask, if not satisfied, for a more detailed picture or one from a different angle.
Ask A good seller will be happy to answer questions such as: are any of the accessories reproductions? Are the joints tight? eBay provides a chance to be nosy.
Leave feedback. Once the action figure arrives, it's good to leave feedback for the seller. This helps the seller's rating and therefore their success as sellers.
Looking After a Collection
Having made a start with collecting and seeing the numbers build up, the issue arises of how to look after them and where to keep them. Storing carded figures can take up a lot of space and does not leave much room for display.
Their packaging is NOT made for sunlight or dampness, so these will be the first things to avoid. Store them in a waterproof container far out of range of windows, or in a cardboard box in a room with no risk of moisture. An attic or basement can get very cold and action figures that are stored there in cardboard boxes may become damp or the cards will begin to lose their integrity and bend. Storing in places with fluctuating temperatures may require an airtight container.
To display action figures which are carded choose a room where sunlight will not be shining directly upon them, preferably with wall space where they can be hung on wall pegs. As for loose (uncarded) figures, a glass case or even a wide shelf will do, so long as care is taken to keep dust off them, either with a feather duster or can of compressed air.
Buying Action Figures on eBay
To start shopping, go to the Sports and Leisure category. Click the Toys & Games then the Action Figures portal.
While shopping, don't forget Animals & Dinosaurs, Anime & Manga, Comic Book Heroes, Designer & Urban Vinyl, Fantasy, Historical Figures and Military & Adventure.
Categories
The Categories list on the left side of each page will help narrow down listings by item type. There are links for themes such as: Wrestling ,Doctor Who ,Batman, Power Rangers, Action Man and Marvel Legends .
Product Finder
Use the Action Figure Finder to quickly narrow down item listings by brand, model and condition (new or used).
Keyword Search
Search eBay listing titles for specific words. For example, if trying to find New Action Figures, type the keywords "Action Figures New" (without quotation marks) into the Search box. Click, "Search title and description" to expand results. Visit eBay's Search Tips page for more tips on searching with keywords.
If you can't find exactly what you want, try browsing eBay Stores or tell the eBay Community what you're looking for by creating a post on Want It Now, or save a search on My eBay and eBay will email you when a matching item becomes available.
Buy Action Figures with Confidence
Make sure that you know exactly what you're buying and understand how eBay and PayPal protect you.
Know the Item
Read the details in the item listing carefully.
Remember to add delivery costs to the final price. If buying a high value item, check that the seller will insure it until it is delivered.
For want more information, click the "Ask seller a question" button on the seller's profile or the "Ask a question" link at the bottom of the item listing page.
Always complete a transaction on eBay (with a bid, Buy it Now or Best Offer) otherwise you will not be covered by eBay Buyer Protection.
Never pay for an eBay item using an instant cash wire transfer service like Western Union or MoneyGram. These are not safe ways of paying a stranger.
Know the Seller
Research the seller to feel safe and positive about every transaction.
What is the seller's Feedback rating?
How many transactions have they completed?
How many positive responses do they have?
What do buyers say in their Feedback?
Are they positive about the seller?

Most top eBay sellers operate like retail shops and have a returns policy.

Do they offer a money-back guarantee?
What are their terms and conditions?
Buyer Protection
In the very unlikely event that you do not receive your item or it is not as described, eBay Buyer Protection covers your purchase price plus original delivery cost.
Conclusion
Toys from every TV and movie franchise have been collectables for fans all over the world for decades now. People do it for different reasons; of course, some because they think the figures will be worth something some day, others for sentimental value. The rest just enjoy having collectibles.