For many adults, toy soldiers and battlefield accessories were a part of the carefree days of childhood. Collecting the ever-popular vintage Airfix soldiers is a way of keeping that connection open and revisiting childhood friends. Whether you collect for fun or profit, Airfix soldiers have the popularity, longevity, and individuality that can add a special appeal to your soldier collection.
Domestic Kits and British Soldiers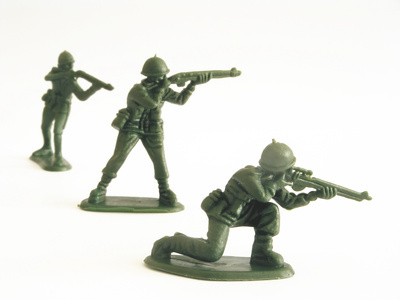 The British military and soldiers have been a mainstay of Airfix, which is a homegrown company in the model kit business. While many kits from different eras exist, the most popular are those focused on the British military, navy, and air forces in both World Wars. Most of the soldiers are 1:32 scale sizes. You can even find full Airfix model kits. Look for older kits that show little or no wear, such as complete sets that include 13 soldiers and an officer. In older kits some cracking may occur.
American Soldiers and Paratroopers

Airfix has listed American soldiers on the boxes as both US soldiers and American soldiers. You can find several different infantries and paratrooper units, with many featuring the 101st Airborne or 'Screaming Eagles', which are quite popular with collectors. Airfix made examples from both World Wars, giving you a wide range of options. Also popular are examples of the US military in the American Indian Wars.
Russian and French Soldiers
The company has featured French soldiers in several different kits and in several different military situations. A full kit of Waterloo 1.32 soldiers is quite popular as are First World War soldiers. You can find the Russian Army featured as both members of the Axis powers in World War II, and as allies in the same war. Interesting historically, Russian soldiers have a different look and style.
Australian and Gurkhas Soldiers
Australian soldiers fought mainly in the Pacific Theatre during WWII, and you can find Airfix Australian soldiers to recreate your Gallipoli scene. In addition, Gurkhas have a long history with the British Army and you can find Airfix Gurkhas soldiers, as well.
German and Japanese Military Units
You can find several German military units in Airfix models that make great figures for dioramas and battlefield reenactments. Present at all battles during both World Wars, German soldiers are popular with collectors. Japanese military units that fought in the Pacific are quite popular as well. Look for well models figures, paint that is not flaking, and unopened boxes for the most value.