Drying your clothes on a line may be a great idea on a hot, sunny day, but having an electrical dryer at home is convenient for all seasons. Condenser dryers are one type of tumble dryer to consider, especially if traditional vented dryers do not suit your home.
How They Work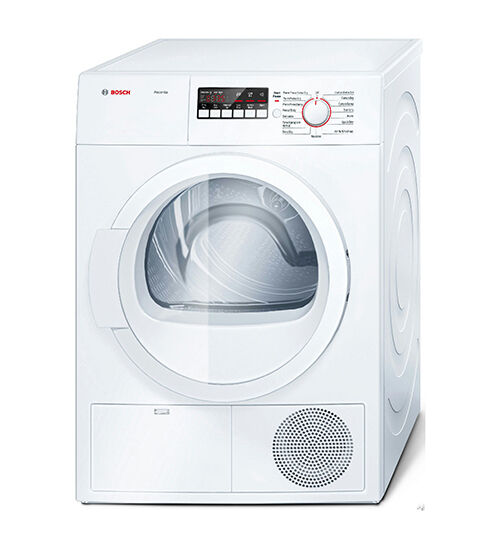 Condenser tumble dryers, such as those from Bosch, White Knight, Beko and Miele, pass hot air into the load they contain and then use a heat exchanger to cool the same air down and condense it into water vapour. This heat exchanger uses either ambient air or cold water as a coolant. The resultant water vapour collects in a tank or is expelled into a drainpipe via a hose. Contrast this with the popular vented dryer, which releases the hot air from the load into the surrounding environment through vents, which requires the dryer installation next to a window or wall vent.
Advantages and Disadvantages

Because condenser dryers collect water vapour or expel it into a drainpipe rather than vent it out into a wall or vent window, they are not only more portable but also more suitable for homes where installing it to such vents is not possible or too difficult. However, the condensation process comes at the price of slightly increased power consumption and slightly decreased speed of drying. Maintenance also requires more effort compared to vent dryers, as the collecting tank and heat exchanger needs to be attended to regularly.
Drainage and Features
Collecting tanks suit those who do not have drainpipes located where they place their dryer, while a drainage system is more convenient as there is no need to empty anything. Besides this, consider other general aspects related to dryers, such as weight capacity and dimension. Some condenser dryers have some additional features, such as lower energy consumption, auto-sensing of dry clothes, electronic displays, and multiple program choices for special drying needs.
Dryer Care
To maintain the longevity of your condenser dryer, consider putting these tips to action:
Loosen up wet laundry from the washing machine before placing in the dryer. This helps clothes dry faster without the dryer having to work harder.
Do not overload the dryer, as this can cause the dryer to overheat.
Clean your dryer's lint filter every time you run it to maintain efficiency.
When possible, dry similar fabrics together. This helps clothing dry faster and more evenly.
Empty the water collecting tank regularly, and clean the heat exchanger every few months.