Moving into a new home is an exciting experience. When your friends and family move house, it is a good idea to congratulate them with a gift. Personalised gifts are thoughtful and unique. Learning how to create personalised sweets, doormats, welcome signs, and tablecloths is a great way to ensure that your housewarming gift is memorable.
Personalised Sweets
Personalised sweets are fun and tasty gifts, and the most common forms are chocolate bars and lollipops. You can make special chocolates using moulds or buy ready-made sweets and create personalised wrappers. To do this, select a style of paper and cut it to the same size as the original wrapper. Write or print a personal message, such as, "Congratulations", or the names and initials of the people moving house. Remove the original wrappers and replace them with the personalised versions.
Personalised Doormats

Doormats are the perfect way to greet guests, and they allow visitors to wipe their feet before entering the new home, keeping the area clean. Personalised doormats can feature the names or initials of the people that live in the house. To create a personalised doormat, start with a plain product with relatively little texture. Use stencils and waterproof outdoor paint or lacquer to create a unique message and design.
Personalised Welcome Signs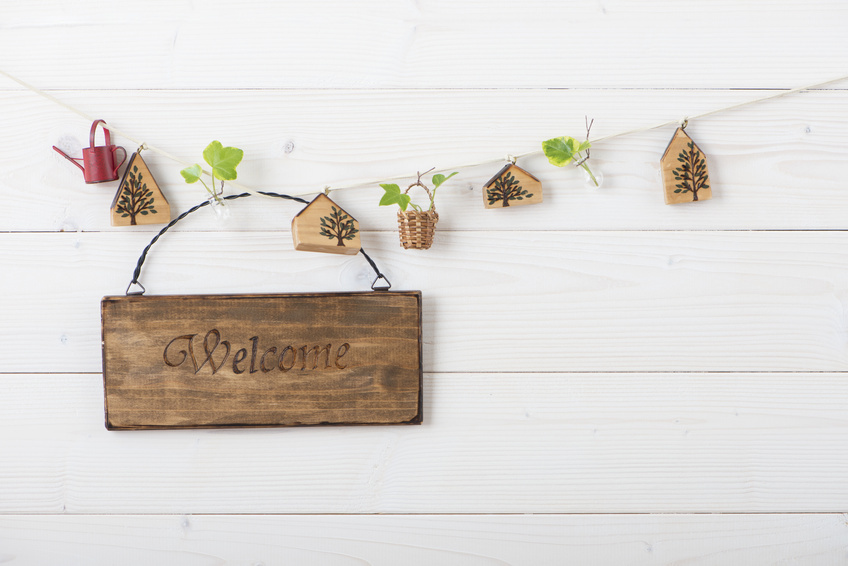 Welcome signs make the entrance to a home feel inviting, and if they have the names or initials of the home's owners, it also reassures guests that they have arrived at the right house. To create a personalised welcome sign, start with a blank piece of wood. Use stencils and outdoor paint to design a sign. Finish it off with a coat of clear lacquer to preserve the paint and wood.
Personalised Tablecloths
A personalised tablecloth is a unique way to dress a table. Start with a plain cloth; a white tablecloth is a good choice because it is the ideal backdrop for any design. Those with embroidery machines can sew the initials of the recipients onto the cloth. An alternative is to buy ready-made patches with the initials and simply hand sew them into place.